Many Americans are making an effort to choose more healthful options. We are looking for more fiber and protein, eating more fruits and vegetables and drinking more water while reducing added sugars.
Good steps, indeed!
Master of  Your Universe
The best step to move you closer to better health is cooking. When you cook, you are in control of what goes into your food and what goes in to your body. I can't think of a better way to be master of your universe.
Anything we can do to increase competency in the kitchen helps. The right tools make any job easier. You can help those on your holiday list navigate the kitchen by including some budget friendly gifts. I've included links to Amazon so you can see what products I use in my own kitchen and so you can see what I'm talking about. If you buy though this link, I do earn a percentage of the sale as an Amazon affiliate. Or here is my LiveBest Equipment list.
Holiday Gift Guide
Parmesan Pepper Crisps
With all the shopping, you may find something for your own kitchen. Try out the Silpats with these Parmesan Cornmeal Crisps. These are your easiest, elegant happy app!
If you want to flavor with herbs, add a teaspoon of fresh thyme, rosemary, basil or 1/8 teaspoon dried.
P.S. Want more tips and recipes? Sign up for my newsletter on the right side of the website…over there → at the top.
Print
Parmesan Pepper Crisps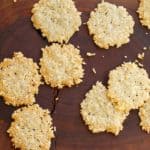 Author:
Prep Time:

10 mins

Cook Time:

12 mins

Total Time:

22 minutes

Yield:

24
Ingredients
2 cups grated Parmesan cheese
1 tablespoon flour
1 tablespoon cornmeal
1/2 – 1 teaspoon freshly ground black pepper
Instructions
In a large mixing bowl, stir ingredients together.
Heat oven to 350°
Line two baking sheets with silicon mat or parchment paper. Spoon 1 tablespoon cheese mixture into mounds, 12 to a sheet.
Bake 10-12 minutes until lightly browned.
Transfer to cooling rack. Store in airtight container.