This post contains affiliate links. That means if you click through and buy something, the seller pays me a commission. It does not impact the price you pay. I'm just trying to share products I use with you.
Convenience foods are the poster child for "bad food." They get blamed for a lot of health woes. To be sure, there are many that deserve the label. But there are also some great options.
Conveniently healthy convenience foods
bagged greens
fresh pasta
rotisserie chicken
canned beans
hummus
frozen fruit
frozen fish filets
Looking at this list, I'm all in with the convenience of these convenience foods.
Create a plant-based bowl, conveniently
The month's Recipe Redux challenge: Create a plant-based bowl.
A trendy menu item, a bowl usually has a grain and vegetables. There may be broth, meat, chicken, eggs, fish, nuts or seeds. A breakfast bowl could be cool yogurt or hot oatmeal.
Just because it's served in a single vessel doesn't mean it's simple though. Many recipes require lots of cooking before filling the bowl. I decided to experiment with convenience foods. I wanted a recipe I could make quickly with foods that I could keep on hand. Isn't that what convenience is all about?
Regular readers recognize I'm a scratch cooking gal. I can't remember the last time I bought a cake mix. Or a biscuit mix. Or a frozen meal. So this grocery-shopping trip took longer than usual. I was out of my comfort zone.
Start with a whole-grain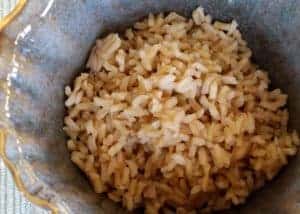 I started with a whole grain. The Asian-food section had some precooked rice with interesting flavor combos but I wanted brown rice. I found what I was looking for in the rice section. The precooked brown rice was on sale but still more than twice the price per serving of a bag of uncooked rice.
(BTW, cooked rice freezes. Cool before freezing and store it airtight then you're halfway there for the next rice bowl.)
Boost the vegetables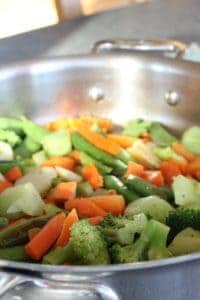 Quick fixin's means little prep. Frozen vegetables are ready when you are, and no chopping required! Asian-style frozen veggies include broccoli, cauliflower, sugar snap peas, water chestnuts, and carrots. The one-pound bag was $1.79, less than a head of cauliflower. The bag said it serves five, but I used the entire bag for two servings…an easy way to get more veggies.
Peanut Asian Rice bowl
Poking around the Asian ingredients, I picked up the spicy peanut sauce that added the pizzazz I wanted. At $5.19 a bottle, premade sauces come at a premium priced. Peanut sauce is easy to make, but I really liked this store-bought find. (I tossed it with rice noodles in a chicken stir-fry a few days later, yum, yum!)
Fast food, indeed
Back at home, cooking happened fast. The vegetables were ready in 7 minutes. Precooked brown rice was ready in 90 seconds and the spicy peanut sauce?  A twist of the cap.
Beat the clock, at a price
Cost wise, this was less than $3.00 per serving. I could have saved money by cooking the rice and making peanut sauce but time wise, there is no way I could have beat the clock. Ready in less than 10 minutes, I would have still been waiting for the rice water to boil. Instead, I was putting the dishes in the dishwasher.
This recipe is a dinner winner. You'll be ringing the dinner bell in less than 10 minutes!
P.S. Want more tips and recipes? Sign up for my newsletter on the right side of the website…over there → at the top.
Print
Peanut Asian Rice Bowl
Author:

Judy Barbe

Prep Time:

2 minutes

Cook Time:

7 minutes

Total Time:

9 minutes

Yield:

2
Ingredients
1 8.8-ounce packaged ready-to-serve brown rice
2 teaspoons canola oil
1 16-ounce package frozen Asian-style vegetables
4 tablespoons prepared peanut dipping sauce
4 tablespoons peanuts
Siracha sauce
Instructions
Heat oil in a large skillet over high heat for 1 minute. Add frozen vegetables; stir regularly for 5 to 7 minutes.
Heat rice according to package directions.
To make two bowls, layer rice, top with vegetables, peanut sauce, peanuts. Drizzle with Siracha.
Check out the power behind these bowls by my fellow Recipe Redux food bloggers.
Loading InLinkz ...