Dress dark chocolate with your favorite nuts and fruit to make Almond Studded Chocolate. I used coconut and almonds in this quick-to-fix sweet.
I love this month's theme from Recipe ReDux: let's celebrate each other! We were challenged to choose a fellow ReDuxer, go to their blog and either make one of their recipes or create one of our own inspired by theirs.
I chose Sarah Waybright's blog Why Food Works.
Sarah and I share similar philosophies about food and health.
She loves to eat good food that delivers health benefits. Me too.
She eats most foods. I'm a self-described eat-most-everything-etarian.
She loves to travel. I'm a nomad.
She uses readily available foods that are budget friendly. Check.
She enjoys talking about food, making food, growing food, sharing food. Same here.
What Sarah and I are cooking
It was interesting to discover how we are making similar recipes using the same ingredients. Two thumbs up for her Oscar-watching popcorn post. She matched seasoning to movie themes so The Life of Pi was cinnamon, curry and sugar. I have a popcorn recipe with spices, nuts and dried fruit.
Sarah's Nutty Chocolate Brittle was simple and clever. Serve it for dessert, share it as a hostess gift, or nibble on it yourself. Thanks for sharing, Sarah!
 Why I like Almond Studded Chocolate
Or what's not to like about Almond Studded Chocolate? Dark chocolate topped with toasted nuts, fruit, a sprinkle of salt and you have a really, really good bite (or two) of chocolate.
No doubt you've heard that dark chocolate has a health halo. I guess all that wishful thinking paid off! Dark chocolate, with at least 70 percent pure cocoa, and unsweetened cocoa (that has not undergone Dutch processing) have healthier fat composition and are rich in flavonols. Eating dark chocolate appears to benefit blood pressure, cholesterol and cognitive health. A 1-ounce square is the amount to aim for. 'Course you could pick up some of those flavanol benefits from tea, citrus fruit, red wine, apples, berries and legumes, but it's kind of hard to let those slowly melt in your mouth as you savor the silky creaminess.
Make a tray of heavy aluminum foil. Sprinkle toppings on chocolate. Gently press the toppings onto the chocolate – make sure they touch chocolate so they stay put after you soften the chocolate.
More stellar studs
pumpkin seeds and cayenne
peanuts and raisins
walnuts and dried cherries
sesame seeds and crystallized ginger
hazelnuts and dried apricots
Pin it for later!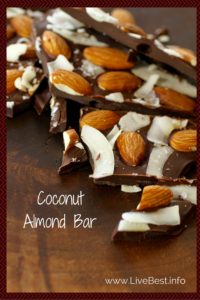 P.S. Want more tips and recipes? Sign up for my newsletter right here.
Print
Almond Studded Chocolate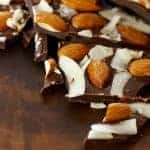 Dress dark chocolate with your favorite nuts and fruit to make Almond Studded Chocolate. I used coconut and almonds in this quick-to-fix sweet.
Author:
Prep Time:

10 minutes

Cook Time:

5 minutess

Total Time:

15 minutes

Yield:

4

Category:

Dessert

Cuisine:

American
Ingredients
1 3.5 – 4 oz bar dark chocolate, 70% cacao
2 tablespoons toasted almonds
1 tablespoon dried coconut
dash sea salt
Instructions
Heat oven to 300 F.
Place the chocolate bar on a piece of aluminum foil with 1-3 inches extra foil around each side. Pinch around the shape of bar to make a mold.
Sprinkle the almonds and coconut over the bar, making sure each piece comes in contact with the chocolate. Sprinkle with salt.
Place in oven for 5 minutes until chocolate is melted. Remove and chill until hardened. Peel off foil.
Notes
Dried apricots or cherries, raisins, crystallized ginger, peanuts, hazelnuts, pecans, pumpkin seeds or hazelnuts, choose your favorite combo.
Nutrition
Serving Size:

quarter of bar

Calories:

180
Check out the creative ideas the Recipe Redux food bloggers are cooking and the blogs they explored.
Loading InLinkz ...