Easy, healthy lunches
to get you out of the midday rut
🥕 Fresh food cooking with a culinary dietitian 🥕
What should I eat for lunch today? If that question makes you cringe, then you need this class.
If you are feeling bored with the same old PB&J you've made 27 times, let me help you create easy, healthy lunches.

LET'S DO IT TOGETHER! I'm in my kitchen and you're in yours as we cook together to get a quick, satisfying lunch on the table or desk.

We make flavorful lunches that you can make again and again. Many are cook once, eat 2 or 3 times,

Sorry, you still have to do the dishes 😉, but leave the menu planning to me, a culinary dietitian!
---
Quick and Easy Lunches
you want and need!

on-demand classes with culinary dietitian Judy Barbe,
right in your own kitchen.
Recorded classes that are ready when you are!
Tickle your tastebuds
with lunch at home.
I've heard you say you want lunch but don't want to take much time.
I get it. I'm a busy, work from home solopreneur.
Cook along with me to make light and easy, flavorful lunches for adults at home. All in the comfort of your kitchen as we cook together.

Join me to whip up recipes you can replicate over and over.

If you:

🥪 struggle with eating the same old things.

🥗 are looking for fast, smart recipe inspiration.

💪are hungry for food you feel good about.

⚡️want to boost your energy without spending a fortune!

The secret to becoming more productive is managing your energy, not your time. There's only so much time in a day. Time is fixed, but your energy has flex. Energy deficit leads to brain fog, diminished productivity, and burnout. And the right lunch is your fuel for success!
Sound like fun?
Grab your apron and enroll now!
---
Food. Flavor. Fun.
Here's you 5-day lunch menu
---

An easy recipe plus the benefits of fish: omega 3 fats and protein in this heart and brain healthy Tuna Picatta Toast!

This fiber-rich, feel good salad, is economical, quick to fix, and makes enough for leftovers!


As easy as your favorite coffee shop, but simple to make at home with convenience foods.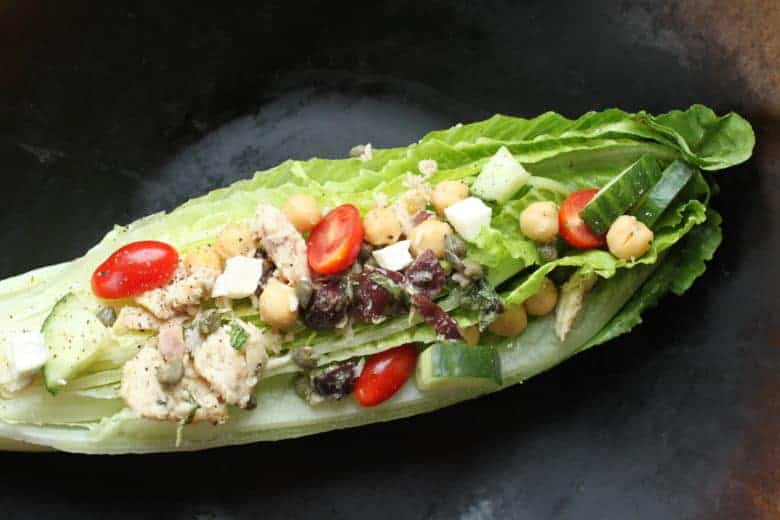 This Greek salad delivers protein and flavor deliciously!

Flavorful and fresh, healthy and hearty, this is an easy, lunch!

Do something special for yourself!
Enjoy a quick-to-fix, flavorful, inspiring meal
Finally have healthy recipes that you don't have to think about
Cook along with your personal chef
Stock your kitchen with better-for-you food
Make something that doesn't take forever
Quick, Easy Lunches is just $27!
---
---
We cook together

Whether you're a novice or a ninja, we cook together in real time in 5 daily videos.

Fresh recipes

Everything comes together on time with tried and true flavorful recipes that feed your brain and heart, deliciously.
---
---
No cooking ahead

You'll receive the ingredient list ahead of class but no cooking or prepping ahead, we do everything in class. Replays available so you can cook along again and again.
Classes are recorded. so you can watch at your convenience or replays are available.
The first video link and recipe will be sent in a confirmation email after you complete registration.
Ingredient and equipment list will be provided in a confirmation email after you sign up for class .
Each class video will be delivered daily.
Students love the classes!
"Ms. LiveBest, Judy Barbe, shares her knowledge and enthusiasm with her students. Her classes are fun and helpful. We've taken classes around the world, but hers are the recipes that we're making again and again. We look forward to more classes."

-Tom

"Thank you for a great class! It was fun and tasted wonderful! I will definitely fix that again. My husband also really liked it!"

-Liz

"Thanks for adding such fun and nutrition to our lives! I look forward to more fun classes with you!"

-Mary Anne

"I felt lighter after the CRUSH Dinner Bootcamp. The meals were satisfying and I just felt better!"

-Ashley

"We are making your recipes again and again! We have taken classes with such complicated recipes that I have not made them since."

-Marilyn
You do NOT need:
> great cooking skills. > high-end equipment, > special ingredients, or > to spend all day in the kitchen.
I'll be by your side to say goodbye to boring food, boost your kitchen confidence, and get you back to work.
Join now, Quick andEasy Lunches is just $27.
---