Hi, thanks for stopping by my website.
I'm a longtime food enthusiast. I realized later that my interest was unique: most 10-year-olds don't pore over the Betty Crocker Cookbook for a slumber party menu. I served ice cream-stuffed cantaloupe. I also won a blue ribbon at the Fair for my brownies. Unfortunately, I no longer have the recipe, but do have the ribbon.
As a registered dietitian nutritionist, I show people how food can be enjoyed and that healthful eating is pleasurable — all on the same fork. I believe having good food in your life makes your life better. I want delicious food that helps me LiveBest by nourishing body and mind…feeding my soul. The tagline of LiveBest is you must be present to win. That means showing up in your own life to live the life you want. Food nourishes you, but you can also feed your soul so that you set yourself up to have more of the good stuff. If you want that too, you're in the right spot. I know most people will never see a dietitian, but many are hungry for nutrition advice. You've got an expert at your fingertips!
I enjoy discovering local foods and am always on the lookout for my next best bite. I've visited more than 27 countries and 45 states. I led tours to Italy where I taught the art of ordering and eating gelato. Hazelnut is my favorite flavor. I am an adventurous beginning knitter, an explorer in the kitchen, a voracious reader, and an over-active planner.
Read my blog to see what I'm doing, cooking or eating—where—to LiveBest.
All of the food photos are my own, unless otherwise stated. If you'd like to use one, please seek my permission first. The content of the website and blog are copyrighted.
As a speaker, I have addressed thousands of people at dozens of conferences and webinars across the United States. As a media resource and recipe developer, my recipes and recommendations have been featured on Prevention.com,  WomansDay.com, MensFitness.com, ReadersDigest.com, Lovoinc.com, Shape.com, FitnessMagazine.com, FilmJournal.com, FoodNetwork.com, WeightWatchers.com, Southeast United Dairy Association, and Walnuts.org.
Read my newspaper columns in the Casper Starr Tribune.
The scoop
My home is: in Wyoming. I'm a native Californian.
I've been in nutrition: More than 25 years. My first career was as a dental hygienist. I still haven't been able to answer the question: Is it easier to get people to floss or improve their eating? But I do know that people need easy food solutions.
My favorite cuisine is: Italian, no, I mean French, non, make that Asian. I enjoy all types of food but I know this for sure: ice cream is my favorite dessert.
I am: A nomad. I love to travel and have been to more than 27 countries. I have just a few more states left that I've yet to visit. I am planning a trip around the world. I joke that I was born with a suitcase in my hand.
If I weren't in nutrition: I'd be in the chorus line.
Dream dinner guest: Lester Holt or Robert Duvall.
I start each day with: A cappuccino, walk with Beau, my 90-pound Lab/Shepherd mix, and an exercise DVD.
5 things in my fridge
As a food collector, my refrigerator has food stacked on food. And don't even think of opening my cupboards! Spices, salt and other "gems" are my travel souvenirs. But I always keep: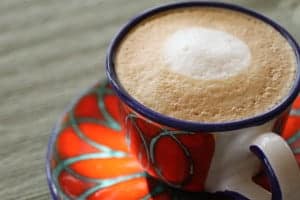 milk (1%) for morning cappuccinos
plain yogurt
fresh fruit
baby carrots—great snack with white bean dip
steel-cut oatmeal—made on Sunday and used in yogurt parfaits and smoothies
Best meals
Besides great food, a cozy vibe that allows the ability to hear and be heard. This list is so hard because I've had lots of great meals and even more special dishes…but this is my list as of now.
I don't remember what I ate, but this 6-table restaurant was memorable, Il Cavatappi (The Corkscrew) Varenna, Italy.
Halibut with fennel, leeks, basil and warm coriander vinaigrette, Chez Panisse, Berkeley, California.
Pumpkin ravioli and tiramisu, The Salumeria Garibaldi, Parma, Italy.
Baked cherries with taleggio cheese and grilled bread, Tasty and Sons, Portland, Oregon.
Shrimp Uggie, Uglesich's, New Orleans, Louisiana.
Grilled cheese (your mother never made this sandwich, well, mine didn't!) with Great Hill Blue Cheese, Vella Dry Jack and Humboldt Fog, Vertical, Teton Village, Jackson, Wyoming.
BBQ Duck taco-filled blue cornmeal pancakes, Mesa Grill, Las Vegas, Nevada.
Unique eating experience: A dinner guest at a Hutterite Colony in Montana.
I have authored a column in a regional newspaper for nearly 20 years.
An interview with Judy on her favorite topic.
What is your favorite food? As an eat-most-everything-aterian, it's so hard to choose one. But…a ripe Bartlett pear.
What is your favorite way to prepare/eat vegetables? Homegrown tomato with sea salt standing at the sink. Otherwise, I love 'em roasted and grilled with olive oil, sea salt and a squeeze of lemon. If Brussels sprouts are on the menu, I'll order them.
What spice do you reach for most? Ginger. I love that it's sweet and savory with a spicy kick.
What is your most famous recipe? Two: Granola and marinated flank steak.
You saved room for dessert. What will you have? Ice cream. I like to make it. Lavender. Salted burnt sugar. Lemon gingerbread.
What is your favorite kitchen utensil? It's a rare day that I don't use my knives—a chef's knife or serrated paring knife. But my husband knows if he comes home and the Kitchen Aid Stand Mixer is missing, I've left home.
What is your favorite cocktail? An old fashioned.
Who inspired you? Julia Child. A postcard from her hangs in my kitchen.
What is your preferred form of exercise?  Exercise is my mood booster and when I hatch creative ideas. I'm fairly active which is good, because I like to eat! I start each day with an exercise video. And then walk my dog. I walk a lot. And I've done yoga for more than 20 years. I recently started running, which is something that never remotely interested me. Now, I like it and have completed a few 5K runs. I also play tennis and ride my bike. As an adult-onset athlete, my advice to others is to find activities that you like to do and then do them consistently. Thirty minutes a day is really all it takes.