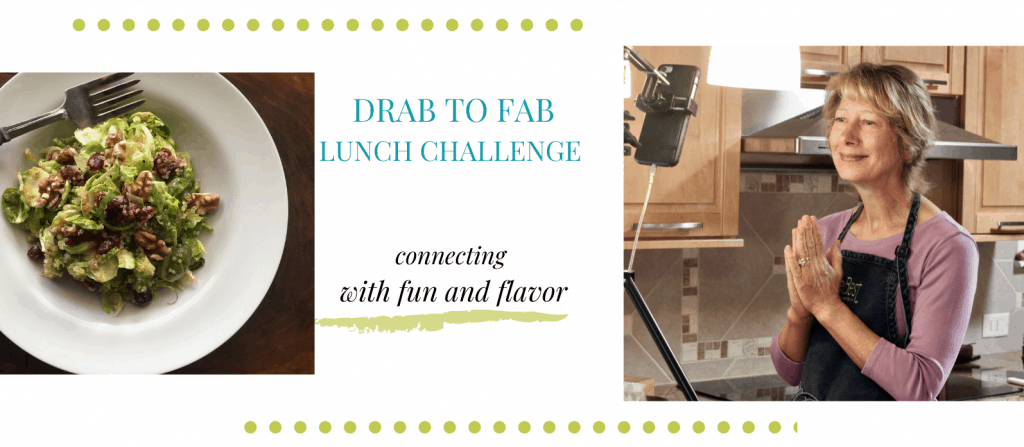 WooHoo! Your IN!
Hi there!
Yep, it's a date for Drab to Fab 5-Day Lunch Challenge.

I'm delighted to share my tips and recipes with you because I think you may:
struggle with eating the same old things.
want fast, smart recipe inspiration.
want to eat food you feel good about.
To that end, my Drab to Fab Healthier Lunch Challenge is all about helping you spend less time in the kitchen, eating delicious food you love, and boosting your energy with better-for-you foods without spending a fortune!
But this is not your typical challenge. Not even.

This is an all-hands-on-deck cooking class (well, 5 of them). This is going to be SO FUN!

You're in your kitchen and I'm in mine. We cook together, live, in real time. We're making lunch so you'll end the class with your plate full and ready to eat.

Like I said: SO FUN!

We all need some easy recipes, especially now as we're all cooking more and looking for inspiration. I'll share cooking tips, what food to buy and how to use them, so you'll find some nuggets you can use ASAP.

As the Drab to Fab Lunch Challenge approaches, get ready to up your lunch game, but in the meantime,
Save the date. February 1-5, 10:00 PST, 11:00 MST, 12:00 CST, 1:00 EST (classes will be recorded so you won't miss one delicious minute)
Download the Shopping List. Have these ingredients ready so we can get cooking!
Take the quick survey so I know what you struggle with.
Grab my 6 tips to cut kitchen clutter. In my book, Your 6-Week Guide to LiveBest, Simple Solutions for Fresh Food & Well-Being, I write that order feeds your soul. Do you agree, it's hard to feel settled when things are in disarray? Here are 6 steps to an organized kitchen.
Here's the Zoom link
See you soon!! 

Thanks,
Judy