Welcome to LiveBest!
So glad you're here! If you're looking to live healthier and eat delicious food, you're in the right place. It's where we LiveBest — one step at a time, so you can live your life and dreams with vitality.
An author, columnist, media source, recipe developer, food enthusiast and registered dietitian, I help you boost your energy with realistic food solutions. What you eat today impacts how you live tomorrow. Food can be delish and nutrish — all on the same fork. Sign up right here to get my recipes!
Connect with me on: FaceBook: Twitter: @JudyBarbe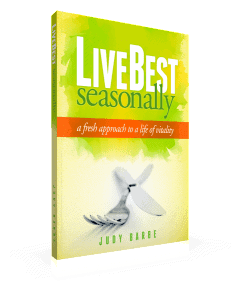 Instagram @JudyBarbe Pinterest: LiveBest
You know you should "eat better." Cut down on sugar and salt. Eat more lean protein and vegetables. It sounds easy enough, but are you confused and hungry for solid information? You've got an expert at your fingertips! LiveBest is a healthy living site devoted to simple solutions.  There is so much "noise" about healthy eating and how to do it. We all make food choices, but we're typically not taught how to do it well. I spell it out in my webinar series and books Your 6-Week Guide to LiveBest, Simple Solutions for Fresh Food & Well-Being and LiveBest Seasonally, A Fresh Approach to a Life of Vitality where I help you turn good intentions into effective actions — to you get to where you want to be. The tagline of LiveBest is you must be present to win. That means showing up in your own life to live the life you want. Food nourishes you, but you can also feed your soul so that you set yourself up to have more of the good stuff.
My webinar series and book Your 6-Week Guide to LiveBest, Simple Solutions for Fresh Food & Well-Being are step-by-step programs that show you how to make small changes each day for lasting results you can see and feel in just 6 weeks.
Discover how to transform your diet in just 6 weeks. For example, you'll learn:
How to get the fiber and nutrients you need from the foods you eat
How to set goals for healthier eating
Easy ways to eat more fruits and veggies into your meals
Snack solutions that are actually good for you!
how to interpret nutrition labels, to tell if a food is a good source of fiber, how much sodium is too much, and the easy way to understand "percent daily values."
I have spoken to thousands of people at dozens of conferences and webinars across the United States. My recipes and recommendations have been featured on Prevention.com, CookingLight.com, WomansDay.com, MensFitness.com, ReadersDigest.com, Lovoinc.com, Shape.com, FitnessMagazine.com, FilmJournal.com, FoodNetwork.com, Tillamook County Health Matters, WeightWatchers.com, Southeast Dairy Industry Association, and Walnuts.org.
If you are looking for a quick way to lose weight, you should visit a different website. But after you do, and learn that "quick solutions" only result in weight loss followed by weight gain, then come back here and learn to LiveBest. I don't count calories nor do I offer diets or dieting advice. What you will find are solutions and guidance on lifelong healthy living so you can live even better. Side note: Though I love hearing how my webinar helped a woman lose more than an inch around her waist and go off her blood pressure medication! And hearing that my book motivated one woman to begin the process to lose 100 pounds. Yes, 100 pounds!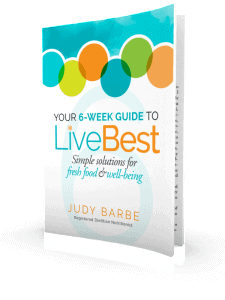 My passion is sharing the deliciousness of food with benefits! If you want delicious food to nourish your body and mind, you're in the right spot.
To LiveBest, you must be present to win. Visit the Products page to find tips and tools to help you live with intention, including my free High Five Fiber Challenge. Visit the Connect page to read what other say. Here's what a webinar participant said: "Judy's webinar series led me down better road. I've lost a little more than an inch from my waistline, and lost 12 pounds. Best of all, my blood pressure is lower, and at a Dr. visit last week, was able to stop my blood pressure medication. Again, many thanks for your wonderful course!"
Health educators can sign up for a FREE leader guide and slide series (click on the Get it Now button) to accompany Your 6-Week Guide to LiveBest, Simple Solutions for Fresh Food & Well-Being.
Amazon link to Your 6-Week Guide to LiveBest, Simple Solutions for Fresh Food & Well Being
LiveBest Seasonally, A Fresh Approach to Living with Vitality
My advice is science based, but not intended to replace that of your medical provider.
See my privacy policy here and disclaimer here.
My website contains affiliate links. That means if you click through on a link I may earn income from the seller, not the buyer, you. My intent is to be a resource for you. I only refer to products that I support and use and the income helps keep the recipes coming and the website running. We are a participant in the Amazon Services LLC Associates Program, an affiliate advertising program designed to provide a means for us to earn fees by linking to Amazon.com and affiliated sites.
All of the food photos are my own, unless otherwise stated. If you'd like to use one, please seek my permission first. The content of the website and blog are copyrighted.