The ins and outs of cooking and eating artichokes. A flower-on-a-thistle plant that I love!
What's in season?
March to May 'tis the season for California-grown artichokes. It's where all the commercial artichokes in this country come from.
What were they thinking?
You just have to wonder who first ate this flower-on-a-thistle plant. Thank goodness they did!
Artichoke nutrition
One large artichoke has about 5 grams of fiber with only 25 calories, and is a good source of vitamin C, folate, and magnesium. Artichokes are packed with beneficial plant compounds, but they don't last too long, so plan to eat them within a couple days of purchase. Keep them refrigerated until you're ready to cook them.
How to buy artichokes
Choose artichokes that look fresh, feel heavy for their size and have tightly packed leaves. When you're ready to cook them, rinse under cold, running water. Pull off lower petals and trim stems. If you trim the petals dip the 'chokes in a bowl of water that has a splash of lemon juice to preserve the color.
How to cook artichokes
Steaming gives the most nutrition per bite of artichoke. They are dense so take around 45 minutes to an hour to to cook. You can boil them by slipping them into boiling, salted water. Return to boil, reduce heat and simmer 40 minutes or so, depending on size, or until petals near center pulls out easily. Cooked in an Instant Pot or pressure cooker, they're done in 10 minutes. You can bake them, covered or wrapped in foil, at 350 degrees F. Using a slow cooker, this convenient recipe allows some time flexibility.
How to eat artichokes
To eat these fiber-rich gems, pluck the leaves and scrape the pulp off with your slightly clenched teeth.
Dip the leaves in a vinaigrette.
My favorite dip is a mix of curry powder, Greek-style yogurt and some mayonnaise.
Try stirring salsa into mayo to dip your artichoke.
Make my Artichoke Jalapeno Dip
When you get down to the center, cut out this "fuzzy choke." The center is where the heart of the choke is, so keep eating to enjoy this meaty section. What's your favorite dip?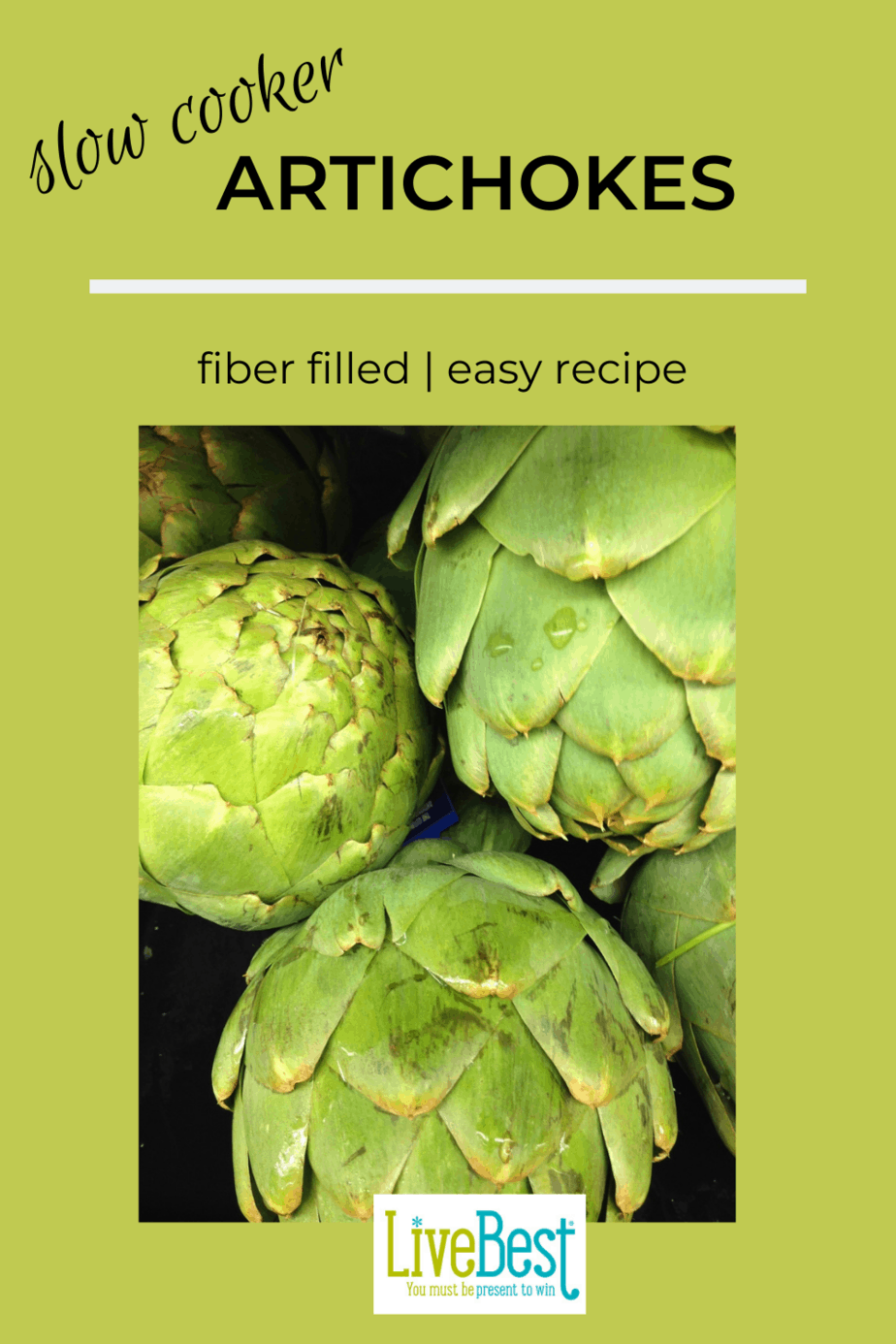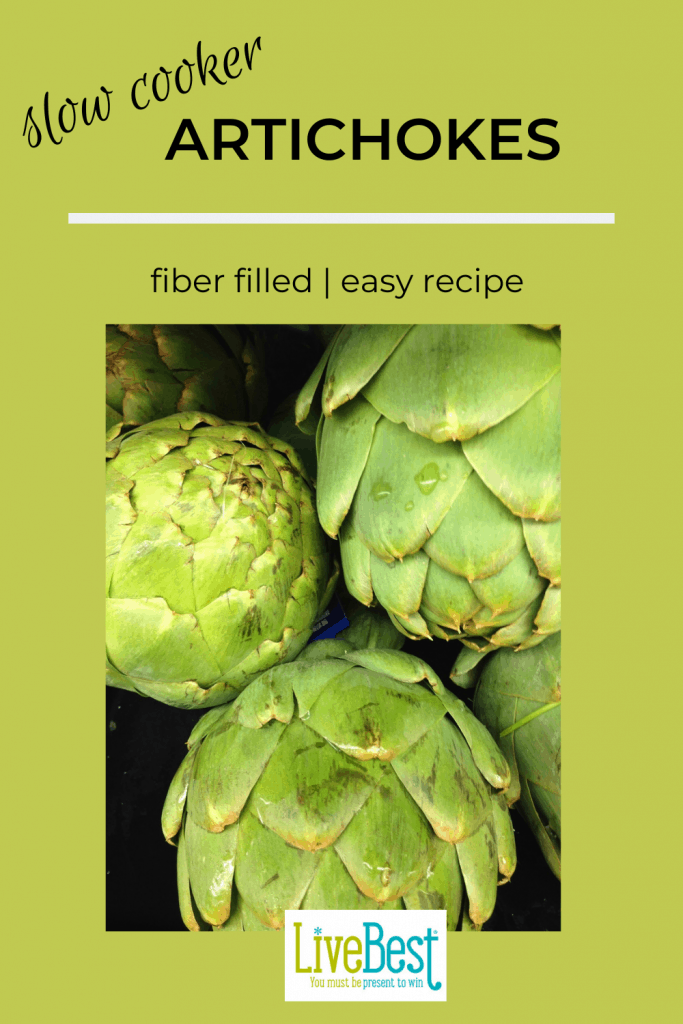 P.S. Want more healthy diet tips and recipes? Sign up for my newsletter here.
This post contains affiliate links. That means if you click on a link and make a purchase, I may make a small commission. This does not affect the price you pay but helps fund the website.
Print
Ingredients
2

artichokes

1 tablespoon

fresh lemon juice

1 tablespoon

olive oil

½ teaspoon

salt

1

clove garlic, minced

½ cup

white wine or water
Instructions
Rinse artichokes. Removing the stem allows the artichokes to sit better in the slow cooker. Spread the petals open for seasoning and place directly into the slow cooker, stem down.
Combine lemon juice, olive oil, salt and garlic. Drizzle over artichokes.
Pour wine into the bottom of the slow cooker and fill with just enough water to cover the bottom quarter of the artichokes. Set on high setting and cover with lid; cook until tender, 3 to 4 hours. Cook time can vary depending on size of artichoke.