Fresh asparagus salad with walnuts, Parmesan and a lemon vinaigrette packs spring flavor into every teeny, tiny bite. One of my best asparagus recipes + top 10 tools in my kitchen.
My kitchen is valuable real estate. I limit my collection of gadgets because I don't have much storage space. Multitasking equipment is what I want.
I surveyed fellow dietitians who know their way around the kitchen and found some great ideas on how the use a handful of tools.
Top 10 dietitian recommended kitchen tools
Here are the top ten multi-use tools used by dietitians who love to cook.
Check out the LiveBest Equipment List! My free resource on how to stock a kitchen and the tools I use All. The. Time.
Putting them to work in Shaved Asparagus Salad
Now let's put all these useful tools to work. Shaved salads are a simple way to use vegetables.
Juice and zest the lemon with the microplane.
Whisk together olive oil, lemon zest, lemon juice, salt and pepper, set aside.
Peel the asparagus and Parmesan cheese with vegetable peeler
Snip the herbs with kitchen shears.
Drizzle vinaigrette and sprinkle nuts over.
The ingredients
zest of

1/2

lemon, finely grated
freshly squeezed lemon juice from 1/2 lemon

2 tablespoons

extra-virgin olive oil
Kosher salt
Freshly ground black pepper

1

pound thick asparagus spears, rinsed

3 tablespoons

walnuts, toasted

1/4 cup

Parmesan cheese, shaved

1 tablespoon

finely chopped fresh parsley
How to buy asparagus
In the U.S. asparagus is in early spring. When you buy asparagus, look for firm stalks with tight buds that are dry. Avoid mushy ones or those with buds that are opening up. Asparagus keeps just 3-4 days, so buy what you will quickly use.
How to store asparagus
Wrap is moist paper towels like a burrito and then place in a plastic bag or sealed container. To keep a couple extra days, break off the ends and stand asparagus cut-end down in about an inch of water, covering the container with a plastic bag to keep moisture in.
How to trim asparagus
Asparagus tips are fragile but the ends are tough. Grasp each stalk and bend it about an inch from the end to snap off the tough woody end.
Why do you soak asparagus?
Asparagus is grown in sandy soil. Place it in a pan of cool water to rinse off sand and debris. I use a loaf pan. After stirring it around, lift out of water to drain.

P.S. Hungry for more healthy living tips and recipes? Sign up for my newsletter here.
This post contains affiliate links. That means if you click on a link and make a purchase, I may make a small commission. This does not affect the price you pay but helps fund the website.
Pin it for later!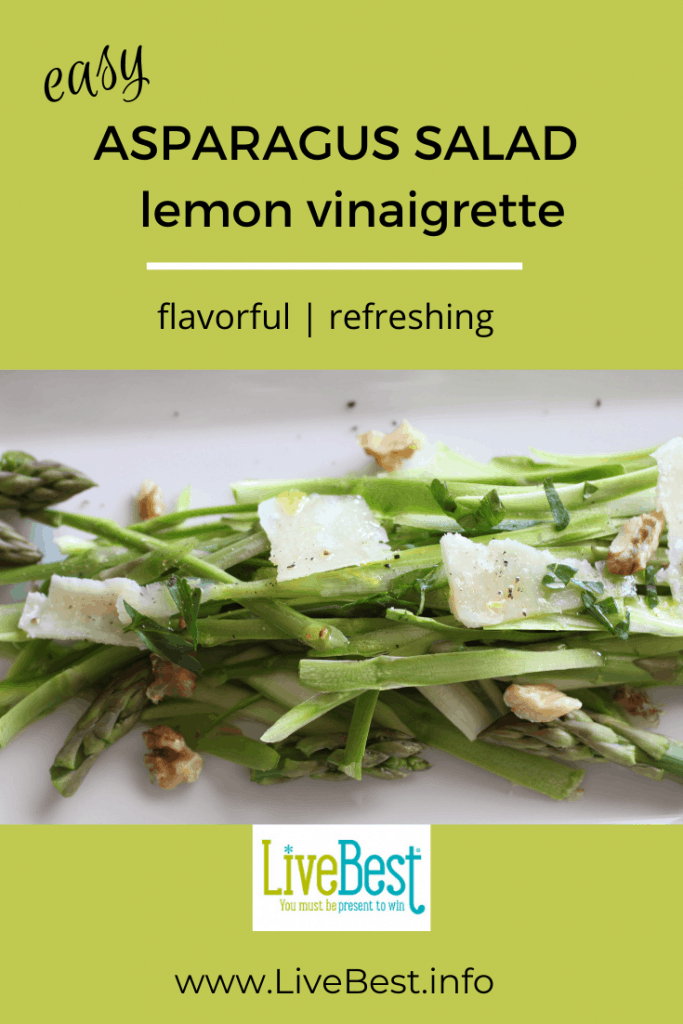 Print
Shaved Asparagus Salad
Asparagus walnut salad with lemon vinaigrette is shaved asparagus with fresh lemon, Parmesan and walnuts, packs spring flavor into every teeny, tiny bite.
Author:
Prep Time:

15 minutes

Total Time:

15 minutes

Yield:

4

1

x
Category:

Salad

Method:

raw

Cuisine:

American, Italian
Ingredients
zest of

1/2

lemon, finely grated
freshly squeezed lemon juice from 1/2 lemon

2 tablespoons

extra-virgin olive oil
Kosher salt
Freshly ground black pepper

1

pound thick asparagus spears, rinsed

3 tablespoons

walnuts, toasted

1/4 cup

Parmesan cheese, shaved

1 tablespoon

finely chopped fresh parsley
Instructions
In a small bowl, whisk together olive oil, lemon zest, lemon juice, salt and pepper, set aside.
Break or cut off the woody bottoms from the asparagus spears; discard. Break or cut off the flower ends and set aside. Use a vegetable peeler to shave the asparagus stalk. When it gets too thin to peel, chop the remaining spears with a knife.
Layer asparagus strips and flowers in a bowl. Drizzle vinaigrette over. Sprinkle with walnuts, cheese shavings and parsley
Nutrition
Serving Size:

1/2 cup

Calories:

150
Keywords: asparagus salad, what are good kitchen tools, how to make a raw asparagus salad, useful kitchen equipment