Healthy Zucchini Bread with olive oil, yogurt, whole grains, protein, and fiber with less sugar and fat. Plus basil adds a flavorful twist.
Does your counter look like mine? Piled with summer vegetables? I love 'em. But it's hard to keep up! Especially zucchini.
All. That. Zucchini. I've stuffed zucchini, grilled it, sautéed it, and added it to salad. I avoided baking zucchini bread because so often these loaves taste like dessert. But the zucchs kept coming, so I started tinkering.
How to make Healthy Zucchini Bread with Olive Oil and Yogurt
Heat the oven to 350ºF.
Stir together the dry ingredients.
Stir all the wet things together.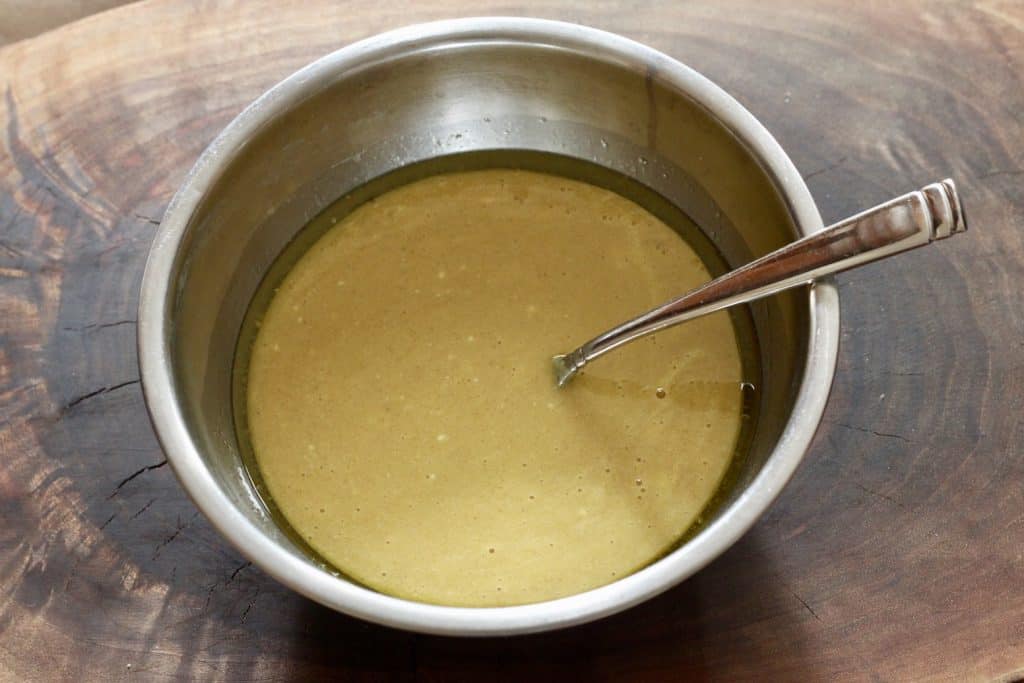 Rinse the zucchini under running water. Leave the skin on then shred the zucchini. A food processor works too, but I like this Microplane box grater. Some recipes have you squeeze out the moisture in the zucchini. I didn't do that. If the zucchini is big, like 4-inches in diameter and 14-inches long, it's mature. These can be tougher, seedier, and more bitter. I pick out the really big seeds.
Gently combine them just until the things start to moisten. The batter should still be lumpy.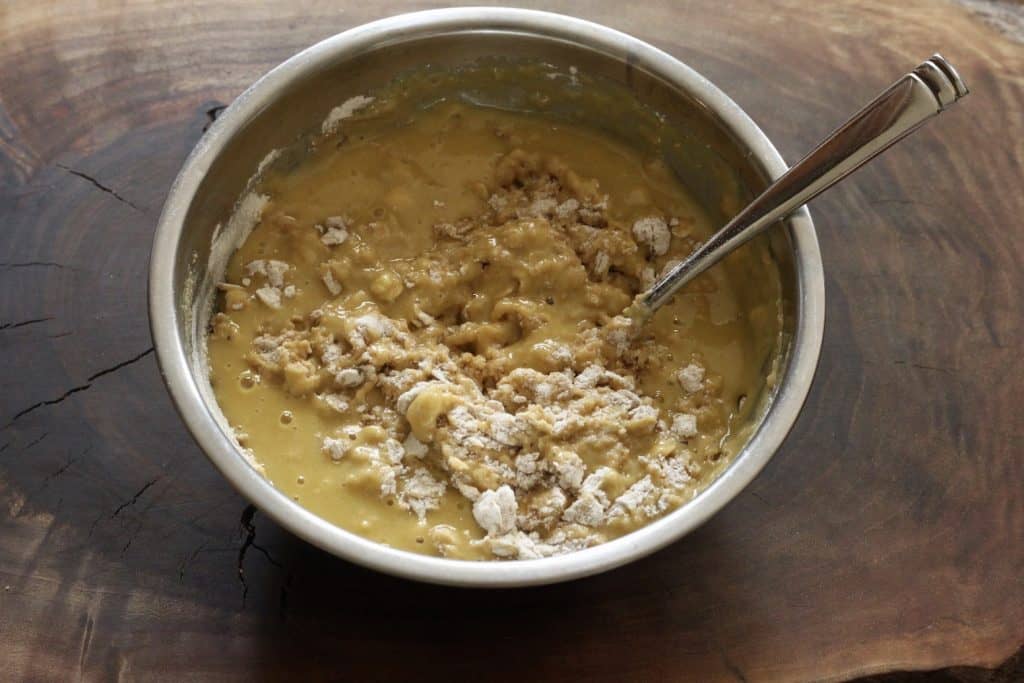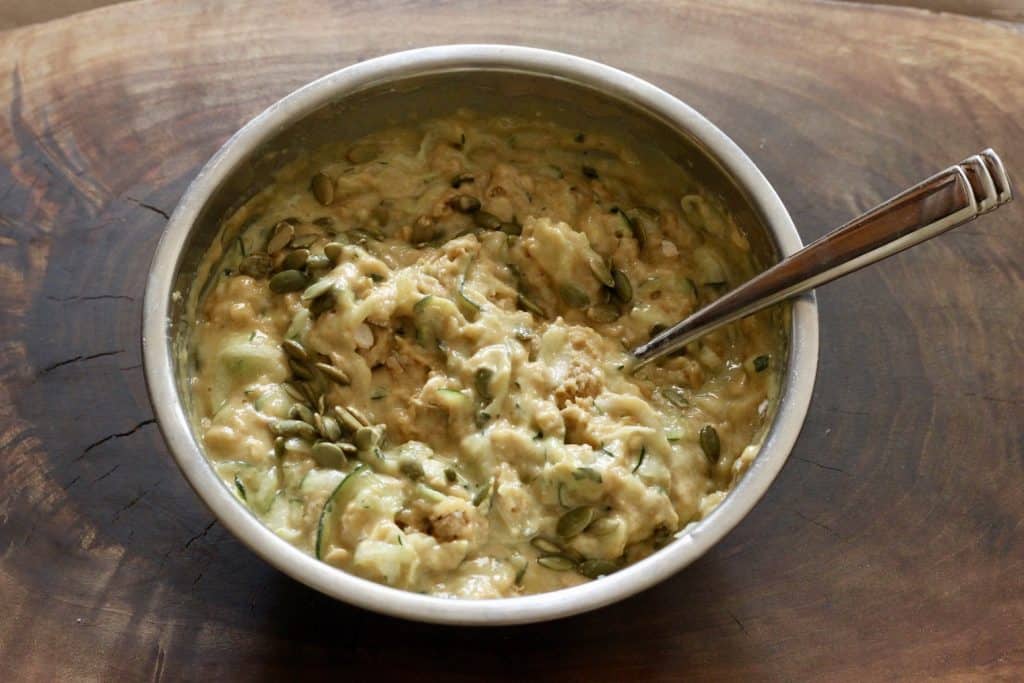 Bake. You'll know when it's done if you can stick a toothpick near the center of the pan and it comes out clean, no wet dough sticking to it. That takes 40-45 minutes at 350ºF. Cool on a wire rack 15 minutes to set the structure, then flip the pan over to release the bread.
The ingredients
olive oil is a heart-healthy fat that helps make the loaf tender, though you could use canola or your favorite mild oil
plain Greek yogurt adds protein and calcium
eggs provide protein and add structure to the bread
brown sugar adds a bit more flavor than white sugar
whole wheat flour provides whole grain benefits
all-purpose flour helps keep the bread from being too dense. All whole-wheat flour can make a heavy loaf.
old fashioned oats add protein and fiber
baking powder and baking soda help the bread rise
pumpkin seeds (walnuts also work) add protein, healthy fats, fiber and crunch
shredded zucchini add fiber and moisture so there's less oil required
chopped fresh mint or basil the fresh herbs add unexpected flavor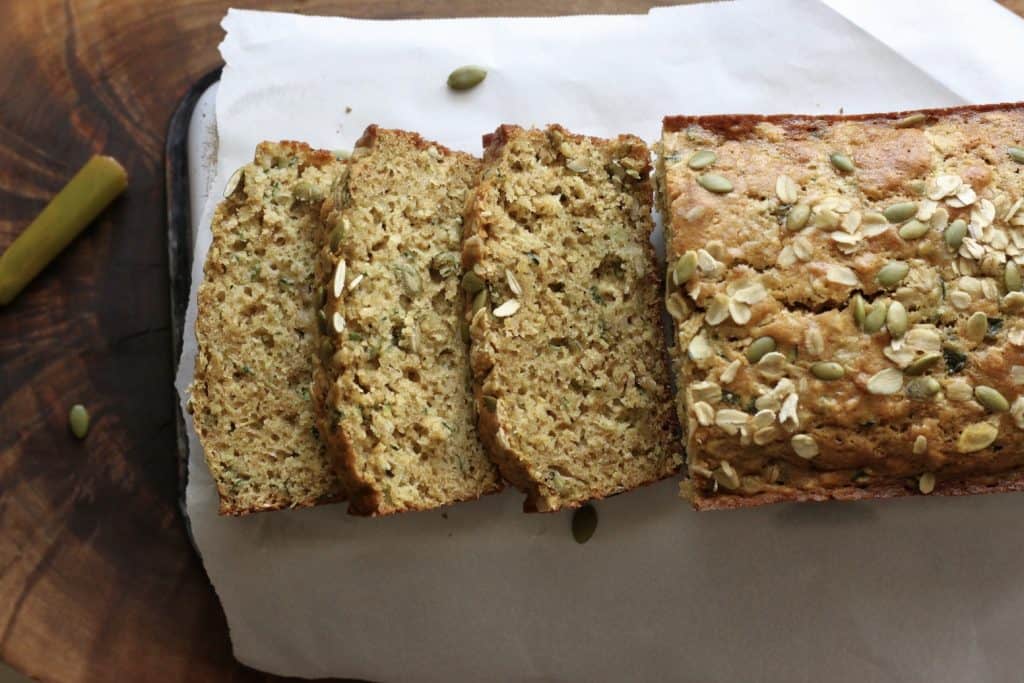 Quick bread tips
This is a quick bread recipe. That means no kneading so it's quicker to make. The bread rises because of baking soda and baking powder. These two start working when they're mixed with liquid. But it doesn't stop there. Most baking powder is double acting. That next leavening boost comes when it's heated. That's why you want your oven ready when your bread batter is mixed. So you can get the bread in the oven to maximize the baking powder's potential…so you get a good rise and tall loaf.
One more thing about quick breads. Overmixing makes a tough bread. The wheat's protein, gluten, gives the bread structure as it bakes. But if you overmix it, the gluten overdevelops and you end up with a tough, heavy texture. An overmixed batter is shiny and smooth. Lumpy batter his your goal.
Why I like this Zucchini Bread recipe
✅There's less sugar and fat. Many quick bread recipes have 1 to 2 cups of oil and 1 to 2 cups sugar. Not this lightend-up LiveBest Zucchini Basil Bread.
✅I replaced some of the oil with yogurt. That bumped up the protein. But so do the eggs and pumpkin seeds.
✅I added oats and whole-wheat flour so fortified the bread with more fiber.
✅It's so pretty! Love those crunchy pumpkin seeds! It's unique with the basil infusing the bread. If you grow herbs, shop your yard, try mint, lemon balm, thyme, or parsley.
Are you ready for your own fiber challenge? I created a free, 5-day challenge you can join by clicking this link. You'll get tips and tools, resources and recipes to create your own roadmap to meet your fiber goals. Don't ya? Won't ya? Seriously, it's only 5 days 😉 Find it right here.
Pin it for later!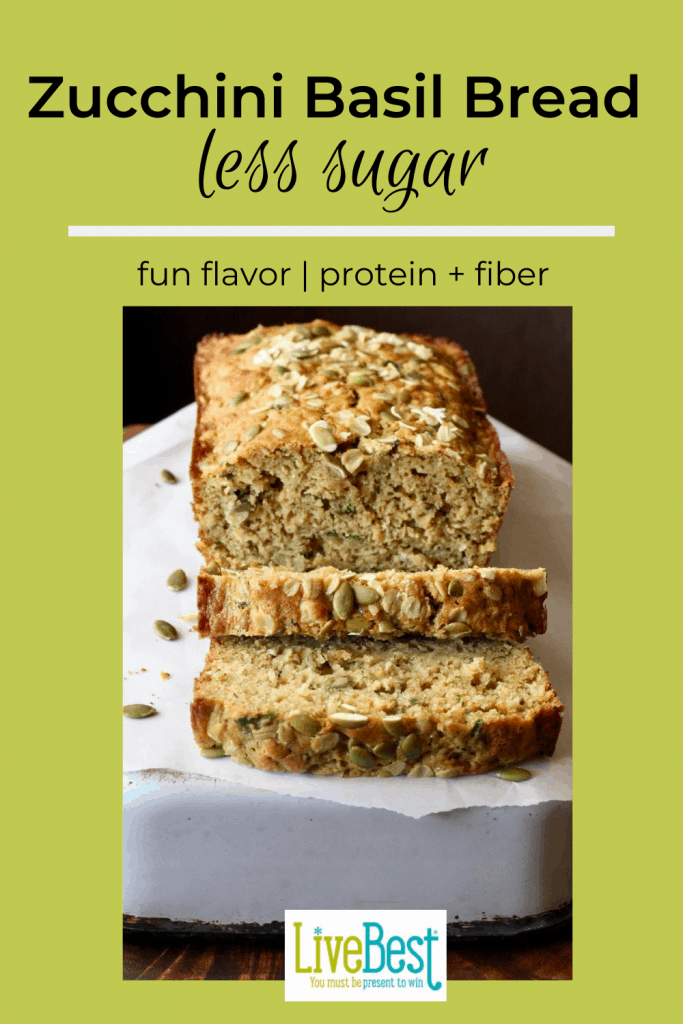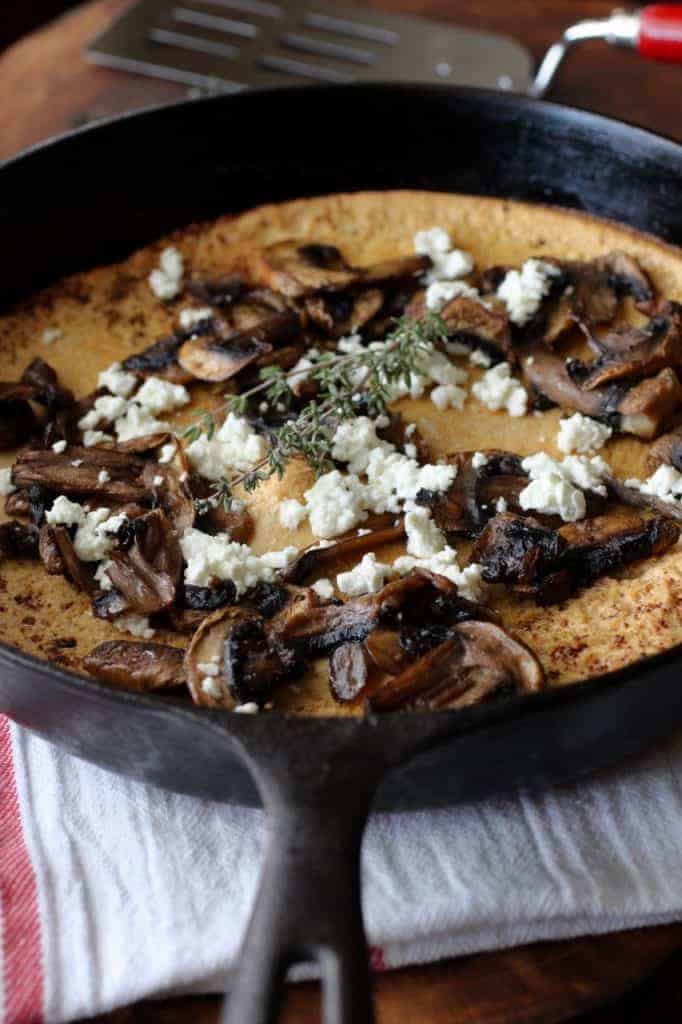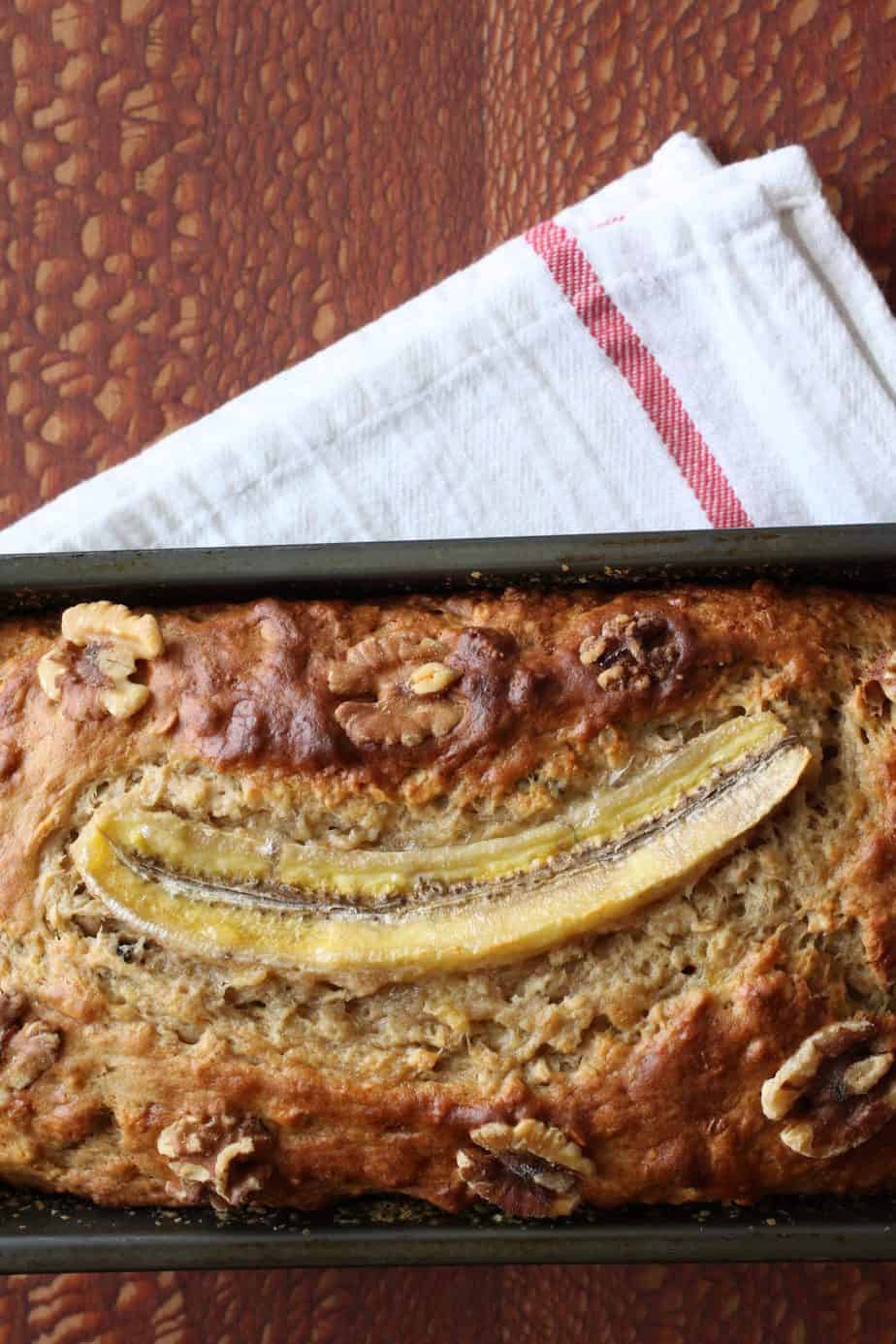 The best pan to bake zucchini bread in
I use an aluminum pan because it conducts heat so well. That means it bakes a little faster and browns better. Stainless steel pans don't conduct heat as well as aluminum. On the other hand, glass takes longer to heat and doesn't conduct heat well, but it does hold heat for a longer time. That means with a glass pan the edges of baked goods may cook faster than the center, so you might end up with dry bottom and sides. Reduce the heat by 25° F. to remedy this.
This post may contain affiliate links which means if you click through and make a purchase, the seller pays me a commission. It does not increase the price you pay.
Print
Olive Oil Zucchini Basil Bread
Olive Oil Zucchini Basil Bread is healthier zucchini bread! Yogurt, whole grains, protein, and fiber with less sugar and fat. If you don't like basil, try mint or parsley. Or go herb free.
Author:
Prep Time:

15 minutes

Cook Time:

40

Total Time:

55 minutes

Yield:

1

loaf

1

x
Category:

Quick bread, breakfast

Method:

Oven

Cuisine:

American
Ingredients
1/3 cup

olive oil or canola

1/2 cup

plain Greek yogurt

2

eggs

1/4 cup sugar

1/4 cup brown sugar

3/4 cup

whole wheat flour

3/4 cup

all-purpose flour

1/3 cup

old fashioned oats

1 teaspoon

baking powder

1/2 teaspoon

baking soda

3/4 teaspoon

kosher salt

1/4 teaspoon

black pepper

1/4 cup

raw pumpkin seeds (walnuts also work), toasted (to toast, bake 350℉. for

12

–

15

minutes)

2 cups

shredded zucchini

1 tablespoon

chopped fresh mint or basil
Instructions
Set oven to 350℉. Spray a loaf pan 8.5 x 5-inch loaf pan with cooking spray.
Nuts spread nuts in a single layer on baking sheet. Toast while oven is heating for 12-15 minutes. Remove from pan to cool.
Mix oil, yogurt, eggs together until uniform color, then stir in sugar and brown sugar until well blended.
Combine In a separate bowl, stir flours, oats, baking powder, baking soda, salt, and black pepper together.
Spoon flour mixture to egg mixture, stir a few times, (you'll still have flour lumps). Add pumpkin seeds, zucchini, and herbs. Be really gentle in stirring. If you stir too much, the bread gets tough.
Pour into pan.
Sprinkle If you want to sprinkle a few oats and seeds over top before baking, now is the time do that.
Bake 40-45 minutes, until bread is browned and a toothpick inserted near the center comes out clean. Let cool on cooling rack for 15 minutes, then turn out of pan to cool completely on rack.
Notes
Store loaf in refrigerator up to a week.
Wrap tightly to freeze. Freeze up to 9 months.
Keywords: healthier quick bread,