So happy to share my e-book LiveBest Seasonally.
From summer to spring, LiveBest Seasonally is filled with solutions to use seasonal foods. Delicious recipes with power-packed vegetables, fruits, whole grains, and more using ingredients that are easy to find, plus some nutrition nuggets thrown in…just because.
One year I made a goal to photograph the sunsets. Not every day, but several times per week. As an amateur photographer, the point was to stop and notice the moment and enjoy the passing seasons.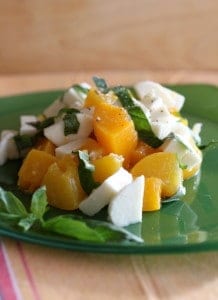 From my photo project, I was surprised to see that the winter sunsets were so beautiful. Every season has its perks; just like every season in our lives. With the photographs, I found that sunsets usually became more dramatic as they progressed. I thought I "had" my photograph and then in a few minutes, it became even better.
That's what I want more of …"even better."
I've been teaching people how to improve their plates for decades, now with LiveBest Seasonally you can learn how to do it too.
It's a daily problem solver: More than 50 ideas provide solutions from how to serve vegetables to which apples are best for baking or using in salads.
It's doable: I don't have time to shop at 3 different stores each week. Do you? Every suggestion is readily available from major grocery stores.
And most importantly…it's fresh and delicious! Fourteen seasonable recipes with simple solutions for breakfast, lunch, and dinner with recipes for butternut squash and apple soup, spiced banana oatmeal, orange basil skewers, curried pumpkin walnut soup, chile braised beef, grilled fish tacos with avocado and orange salsa, and peach and mozzarella caprese salad. The problem is you may get impatient waiting for the best season to enjoy some of these recipes!
LiveBest Seasonally – Just $10.00
You've got a life to live, so I'm happy you want to live best. If you're like me, you want to maximize your opportunities to live with vitality. One step at a time, I help people live best. So glad you're on the journey.
Note: This is an ebook. A full-color electronic book will be available on your computer or IPad.
Take a peek inside…or buy it here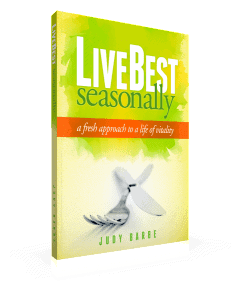 What others are saying about LiveBest Seasonally:
"LiveBest Seasonally is a great resource. It's not some crazy diet plan—it's a practical guide of doable tips and recipes. It's not a "health nut" magazine—it's a down to earth, solution-filled guide for real people on the go. It's not about unattainable goals—it's about the little and easy things you can do to change your life. It's not just about being healthy—it's about being a better you."…Brian Emerson, Riverstone Endeavors
"A fresh and unique perspective on eating well to live better. The writing is primo, and the photos and recipes mouthwatering. Enjoy!"…Mary Lee Chin, registered dietitian, Nutrition Edge Communications
"Thank you, Judy, for bringing together simple, refreshing and savory ideas and recipes to help us LiveBest Seasonally. Your stories are personal and practical which brings meaningful context to your counsel as a dietitian. I may get a bit impatient, however, waiting to enjoy some of these recipes in season— they look so good!" … Donna Moenning, farmwife and mother of 3 and SR. Program Manager, www.BestFoodFacts.org
"LiveBest Seasonally is rich, interesting and compelling. A wonderful culinary adventure grounded in real-life tips with beautiful photos. I can't wait to try the recipes and food ideas."…Melissa Joy Dobbins, registered dietitian, Sound Bites, Inc. Sound Science. Smart Nutrition. Good Food, www.SoundBitesRD.com/blog
"What an awesome book! I love how the seasons are presented in a refreshing, easy-to-follow manner. Wonderful recipes too!"…Nancy Witzeling, graphic designer
"I love, love, love LiveBest Seasonally. I am so impressed with the expertise and knowledge." …Betty Mason, RN
"A wonderful book. It really is fresh and lively and packed with info and ideas. I was joyfully transported to a place filled with sunshine and life. You have done a great job."… Connie Jouen
"I love all the photographs and the layout makes it easy to read. I can't wait to try some of your recipes." …Ashley Smith, mother of three and elementary school teacher
"LiveBest Seasonally presents wise food discussions, helpful hints and tasty yet simple recipes that are just what I need. Thank you, Judy, for making this available; I look forward to incorporating it into my life. Live best to you!"… Anita Stinson, MD
Buy it here.
Pin it for later!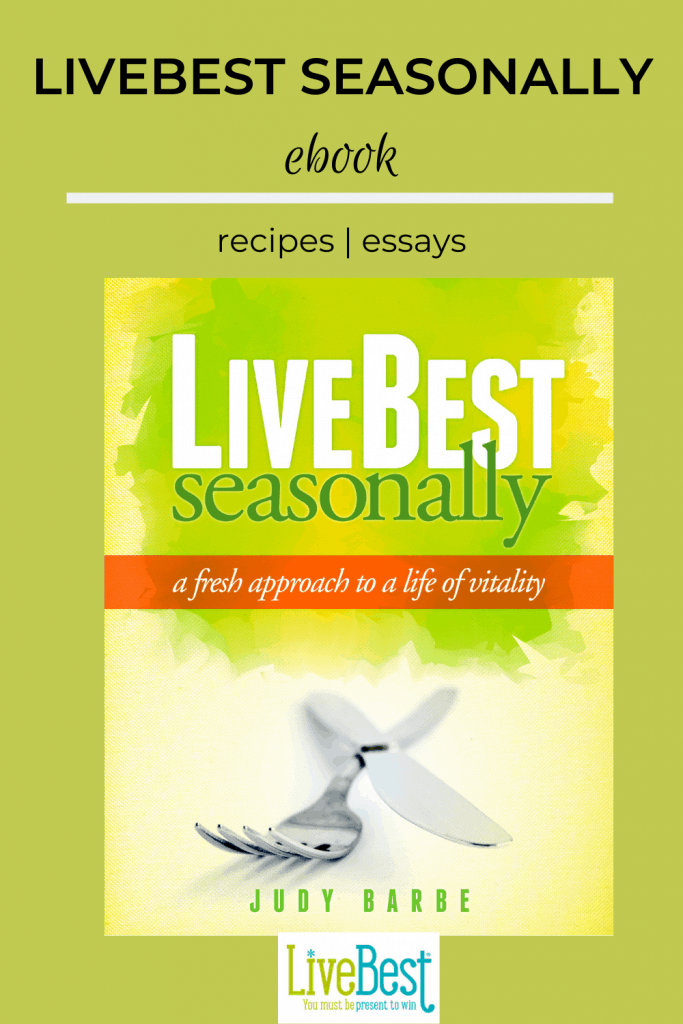 P.S. Want more tips and recipes? Sign up for my newsletter here.
This post contains affiliate links. That means if you click on a link and make a purchase, I may make a small commission. This does not affect the price you pay but helps fund the website.