Pasta with cherry tomatoes and spinach, zesty lemon, and crunchy pine nuts, you'll like twirling your fork around this plant-based Mediterranean one-pot meal, Spinach Tomato Pasta. 
But before we eat, let's fight the flu! 😷
These two topics may not seem relatable, but once you've had the flu, you want to do whatEVER you can do fight it.
Trust me!
Recipe for health
Clean hands, adequate sleep, managing stress, physical activity, not smoking and eating well keeps your immune system strong and healthy.
Because only 1 in 10 Americans eat enough fruits and vegetables, this easy plant-based one-pot Spinach Tomato Pasta is a delicious way to help move the needle on the eating well business. The anti-inflammatory plant compounds found in dark green, red, and orange vegetables are so rich, they should be on the menu 3 to 4 times per week. Here's one recipe to help you do that!
How to Make Vegan Spinach and Cherry Tomato Pasta
The ingredients
I love pasta but some recipes are too heavy with cream, too carby, too fatty. This one is just right. The Goldilocks version. I kind of turn it upside down by adding lots more veggies and a little less pasta.
garlic
pine nuts
olive oil
crushed red pepper
cherry or grape tomatoes, or substitute a 14.5-ounce can of diced tomatoes
fresh baby spinach
lemon
linguini or spaghetti
This Mediterranean spinach tomato recipe is:
filled with Mediterranean flavors. Freshly squeezed lemon adds freshness, tomatoes pop and pine nuts crunch!
so easy to make. A one-pot pasta recipe that gives you about 15 minutes to do something else is a time saver.
loaded with vegetables. Since only 1 in 10 of us meet vegetable recommendations, I know I'm not alone in trying to power-pack my fork with more of 'em!
Cook's note: Smash the garlic about 10 minutes before cooking to give time for the garlic's enzymes to develop their health benefits. Use the wide side of a Chef's knife to smash and flatten. Lay the knife blade on the garlic and hit the blade with your fist.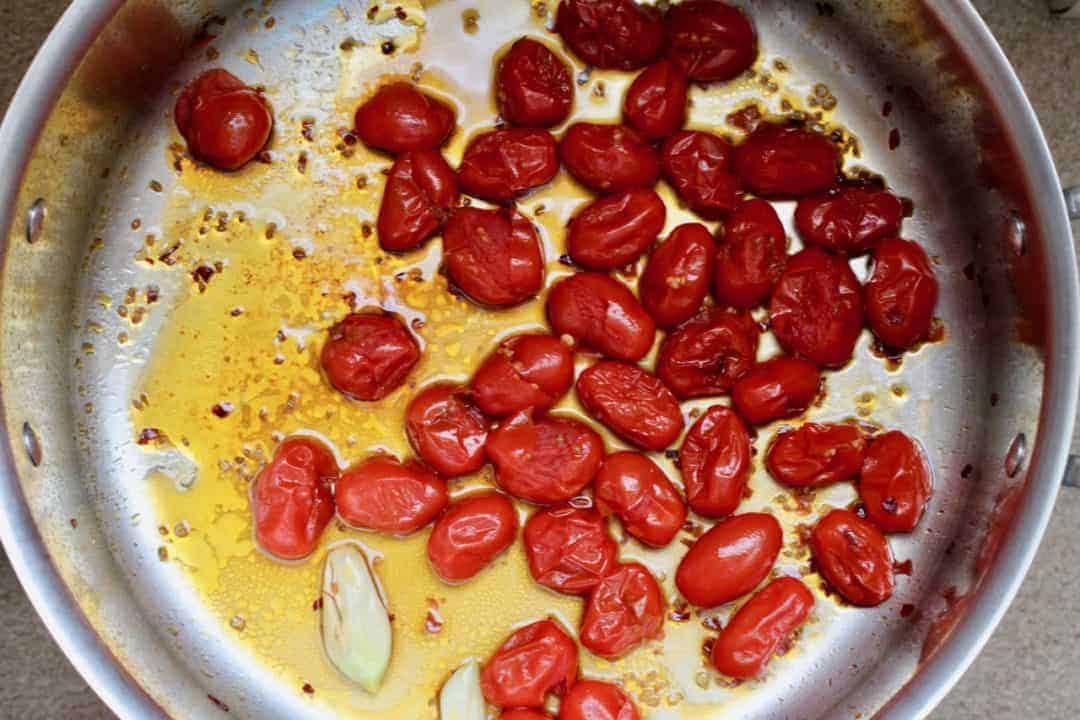 Cook's note: Pay attention when toasting the pine nuts. These lil guys can easily burn. I had a few overly toasty ones!
How do you know if you have the flu?
At 6:54 I started to clear the table. As I stood up I thought, hmmm… my throat feels sore.
Two hours later I had pain in my chest and a cough. Before bedtime the cough became progressively congested. I felt like I'd been beaten up.
So that's when you know you have the flu. Sudden onset, body ache, chills, fever, sore throat, runny nose, cough. The whole nine yards.
What to do when you get the flu
Of course, you don't want the flu, but if you get it these things help.
Sip soup, water, juice, tea. This works to keep the congestion more fluid which is good when you're coughing and it hurts like a mother to cough. Pneumonia is a real possibility so I pushed fluids.
Steam your face. I took longer showers to let the steam help clear my sinuses. I heated a pan of water to boiling then leaned over the pan with a towel draped over my head to give me more moisture.
Rest I gave the flu all the attention it demanded. Because I had zero energy, I laid down as much as possible, took naps, and went to bed early.
Treat symptoms. I found a cough drop helped keep my scratchy throat under control. I knew coughing was necessary to break up the congestion, but I wanted to sleep at night. A cough suppressant, like NyQuil, helped me do that. A raised pillow also helped keep coughing down at night. Tylenol or Motrin alleviated achiness. A nasal spray, like Flonase, slowed my runny nose. A milkshake was just the thing one night. A cup of hot lemon water with honey was just the thing on another night.
Most people will recover from the flu within a few days to a couple of weeks. If fever lasts longer than 4 days or you have trouble breathing, it's time to go to the doctor. Flu can cause serious problems with life threatening results.
How to prevent flu
Want to fight the flu? Wash your hands.
Raise your hand if you've heard the news, hand washing is one of the most important steps to avoid getting sick and spreading germs.👊🏻
Hand washing steps
It seems simple enough. But here's the scoop on doing it right.
Lather and scrub. This creates friction, which helps lift dirt, grease, and microbes. Microbes are present on all over your hand, and particularly so under the nails. Scrub a dub, dub, dub about 20 seconds, or two verses of "Happy Birthday" song.
Dry your hands. When you're finished singing, dry your hands. Germs are more easily transferred to and from wet hands.
Handwashing prevents overuse of antibiotics
Handwashing prevents about 30 percent of diarrhea-related sickness and about 20 percent of colds and other respiratory infections. Even more, not being sick reduces the amount of antibiotics people use and the likelihood of developing antibiotic resistance. Reducing the number of these infections by better hand washing helps prevent the overuse of antibiotics—the single most important factor leading to antibiotic resistance around the world. Handwashing can also prevent people from getting sick with germs that are already resistant to antibiotics and that can be difficult to treat.
Check out MORE healthy dinner ideas
Pin it for later!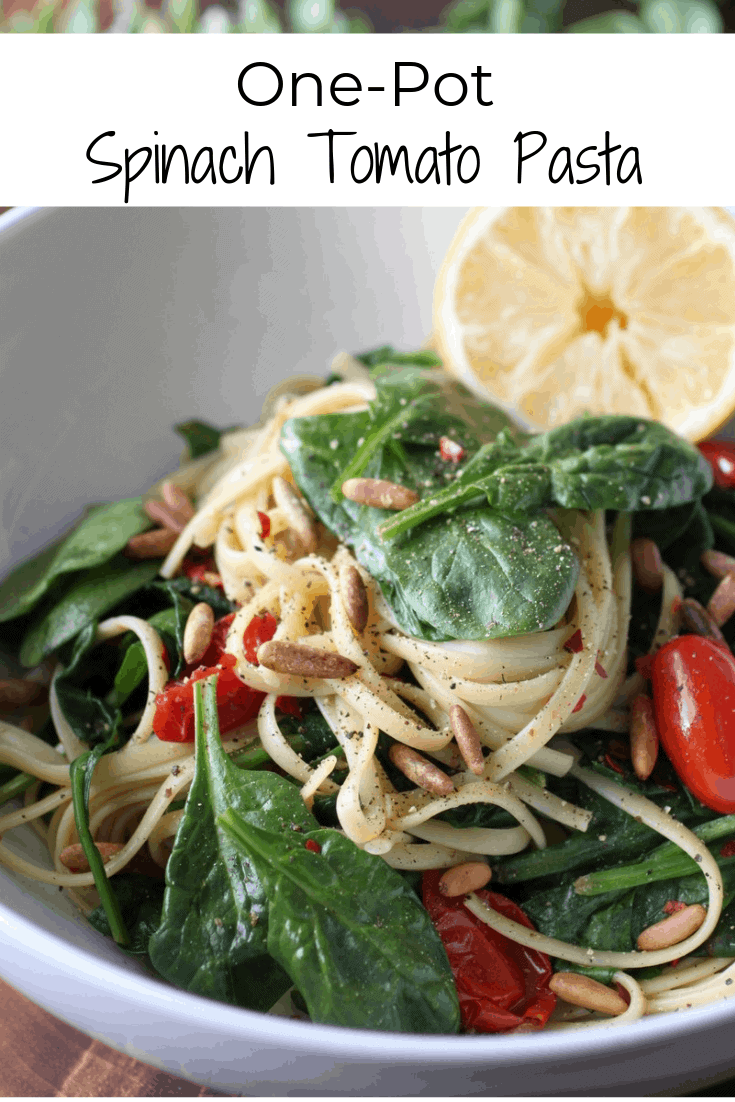 P.S. Hungry for more healthy diet tips and recipes? Sign up for my newsletter here. As a registered dietitian, nutrition and delicious, healthy eating are my focus.
This post contains affiliate links. That means if you click on a link and make a purchase, I may make a small commission. This does not affect the price you pay but helps fund the website.
Print
Spinach Tomato Pasta
With blistered tomatoes, fresh spinach, zesty lemon, and crunchy pine nuts, I think you'll like twirling your fork around this one-pot meal.
Author:
Prep Time:

10 minutes

Cook Time:

30 minutes

Total Time:

40 minutes

Yield:

2

generous

1

x
Category:

Pasta

Method:

Stovetop

Cuisine:

Italian
Instructions
Smash garlic with the flat side of a Chef's knife.
Pine nuts heat skillet over medium low heat, add pine nuts and toast for 3-5 minutes, occasionally stirring or shaking the pan.
Pasta cook according to package directions. Drain, but collect ½ cup pasta water, set aside.
Spinach and Tomatoes Dry the pasta pot. Heat over medium heat, add oil, garlic and crushed red pepper, cook 2-3 minutes. Add tomatoes. If using fresh tomatoes, poke several with the tip of a sharp knife to release juices; cover with lid. Cook 10 minutes, shaking pot occasionally. Remove from heat. Add spinach, stirring to blend with tomatoes. Add lemon zest and juice. Return to heat, add pasta, ½ cup pasta water. Stir until spinach wilts. Sprinkle pine nuts before serving.
Keywords: spaghetti, vegetable spaghetti, pasta recipes, one pot meals, flu
Tonight you can forget about digging inside your fridge, hopelessly wondering, "What's for dinner?"
My FREE One-Pan Salmon with Spinach & Tomatoes checks all the boxes for a fab dinner.