Easy tips, tricks and recipes: ways to reduce food waste at home using bread.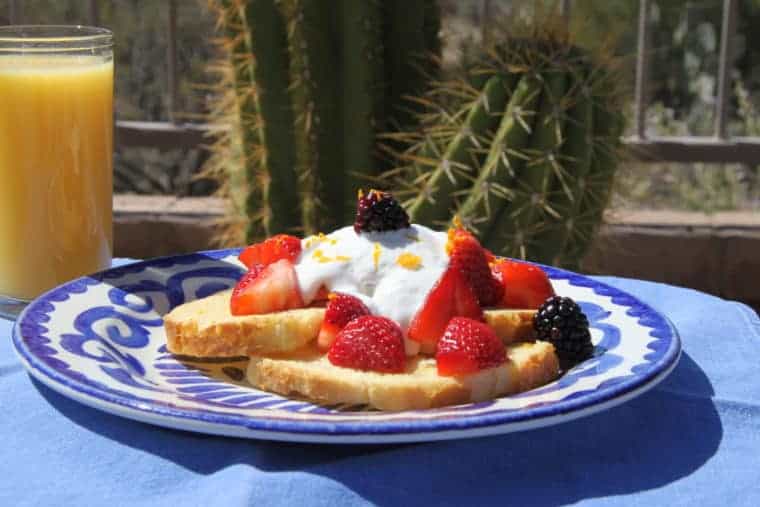 Best way to store bread
Pain perdu
Breads, starches and baked goods have been repurposed for centuries. The French translation for french toast is "lost bread." Pain perdu is called "lost bread" because it is a way to reclaim stale or "lost" bread.  Bread pudding and stuffing is made from dry bread. So are croutons. Breadcrumbs for used to add crunch to pasta dishes, to coat chicken nuggets and fish, and to top fruit crisps. Romesco, a flavorful Spanish red pepper sauce, is made with breadcrumbs, roasted red pepper and smoked paprika.
The freezer is the best place to store bread. Wrap it airtight and seal as best you can. It doesn't take long for sliced bread to defrost, but you can bring out pieces that you plan to use in the next day or so. and store at room temperature. If your bread is moldy, throw it out.
The sharp teeth of a serrated knife is ideal for slicing loaves of bread. You can saw through the bread without mashing it.
6 ways to repurpose bread to reduce food waste
Grill bread to used in salads such as a Panzanella. After grilling, cut the bread into similar-sized cubes. The croutons add crunch, texture, and flavor because it bread absorbs the dressing.
Make crackers. Slice olive bread or cranberry walnut bread into thin slices. A serrated knife works well for cutting. If the loaf is fresh, freezing it for 30 minutes or so will make slicing easier. Bake the slices on a baking sheet at 350° for 15-20 minutes.
Repurpose burger rolls into Orange Poppy Seed French Toast. To make the French Toast custard, mix together  1/4 teaspoon of poppy seeds, splash of orange juice, 1/4 teaspoon vanilla extract and orange zest, pinch of salt to 1 egg and 3 tablespoons of milk per roll.
Make chips from bagels, tortillas and pita. Cut into similar size wedges, place in a large bowl and sprinkle with salt, chile powder, lime zest, a light splash of oil and squeeze of lime juice. Stir to coat. Layer in a single layer on baking sheet. Bake 400°F for 15 minutes. Remove from oven. They crisp as they cool.
Make bread crumbs. Pulverize bread into coarse crumbs in a food processor or blender. Use in fruit crisp recipes, sprinkle over pasta dishes or bread fish or chicken before baking. To make toasted breadcrumbs, spread in a single layer on a baking sheet; bake at 300°F for 15-20 minutes. Breadcrumbs can be stored airtight in the freezer for several months.
Make crostini. Slice into 1/4-inch rounds, spread on a single layer on a baking sheet; bake at 300° for 15-20 minutes. You can brush them lightly with olive oil before baking, or rub with a clove of garlic after baking. These versatile toasts are perfect on a cheese board. Top with goat cheese and jam, olive tapenade, or make the ricotta pea crouton below.
Try these recipes to reduce food waste
How do you use leftover breads?
P.S. Hungry for more healthy living tips and recipes? Sign up for my newsletter here.