Stockholm has good food, beautiful architecture, and a super cool custom: fika.
After a few days in Copenhagen, we headed to Stockholm. The first thing the struck me about Stockholm were the islands. The city sits (or perches) on 14 islands. And there are tens of thousands of islands that make up the Stockholm Archipelago. Which is beautiful.
But that's lot of water and land.
So to get from here to just over there, may require a ferry. Or a bus. Or a metro. All are punctual, clean, and reliable, so are a great way to move around the city. A Travel Card is the way to go. You can buy it for the length of your stay (7 days or 24 and 72 hours are available). To use the travel car, place your the card on the card reader at the automatic barriers in the Metro and at the commuter train stations, and on the blue card readers on board the buses. Buy it in Metro stations or the SL Center.
But before I get to things to see, let's talk about a better-than-ever thing.
How to Fika
Fika (fee-ka) is a Swedish tradition that seems like a morning coffee break, but it is sooo much more. It's a social institution that centers on connection. One does not Fika alone, one meets with at least one other person to talk, laugh, visit. Or if you're at work, (Volvo plants stop for Fika) to reflect, inspire, create.
Oh, and food, usually a pastry is involved. Coffee or tea, a sweet bite and someone to share it with. How fun it that?!  I vote for a little more fika?!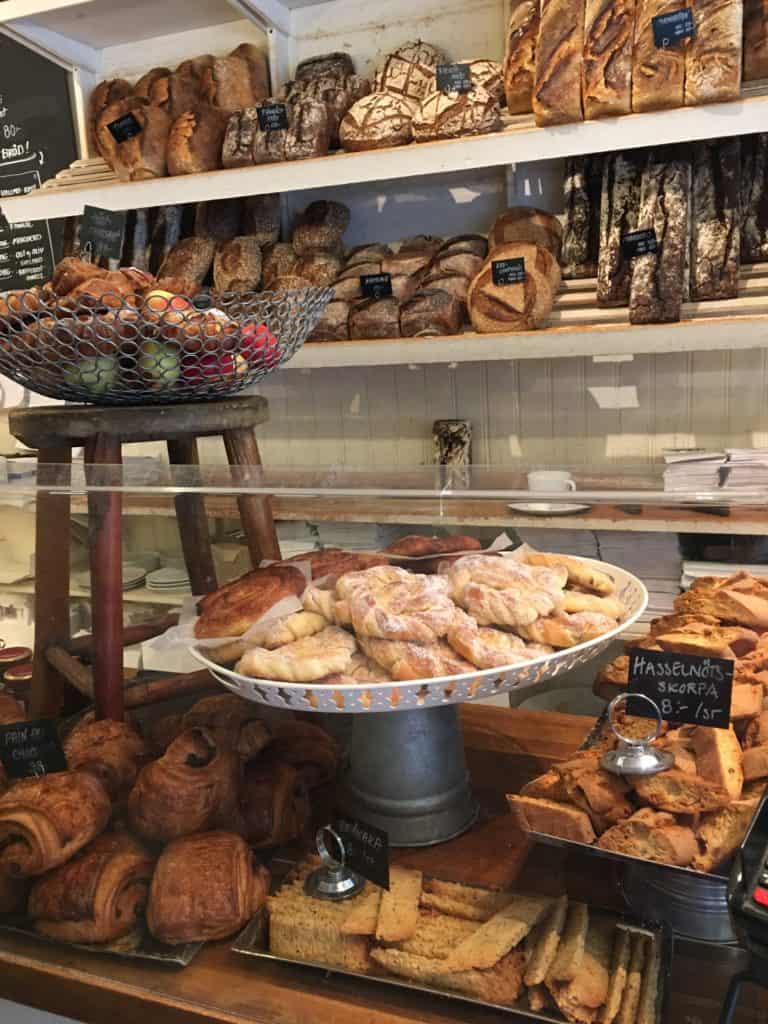 What to eat in Stockholm
When you're not in fika mode, there are other things to try besides a cinnamon bun, kanelbuller. But you gotta have a cinnamon bun (or 2) a day, whilst in Sweden.
I had an especially good Kanelbuller at Valhallabageriet. We loved that it was out of the way, which made for a nice walk, in a non-touristy neighborhood, and we were the only non locals. I loved those pearl sugar sprinkles so I brought home a couple of boxes.
Swedes love to be outside. You'll find blankets on the backs of many chairs in outdoor cafes to help stave off the chill. But do pack a jacket. It can get chilly at that altitude and on the water.
Husmanskost is traditional Swedish food, often with locally sourced ingredients, such as meatballs with cream sauce and lingonberry jam, salmon or pea soup, pickled herring, red cabbage or toast skagen. Unlike any toast you've likely had, it goes something like this ⬇️. Can I get a YUM?
When I was in town, apples, rhubarb, cloudberries and mushrooms were on Swedish menus.
Ostermaim Saluhall, an indoor food market, has meats, cheeses, breads and meals. Oh, and bakery items. Just sayin' if you're ready for fika.
7 Fun things to do in Stockholm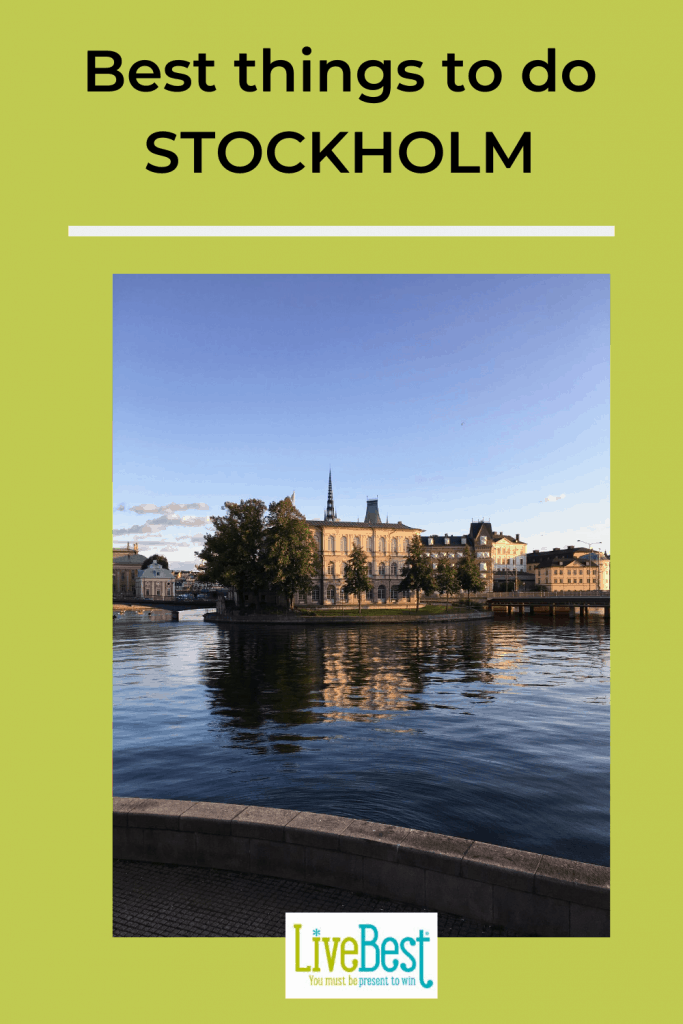 So, back to Stockholm. It's bee-u-tee-ful.
I love hanging out with smart people and the Nobel Prize Museum was a good place to do it. Short film clips highlight winners. Winner's mementos fill another room. Thanks to Alfred Nobel, the inventor of dynamite, we can be inspired and educated. The museum is in a beautiful square known for the 1520's Stockholm Bloodbath. In City Hall you can see where they hold the Awards Ceremony.
Get thee to Vasa Museum, mate! This warship sank on it's maiden voyage and was salvaged 333 YEARS later. I kept expecting Jack Sparrow to come popping out. Didn't see him but found the ship and exhibitions super interesting. I see why this is the most visited museum in Scandinavia. There's also an outside garden featuring vegetables and herbs from the 1600s.
You might have the time of your life at the ABBA Museum. Interactive and entertaining, you can sing and show off your best ABBA moves.
Rent bikes and ride through and around town. Djurgarden Island, once a royal hunting ground, is the same island the Vasa Museum is on. There's a lovely path, Strandvägen, to ride or walk with views of the city and the waterfront. But when you park your bike, remember the color of it and where you left it. There are LOTS of bikes!
In the cellar of the Royal Palace is the Royal Armoury. This free museum is a bathroom break plus royal carriages, clothes, and weapons centuries old.
Stockholm Ice Bar is the world's first permanent ice bar. Everything, including the glasses are made of ice. Watch for the slide chute so you can send your glass back for recycling. The bar is inside the Hotel C. Yes, it's a little cold (23 degrees F), but they wrap you in a hooded cape with gloves. It's a little gimmicky, but we all had fun. My Waypoint Goods travel scarf fit right in. I tucked my phone in the invisible pocket (THAT'S why you can't see my phone ;-))
Visit City Hall. Guided tours will take you through the Nobel Prize banquet hall, current city council room, and the Golden Hall, with its 18 million gold mosaic tiles. If you plan ahead, you can get married in about 5 minutes but only on Saturdays.
Eat licorice. The Swedes are crazy for black licorice (lakrits), and prefer it salty. It comes in all shapes and sizes and makes a fun souvenir. Actually, they like candy in general and rank near the top country for candy consumption.
I thoroughly enjoyed exploring Stockholm. Hope to return cuz I don't want this stunning sunset to be my last Swedish memory.
Have you been to Stockholm? What are your favorites?
I love to explore and travel feeds my soul. Check out more LiveBest travel posts here.
This post may contain affiliate links which means if you click through and make a purchase, the seller pays me a commission. It does not increase the price you pay.