What's your daily sugar intake? How much sugar per day? 5 easy ways to reduce sugar intake!
How sweet it is!

And that's too bad. 🙁
It seems we've lost our collective heads to all things sweet. Which has taken us down a calorie-rich road. So many of our food choices have added sugar that recent government nutrition recommendations said, "Enough!"
Where is added sugar in our foods?
The major source is beverages.
Sips of soft drinks, fruit drinks, sweetened coffee and tea, energy drinks, alcoholic beverages, and flavored waters account for almost half of all added sugars in the collective American diet.
Cakes, pies, cookies, brownies, doughnuts and pastries are the other foods we reach for too often. Together, these categories make up more than 75 percent of added sugars. You don't have to be a registered dietitian to know these foods don't rank high on the good-for-me list.
How much sugar can I eat?
The recommendation is that added sugars be no more than 10 percent of calories— a goal that applies to all of us. And that's not much.
How many grams of sugar per day?
Here's some math to make sense of it. Ten percent of a 2,000 calorie eating plan equals 200 calories. There are 4 calories in each gram of sugar. So divide 200 by 4 to get 50 grams.
Fifty grams is about 12 ½ teaspoons of sugar. A 20-ounce soft drink has about 66 grams of added sugar. So with one drink, you're into tomorrow's sugar budget.
What are added sugars?
They are sugars added to foods or drinks when they are processed or prepared.
On food packages, look on the ingredients list for brown sugar, corn sweetener, corn syrup, dextrose, fructose, glucose, high fructose corn syrup, honey, invert sugar, malt syrup, maltose, molasses, raw sugar, sucrose, and turbinado sugar.

How to reduce sugar intake?
If your sweet tooth is hungry, decide where you want to spend your sugar. I'm not saying no to sugar, but yes to less. Here's how:
Choose beverages with no added sugar
Choose drinks with no added sugars, such as water, in place of sugar-sweetened beverages. Or drink fewer sugar-sweetened drinks per week in a smaller size.
To make flavored water, just add some fruit (apples, strawberries, lemons), vegetable (cucumber or jalapeño) or herbs to a pitcher of water. Refrigerate to keep it safe. Here, I added orange peel to the water and within 30-minutes had a refreshing orange-infused drink.
Or freeze herbs and berries in your ice cubes to flavor water.
Think small or mini
Choose mini-sized. Research shows that eating smaller portions satisfies a person just as well as a larger one. Once you've swallowed something there is not much memory of how much you ate—you just remember, mmm…that tasted good. So take a couple of bites and then move on. Find the Strawberry Basil Tarts recipe here.
Go plain
Reach for unsweetened or no-sugar-added versions of canned fruit, and yogurt. A cup of plain yogurt has 9 grams of sugar, 21 fewer than sweetened yogurt.
Top pancakes, oatmeal, and French toast with yogurt and berries to cut down on sugary syrups.
Go natural
Fruit and dairy have sugar that's part of their make-up. These aren't to fret about because these calories come with nutrition, making them they worth it.
Mix unsweetened cocoa into hot milk for a chocolate fix. Try apple slices, orange segments, or a few dried apricots. Add frozen ripe bananas to smoothies.
Go half and half
Mix half plain yogurt with sweetened varieties. Mix sweet cereal with more "adult" brands. Dilute cocktails with plain seltzer water. Choose peanut butter without sugar.
It's not too hard to satisfy your sweet tooth by making some simple changes. How do you do it?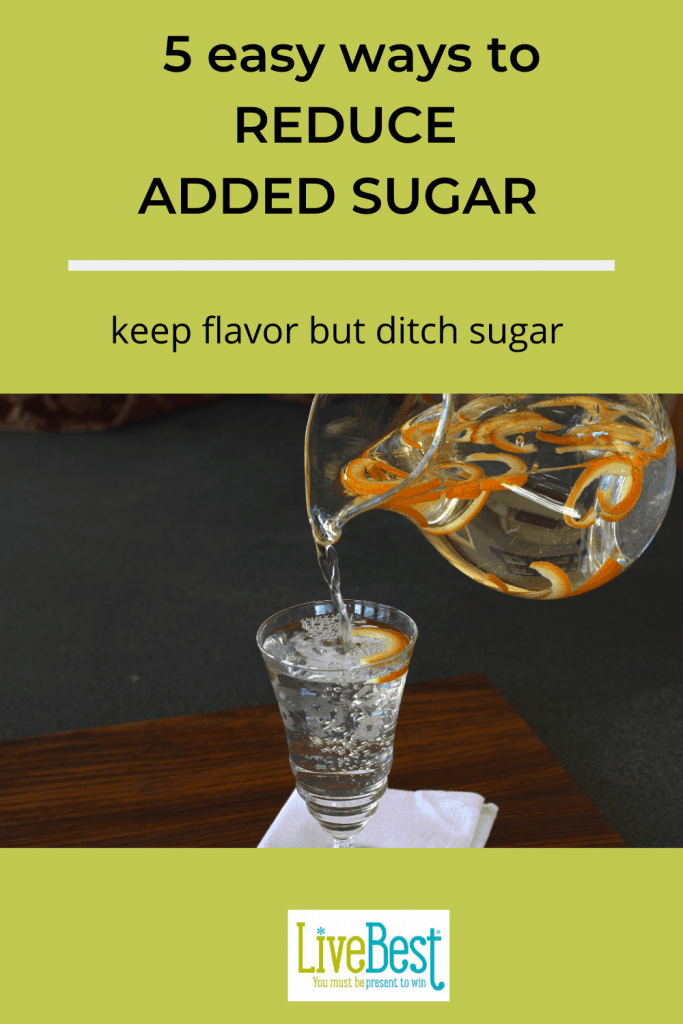 P.S. Hungry for more healthy diet tips and recipes? Sign up for my newsletter right here.