Aperol Spritz, a popular Italian cocktail, was my souvenir from Italy. Easy to make and so refreshing!
Part 3 in a 3-part series, Part 1, Part 2
Milan is home to world-class museums, shopping, views, foods and Expos. I did a bit of all. But the scene I play over and over is the outdoor cafes serving a balloon wine glass filled with an iced bright orange beverage. I had to have what it seemed everyone was holding.
How to make an Aperol Spritz
Aperol is an Italian liqueur that is bright orange. The sprint is a retro drink that Italians have enjoyed for years.
Aperol leans on the bitter side so pour with a light hand. I prefer a dryer prosecco or sparkling wine so the drink doesn't get too sweet. Top with club soda to add bubbly freshness.
Fill a big wine glass with ice. That chills the glass to help keep the drink cold just a bit longer.
Add prosecco and Aperol, stir.
Top with splash of club soda and an orange slice.
The ingredients
3

parts prosecco (sparkling wine)

2

parts Aperol (bitter orange liqueur)

1

part club soda
Along the river in Milan, outdoor cafes line the streets. Umbrellas shade the tables. Summer in Milan can be hot. In the late afternoon seats are filled with people stopping for an aperitif. I joined them. But I also went to my first World Expo.
My first World Expo
Food related activities always draw my attention. That's how I ended up at my first World Expo in Milan, Italy.
The 2015 World Expo was focused on food. More specifically on Feeding the Planet, Energy for Life. This was a worldwide conversation about reducing food waste, producing enough food to feed an increasing population, and wrestling with malnourishment from too few calories (hunger) and too many calories (obesity) along with the health complications from both.
More than 140 participating countries were challenged to show the best of their technology that offers a concrete answer to a vital need: being able to guarantee healthy, safe and sufficient food for everyone, while respecting the planet and its equilibrium.
When was the 1st World Expo?
World Expos have long been educating and entertaining us. London was the first country to host a Universal Exhibition in 1851. And they've been held ever since. The Eiffel Tower is the result of when Paris was the host city in 1889, the Space Needle in Seattle remains from a U.S.-hosted Expo and the original ferris wheel was introduced at the World's Fair held in Chicago in 1893.
The top 10 things I learned at World Expo
Our problems are not unique. As a registered dietitian, I nudge people toward health-promoting behaviors. Many countries demonstrated concern for populations that are eating too many calories and not getting enough physical activity. Sorry to tell Qatar that designating one day a year as Qatar Sports Day to encourage people to get moving isn't going to have much impact on reducing obesity and diabetes.

"My water is your water, your water is my water." In a thought provoking activity using salt, dried apples, and water, the Swiss exhibit focused on reminding us to take what we need and use what we take. Exhibit planners stocked the Expo exhibit with the amount of salt, apples and water they thought they would go through during the 6-month Expo. They instructed guests to take one or more samples, but to be mindful that more Expo guests would follow so that if they took more than their "fair share," there likely won't be anything left for future guests. With a couple of months left to go, the exhibit was low on dried apples and nearly out of water. The message reinforced conserving natural resources. If we overuse, we may not leave anything for our great grandchildren.
France is reducing trash with the "NU" initiative: a package-free shopping experience to minimize wasteful food packaging. They suggest shoppers bring their own containers: bottles, boxes, or Tupperware to take food home. They reminded us that years ago people used reusable clay pots and urns to store food, then we turned to disposable packaging which filled our landfills. Now they encourage shoppers to bring reusable containers to the store.

Water is a precious resource. You can waste more than 5 gallons of water if you let the water run while you brush your teeth. Rather than waste, Kuwait recycles 80 percent of it's gray water for agriculture. Qatar desalinates water to be used in growing hydroponic plants and for drinking water.
Television food shows are popular around the world. The Cooking Show featured celebrity chefs from around the world, but the show embraced the theme of the Expo. The host and her guest used the leftover ingredients from the chefs to create another dish…which reduces food waste.

Food is grown all over the world. Poland ranks 3rd for apple production. Morocco is the number one exporter of green beans. Israel developed the cherry tomato. One in 4 grains consumed in the world is produced in Brazil and 53 percent of all OJ is Brazilian. One of the signs I saw said: without the farmer, there is no party. So true!
With each breath you inhale part of the world. Healthy trees and plants sustain a higher quality of life.

I've added Belgium to my bucket list. It is home to 420 chocolate makers and 1,500 beer producers. I'm not a beer drinker but I could do a little chocolate tasting.
World Expo 2020. The United Arab Emirates hosts the World Expo in Dubai. This will be the first time that the World Expo is staged in the Middle East, North Africa and South Asia. The theme is Connecting Minds, Creating the Future, with the sub-themes of: Mobility, Sustainability & Opportunity. Expo 2020 Dubai is expected to attract 25 million visits and runs from October 20, 2020 through April 10, 2021.
It's true they had a home-town advantage, but of all the food I tasted food from around the world, you can't beat Italian pizza and gelato!

MORE Mediterranean diet recipes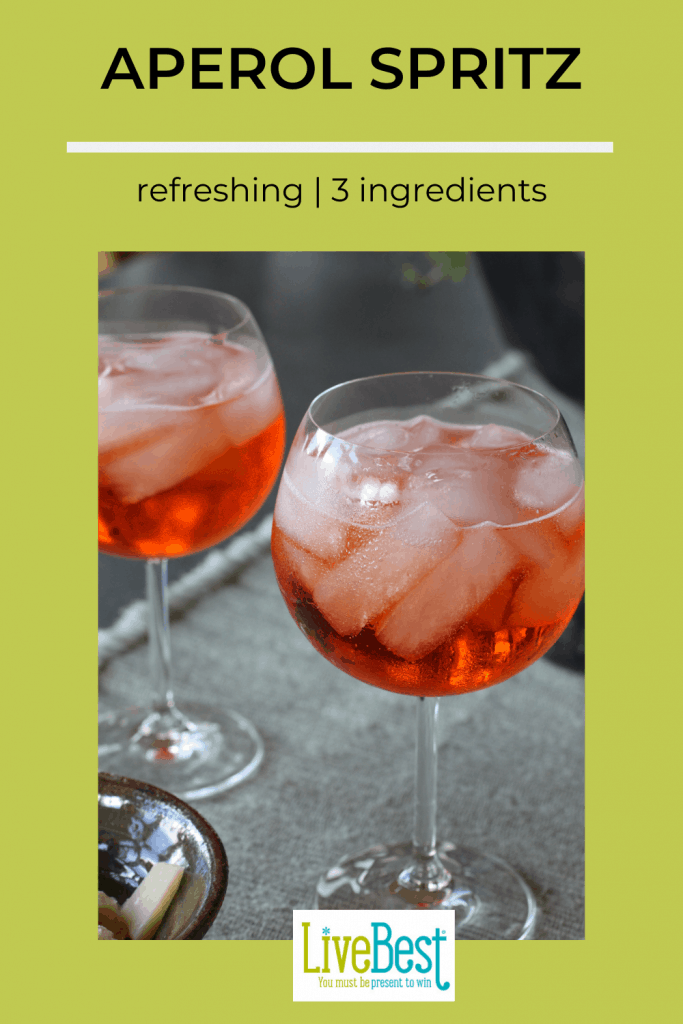 See more LiveBest travel recommendations here.
Are you receiving my recipes and news? Sign up here!
Print
How to make my favorite Italian souvenir: Aperol Spritz
A perfect summery refreshing cocktail.
Author:
Prep Time:

5 minutes

Total Time:

5 minutes

Yield:

1

1

x
Category:

Drinks

Method:

mix

Cuisine:

Italian
Ingredients
3

parts prosecco (sparkling wine)

2

parts Aperol (bitter orange liqueur)

1

part club soda
Instructions
Fill glass with ice. That chills the glass to help keep the drink cold just a bit longer.
Add prosecco and Aperol, stir. Top with splash of club soda and an orange slice.
Notes
Aperol is bright orange bitter orange liqueur. Ask your liquor department where to find it but usually with liqueurs.
Keywords: how to make an aperol spritz, summer cocktails, easy cocktails