Healthy Lemon Panna Cotta is cool, creamy, and easy! Topped with fruit, this is one of my go-to dessert recipes. It's an easy, elegant dessert. If you like creme brulee, you'll like Panna Cotta.
Let's have the Carmichaels for burgers.
Let's grill pizza and have the Jackson's join us.
It seems when we have people over I focus on the main dish.
But then there's the appetizer, sides and dessert.
Pssst. Come here, I've got something to tell you.
This is my go-to recipe when I have people over.
Honey Panna Cotta is an easy make-ahead dessert
That's because it can be made ahead — up to three days ahead. Fact is, it must be made ahead to allow time to set. This silky, cool, eggless custard-like dessert, typically served molded or in wine glasses, is as refreshing on a summer night as it is comforting in winter.
Panna Cotta or PannaCotta, the dessert recipe you've been looking for!
However you spell it, it is a blue ribbon winner!
Cooked cream may sound as exciting as rice pudding, but when you're served Panna Cotta in Italy, it's unlikely you'll think meh.
Panna Cotta translates to cooked cream in Italian. A traditional recipe uses cream, half and half, and sugar, but a LiveBest recipe isn't typical. 😉
Healthier Panna Cotta, yogurt and buttermilk but no cream
Yogurt Panna Cotta with no cream make a healthier Panna Cotta. Yogurt fills in for cream to lower the fat and boost the calcium. Buttermilk and lemon zest add tangy flavor. Moreover, yogurt and buttermilk also support healthy gut bacteria. I use this Microplane zester to capture the yellow lemon zest with all the flavorful oil. I also use the zester for limes, oranges, chocolate, nutmeg, and garlic. Unflavored gelatin provides the structure to this dessert. You'll find it in the baking aisle of the grocery store, near other gelatin products.

Make it your way
The cream recipes stays the same but the topping can be what you like. I've topped it with spiced cranberries in the fall, fresh oranges in the winter, strawberries and rhubarb in the spring, and fresh peaches in summer.
Honey Panna Cotta with Lemon, a LiveBest healthy dessert
Is a delicious, easy recipe. Promise.
Doesn't require three shopping stops because it is made with ingredients found in typical grocery store, though it does use unflavored gelatin or gelatine.
Is economical so you can serve an eye-popping dessert without jaw-dropping costs.
Can be made ahead, up to 3 days which is great time management when entertaining
Is versatile for serving. Use a pie plate if you want to serve a wedge, use espresso cups or these too-cute Weck jars if you want individual servings, or create a mold and then slide them onto the plate (a light spray with Pam or your favorite cooking spray helps them slide out of the mold. Just run a sharp knife along the edge to help release the firm Panna Cotta.)
Is an ideal way to serve fresh, seasonal fruit such as raspberries, chopped peaches, rhubarb compote, sliced strawberries, cranberry sauce.
Can be served as a breakfast dessert!
P.S. Hungry for more healthy living tips and recipes? Sign up for my newsletter here.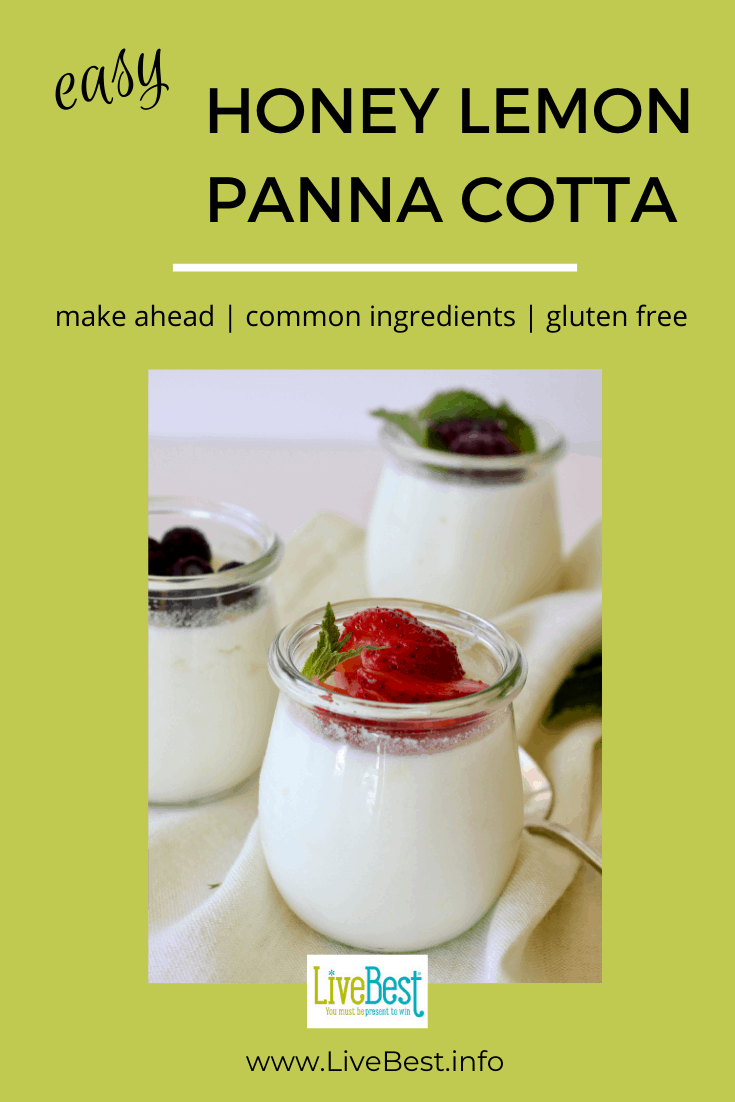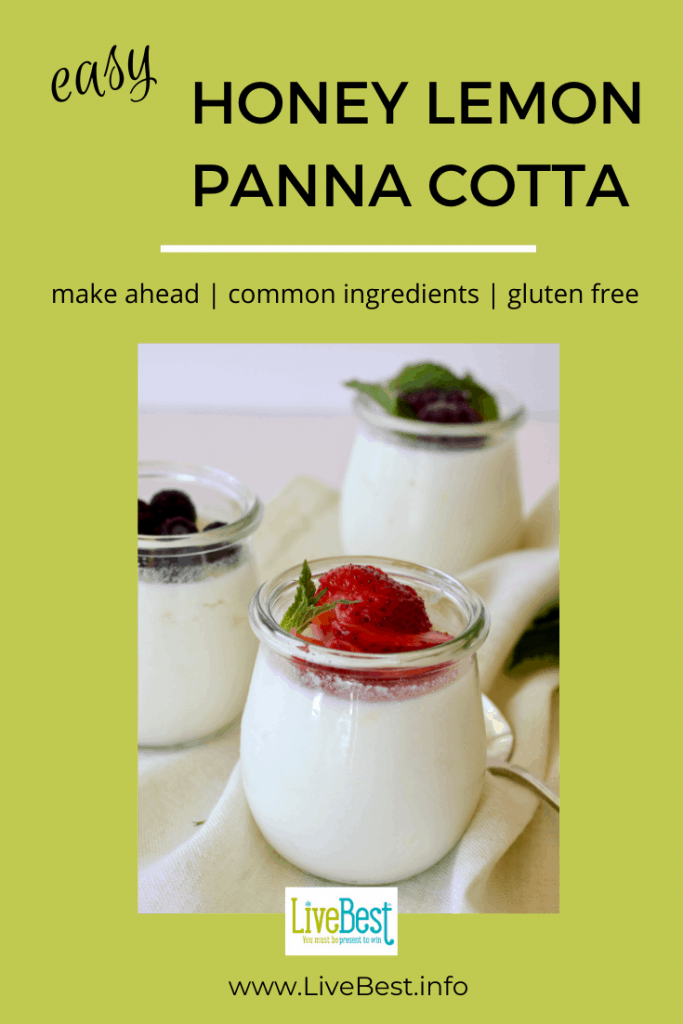 Print
Honey Lemon Panna Cotta
Cool and creamy, this no-bake dessert is ideal for summer.
Author:
Prep Time:

10 minutes

Cook Time:

10 minutes

Total Time:

20 minutes

Yield:

8

1

x
Category:

Dessert

Method:

stove

Cuisine:

Italian, American
Ingredients
2

packets unflavored gelatin

2 cups

milk

1 cup

buttermilk

1 cup

plain yogurt

1/3 cup

mild honey

1 tablespoon

fresh lemon juice

1/2 teaspoon

vanilla extract

1/2 teaspoon

lemon zest

2 cups

strawberries, sliced
Instructions
Panna Cotta: Pour milk and buttermilk in a small saucepan. Sprinkle gelatin over the milk. Let sit for 1 to 2 minutes to soften. Turn stove heat to low, heat milk and gelatin, stirring constantly to melt gelatin, about 6-8 minutes. Remove from heat. In a large bowl, combine yogurt, honey, lemon juice, vanilla and lemon zest. Pour in warm milk; stir to combine and remove lumps. To make it smooth and silky, you can blend with immersion blender or in blender.
Set: Pour Panna Cotta into serving vessel –  a large bowl, pie plate, or individual cups. Refrigerate until firm or overnight. The size of the container will impact this but it could be at least 4 hours.
Top with fruit such as blueberries, chopped strawberries, or cooked rhubarb
Notes
Panna Cotta may be made 3 days ahead.
I used milk and buttermilk in this recipe. You can use 2 cups milk if that's what you have on hand.
Find unflavored gelatin in the baking aisle at your grocery store.
Each packet of gelatin will set 2 cups liquid.
Nutrition
Serving Size:

1/2 cup

Calories:

130
Keywords: pudding, creamy dessert, make ahead dessert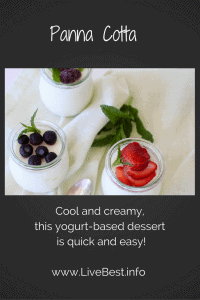 This post contains affiliate links. That means if you click through and make a purchase, the seller may pay me a commission. It does not increase the price you pay.