With quinoa, leafy greens, crunchy vegetables, olives, beans and creamy tzatziki dressing, you'll like adding this Mediterranean bowl to your healthy eating plan!
Despite the regular calls to eat better, a recent report card on the American diet shows we're not listening. 🤷🏼‍♀️
According to diet trends over the past 18 years, we're filling our plates with lower-quality carbohydrates refined grains, starchy vegetables, and added sugars. Not broccoli and fish and beans.
I get it. Making healthier choices can seem overwhelming and I don't think you should need a PhD to eat well, but even simple changes can help you answer the call on healthy eating. I've got 6 easy ways to healthier eating.
What are Mediterranean diet foods?
Vegetables, beans, fruits, whole grains, olive oil and olives, fish and seafood, yogurt and cheeses, nuts and seeds are the staples in a Mediterranean diet. These foods are part of an eating pattern of people in countries that surround the Mediterranean Sea. These foods also are nutrient rich, delivering healthy dividends. Just a few of the benefits of eating more of these foods include lowering the risk of high blood pressure, heart disease, arthritis, diabetes, dementia, and cancer.
That's why I'm lovin' this Mediterranean Quinoa Power Bowl! Many of the foods in the recipe are part of the Mediterranean Diet foods list. This bowl recipe is:
✅ plant powered
✅ fiber forward
✅fast, easy cooking
✅healthy eating
The ingredients are great but so are the flavor and textures!
Mediterranean Quinoa Power Bowl
With cucumber, red pepper and spinach kale or arugula, whole-grain quinoa, olives, and beans all tossed together with a creamy tzatiki sauce, this quick-cook Mediterranean Power Bowl delivers healthy dividends by the forkful.
Quinoa
Rich in protein and fiber, it's a quick cooking seed-like whole grain. That's a mouthful of benefits! Quinoa cooks in 15 minutes, but you can buy it precooked. Many recipes call for rinsing quinoa before cooking. That's because quinoa has a coating called saponin. This coating protects the plant against insects and microbes because it tastes bitter. Rinsing removes the bitter saponin, though much of the packaged quinoa today is prerinsed. If you're sensitive to bitter flavors, you might want to rinse quinoa before cooking. Fill a bowl with water, pour quinoa into strainer and float in bowl. Stir and rinse quinoa. Strain before cooking.
Cooked quinoa keeps in the refrigerator about a week.
Grain Bowl Substitutions
Rather than quinoa, try farro, spelt, wheat berries, bulgur, or brown rice. Of these, bulgur is also a quick-cook grain.
Tzatziki and Yogurt
To serve tzatziki as a dip, Greek yogurt would be a better choice because it's thick. I used traditional yogurt here to make a thinner dressing. Greek yogurt has more protein than regular yogurt. It also tends to be tangier. That's because when the Greek-style yogurt is strained, some of the natural sugar is reduced.
In tzatziki, shredded cucumber, lemon, herbs, olive oil, and garlic flavor the yogurt.
6 easy ways to healthy eating or Nutrition 101
1. Protect yourself with the power of produce
Fruits and vegetables are superheroes! All are good, but dark green, purple, red, and orange are particularly strong choices. The plant compounds that protect the plants from their enemies in turn protect us from some of ours such as heart disease, diabetes, cancer and brain deterioration. Try a red cabbage slaw or one-pot blistered tomato spinach linguini.
2. Move your fruits and veggies to the front of your fridge
You are much more likely to eat what you see first in your pantry or refrigerator, so position healthier foods there. A clear container helps even more. Carrots and bean dip, anyone? Or place a pretty fruit bowl on the counter.
3. Eat fish twice a week
The Omega-3 fats in salmon and other oily fish offer protection against heart attack, stroke, cancer, and inflammatory diseases such as rheumatoid arthritis. Plus research suggests that people who eat more fish have lower risk of depression than those who eat the least. It could be that the omega-3s increase blood flow, which may help with mood and depression. Enjoying a couple of servings of fish per week is a simple way to boost those types of fats and get your healthy eating on track. Easy recipes are fish tacos or tuna picatta toast.
4. Focus on fiber
Fiber foods are a best step in healthy eating. I'm so passionate about it, I have a FREE 5-Day High Five Fiber Challenge. Fiber is found in plant foods such as beans, seeds, nuts, whole grains, fruits and vegetables. Look at the Nutrition Facts panel on food labels. Three grams = a good source of fiber and 5 grams is an excellent source. Women should aim for 25 grams of fiber per day, while men should target 38 grams. As you increase fiber, be sure to drink more to help keep things moving. Dietary fiber is similar to a new sponge; it needs water to plump up and move smoothly. Try Black Bean Quinoa Salad or Berry Banana Smoothie.
5. Get cooking
If I were Queen, I would make Family and Consumer Science, you may know it as Home Economics, a required class for my subjects. Basic cooking skills are one of the best ways to be master of your universe. That's why I teach online cooking classes. Building your cooking chops may begin with pouring cereal or grilling cheese sandwiches, but it's not hard to ramp up your game. Even with limited skills and time, wholesome, nourishing food is just a few minutes away. Especially when you use Mediterranean-based foods.
6. Mediterranean Quinoa Bowl
Want more Mediterranean Diet recipes?
P.S. Hungry for more healthy living tips and recipes? Sign up for my newsletter here. As a registered dietitian, nutrition and delicious, healthy eating are my focus.
This post may contain affiliate links which means if you click through and make a purchase, the seller pays me a commission. It does not increase the price you pay.
  Pin it for later!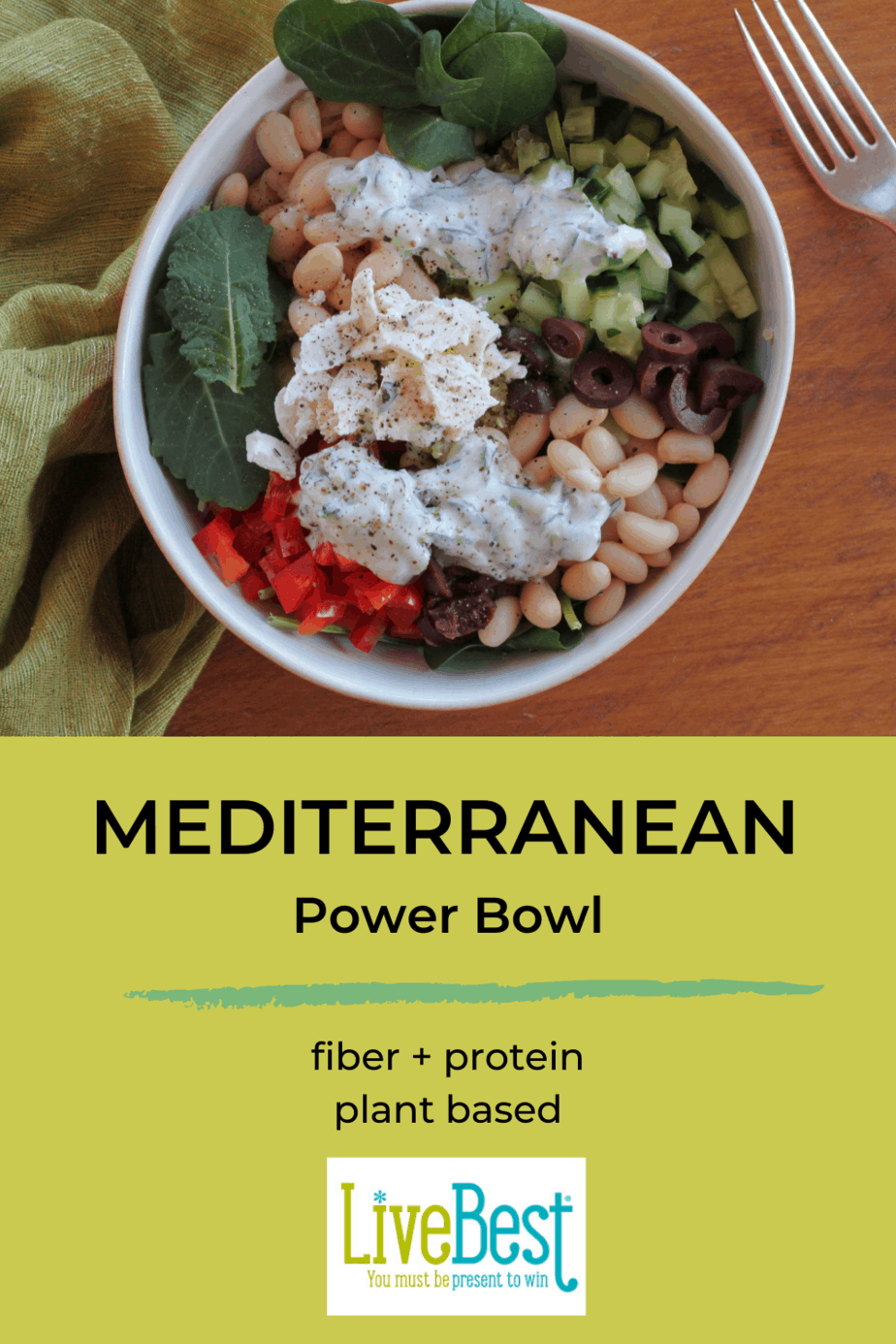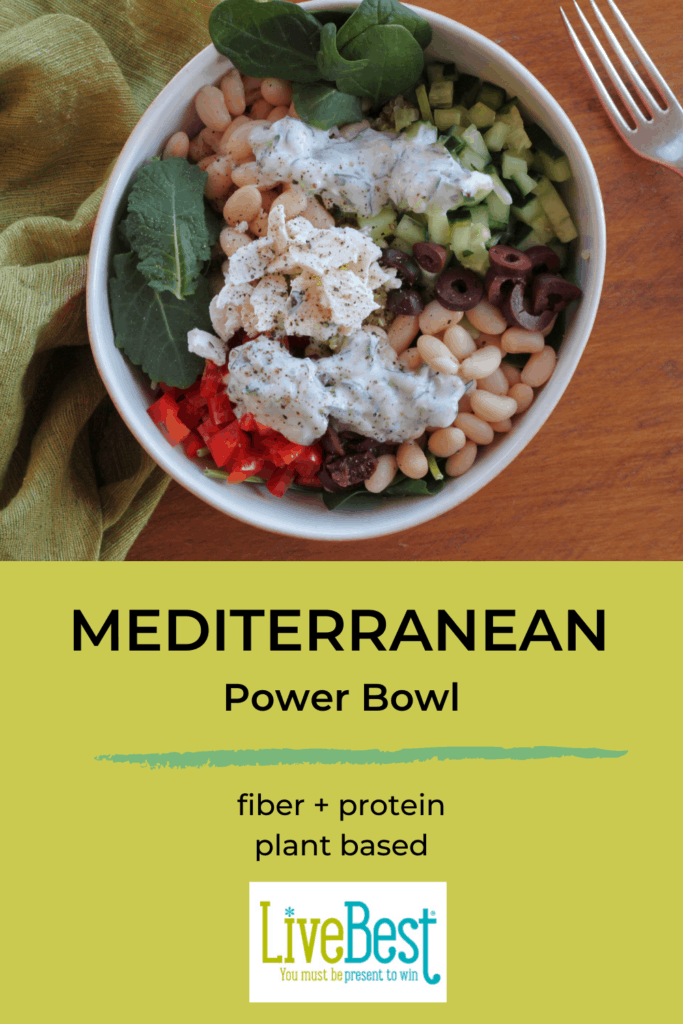 Print
Mediterranean Power Bowl
With quinoa, leafy greens, crunchy vegetables, beans and olives all tossed together with creamy tzatziki dressing, I think you'll like adding this Mediterranean bowl to your healthy eating plan.
Author:
Prep Time:

20 minutes

Cook Time:

20 mins

Total Time:

40 minutes

Yield:

4

1

x
Category:

Main

Method:

Stove

Cuisine:

Mediterranean
Ingredients
1

large cucumber, divided 

2 cups

plain yogurt

1

garlic clove, minced

1 teaspoon

olive oil

1 teaspoon

fresh lemon juice

2 tablespoons

chopped fresh dill or

½ teaspoon

dried dill

2 tablespoon

fresh mint or parsley, chopped (optional)

½ teaspoon

salt

1 cup

quinoa

5

–

10

-ounces arugula, baby spinach or kale

1

can white beans, drained

½

red pepper, diced

¼ cup

Kalamata olives, sliced

¼ cup

feta cheese, diced
Instructions
Quinoa In small saucepan, bring 1½ cups water and quinoa to a boil. Reduce heat, cover, and simmer 15 minutes. Remove lid, fluff with fork.
Tzatziki    Shred half the unpeeled cucumber with large holes of grater or food processor. Place in strainer. Using a clean towel or paper towels, scoop a handful of shredded cucumber into towel and squeeze over sink. In bowl, stir cucumber, yogurt, garlic, olive oil, lemon juice, dill, parsley, and salt together. Set aside.
Assemble bowl. Greens, quinoa, beans, red pepper, 1/2 of cucumber, diced, olives, feta. Drizzle tzatziki over top.
Notes
Grain Substitutions Rather than quinoa, try farro, spelt, wheat berries, bulgur, or other whole grain. 
Yogurt To serve tzatziki as a dip, Greek yogurt would be a better choice because it's thick. I used traditional yogurt here to make a thinner dressing.
Keywords: grain bowl, healthy bowl, quinoa bowl, Mediterranean foods