Frozen berry smoothie is filled with foods that deliver health-boosting benefits, I'm happy to share my favorite healthy smoothie recipe with with you!
A glass of liquid crimson. A glass of goodness. Tart, cold, sweet, fresh…can't you just taste it?
This is my glass of happiness because it means Hello, WEEKEND! It puts pizzazz in my morning. Even more, this smoothie helps me close the gap on eating more fiber, protein, and fruit.
How to make Frozen Berry Banana Smoothie
This is my #1, favorite, go-to smoothie recipe. I make it nearly every weekend so it means "Yay!!…It's the weekend!"
Add the ingredients to a blender and whirl until it's the consistency you like.
The ingredients
1/2 cup

milk

1/2 cup

plain yogurt, Greek or regular

1/2

banana, peeled, frozen or fresh

1/2 cup

berries, frozen or fresh

1/4 cup

oats, raw or cooked
Cook's note: Add a spoonful of nut butter or ground flax. to boost the protein and healthy fats. I use frozen bananas because it helps thicken the smoothie and makes it ice-cold. If smoothie is too thick, thin with a bit more milk.
Or try this Chocolate Cherry Amaranth Smoothie
Cook's Note: What to do with ripe bananas? Peel, then freeze in an airtight container.
As bananas ripen they get sweeter, so you may not need to add sugar when you cook with them.
Repurpose ripe bananas to use in smoothies. This is the main way I use leftover, overripe bananas.
Or you could bake Banana Walnut Bread.
Berry Banana Smoothie with yogurt benefits
Filled with health-boosting foods such as yogurt, berries, bananas, oatmeal and milk, I love the taste and celebrate the healthful goodness it delivers – protein, calcium, vitamin C, potassium, antioxidants, and fiber. That's a party in a glass!
These foods contribute to better bones and improved gut health. Fiber and cultured foods such as oats, berries, banana and yogurt feed the bacteria in the gut. The National Institutes of Health is conducting a Human Microbiome Project looking at gut bacteria impact on health and disease. It's not yet well understood but emerging research suggests that gut bacteria may play a role in developing diabetes, ulcerative colitis, Crohn's disease, type 2 diabetes, obesity, cancer, allergies and rheumatoid arthritis.
I'm such a fan of fiber that I created a free fiber challenge.
Are you ready for your own fiber challenge? I created a free, 5-day challenge you can join by clicking this link. You'll get tips and tools, resources and recipes to create your own roadmap to meet your fiber goals. Don't ya? Won't ya? Seriously, it's only 5 days 😉 Find it right here.
The benefits of fiber
Fiber's a good thing because it helps maintain a healthy digestive tract, reduces the risk of heart disease and cancer and helps maintain blood sugar levels and weight.
Fiber serves as a scrub brush to move things through your system. Yet, nearly all of us fall short of meeting fiber recommendations. Men need about 38 grams per day and women need 25 grams but most Americans average 16 grams.
And that, friends, is why I like smoothies.
And it's why I'm not on the juicing bandwagon. There is more hype to the benefits of juicing than proven results.
Juicing vs cleansing
Juicing and cleanses are touted by celebrities as a way to reboot your body, shrink your stomach, and rid you of toxins.
Really? Not so fast.
Juices squeezed from fresh foods are loaded with vitamins and minerals but what's missing is the fiber and skin. Fiber slows digestion. So, with no fiber, the quicker the juice sugars enter the blood stream and bam! a spike in blood sugar. Those spikes aren't good because your energy falls as blood sugar falls.

The problem with juicing
A juicing drawback is that most juice recipes don't include protein or fat. Yet, these are the powerful components that help you feel fuller and sustain your energy longer so you're able to put your best foot forward.
Depending on the mix, juicing often results in a high-carb, low-fiber, low-protein meal that can leave you feeling refreshed for a little while but then hungry, moody, depressed, irritable, dizzy, and constipated. Sad face.
Our bodies are in a constant state of cleanse.
Some say (#notme) juicing is a way to reboot their eating habits by stepping away from processed foods and refocusing their eating on whole food. But our bodies are in a constant state of cleanse. A significant role of the skin, liver, kidneys, and colon is cleansing by regulating and removing waste and toxins from the body.
Juicing to lose weight
In extreme calorie-restricted diets, water and muscle are the first things to go. So, while the number on the scale may drop, so does lean body mass. Protein is the building block of muscle. By omitting protein foods your body will use the only source available – your muscle mass. With less muscle your metabolism slows down so you become less efficient at burning calories.
Not a fan of diets
As a registered dietitian, I'm not a fan of diets that you go "on" and "fall off." These diets don't support normal eating – the what, where, when, and how much to eat. Having said that, unless you are pregnant or breastfeeding, diabetic or taking certain medications, such as high blood pressure, it's unlikely that a few days of juicing will cause harm.
The bottom line:  Juice blends can be a flavorful way to boost fruit and vegetable intake and can be part of a healthy eating style that also includes water, lean protein, whole grains, low-fat dairy and whole fruits and vegetables. A beet–ginger–cucumber–apple blend may taste delicious, but healthy eating is healthy eating, not just drinking.
P.S. Hungry for more healthy diet tips and recipes? Sign up for my newsletter right here.
This post contains affiliate links. That means if you click through and make a purchase, the seller pays me a commission. It does not impact the price you pay.
Pin it for later!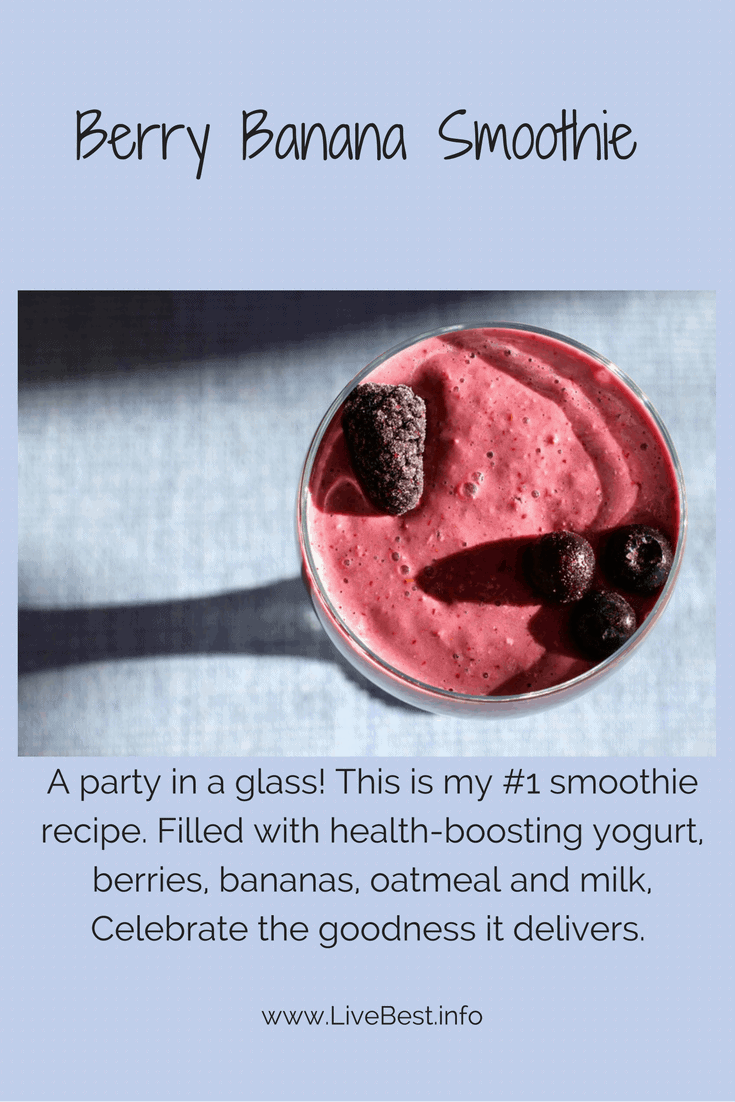 Shop the Post
Here's a handy list of some tools to help you.
This is the Vitamix blender I use. It fits under the counter. Also like the red color ;-).


I store frozen berries in a Rubbermaid container so they are ready for smoothie day.

Print
Berry Banana Smoothie
An icy-cold berry banana smoothie is how I start most weekends. Filled with foods that deliver health-boosting benefits, I'm happy to share with with you!
Author:
Prep Time:

5 minutes

Total Time:

5 minutes

Yield:

1

1

x
Category:

smoothie

Method:

blender

Cuisine:

American
Ingredients
1/2 cup

milk

1/2 cup

plain yogurt

1/2

banana, peeled, frozen or fresh

1/2 cup

berries, frozen or fresh

1/4 cup

oats, raw or cooked
Instructions
Combine all ingredients in blender. Blend until smooth. If too thick, add more milk
Notes
I keep peeled bananas in the freezer to use in smoothies. It's great way to use overripe bananas.
Nutrition
Serving Size:

2 cups

Calories:

290
Keywords: smoothie, how to make a smoothie, what to do with overripe bananas, is juicing healthy