Shaved Brussel Sprouts Salad is a super simple salad that even those who aren't crazy about Brussel Sprouts like! It's an easy coleslaw recipe.
Did you know most of us turn right when we enter a grocery store? It's true many stores are designed that way. Without even thinking, we're heading to a gold mine…directly into the produce department.
Green vegetables mean go!
Green means go. So don't hesitate to push your cart toward the green food – kale, leafy green lettuce, broccoli, Brussels sprouts, spinach, or cabbage.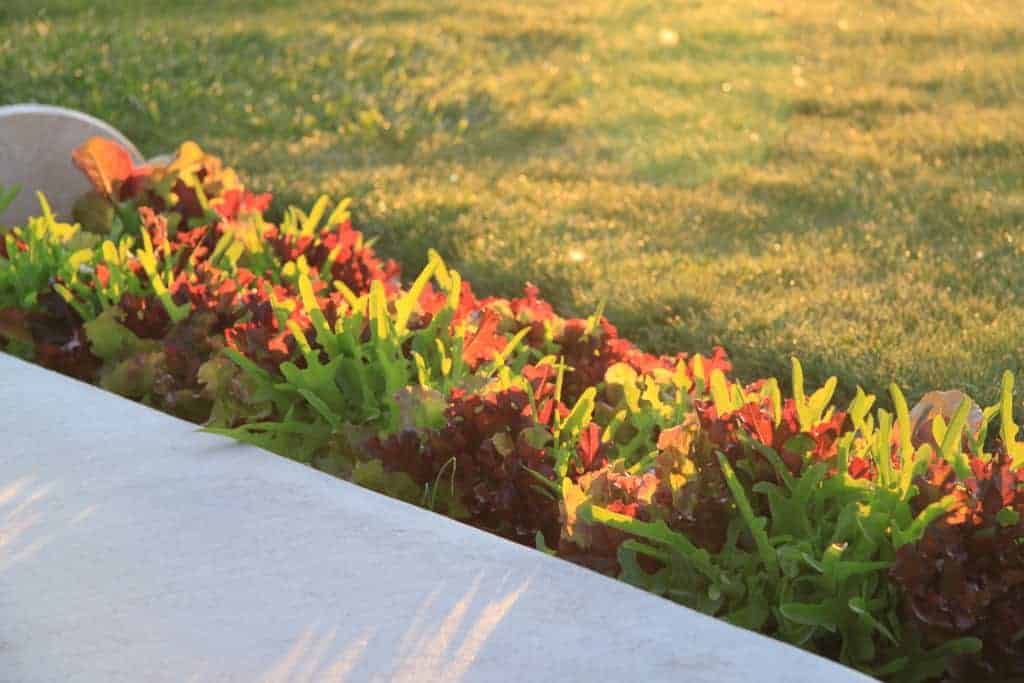 Brussel Sprouts 😖 sad trombone
When I was young the Brussel sprouts at our house were a pale green, bitter vegetable that likely had been overcooked. Sound familiar? No wonder I didn't like them. Today, if they're on a menu, I'll order them. Not just because they are a gold mine of good, but because I love them.
I've roasted them – and that's good.
I've steamed – and that's OK.
But not even cooking them – that's it!
For a super-quick slaw, shred fresh Brussels sprouts, toss with a vinaigrette, sprinkle with stuff.
Snap, it's done.
You'll convert those BS naysayers into, "Yes, please" sayers.
This is a super simple salad that even those who aren't crazy about Brussels Sprouts like.
Here we go again with taste and health all on the same fork. I love that!
How to make Brussel Sprouts Coleslaw
Run raw sprouts through the food processor or cut them with a sharp knife.
Toss with a vinaigrette.
Sprinkle with Parmesan cheese and toasted walnuts. Dried cranberries, apricots, or cherries would also be a fine addition.
The ingredients
2 tablespoons fresh lemon juice
1 teaspoon Dijon mustard
1 tablespoon shallot, minced
1/4 teaspoon kosher salt
Freshly ground black pepper
1 pound Brussels sprouts, trimmed, finely grated or shredded with a knife
3 tablespoons extra-virgin olive oil
3 tablespoons walnuts, roasted, coarsely chopped
2 tablespoons shredded Parmesan cheese
Are green vegetables good for me?
Yep!
Can't you just hear her?
Your mom telling you to eat your vegetables. Take heed. In a study published in Circulation, just one vegetable serving per day reduced heart disease by 11 percent.
Rich in vitamins A, C, and K, potassium and fiber, green vegetables hold rock star health status.
Eating a diet rich in vegetables turns up your immune system and may reduce risk for cancer metabolism and inflammation, which lowers the risk for type 2 diabetes, dementia, heart disease, including heart attack and stroke.
Two of the colorful compounds in fruits and vegetables are called lutein and zeaxanthin. These appear to be very important for health of the retina in the aging eye.
Vegetable recipes to get you going
Shred cabbage and toss with fresh chopped oranges a little rice wine vinegar and toasted sesame oil and serve as a salad.
Make a Greek Salad with Romaine lettuce
Toss broccoli or cauliflower with a splash of olive oil, a squirt of lemon juice and a couple shakes of dried chile flakes. Roast in 425℉ oven for 20 minutes or so.
Mix cabbage, onion and potatoes into Colcannon.
Chop kale, toss with olive oil, a squeeze of lemon juice and chopped apple.
Try a lightened version of roasted cauliflower fettuccine.
Cooks tip: Be careful not to overcook these cabbage family vegetables. It's sulfur that you smell, so eat it raw or cook it quickly for the least "stink"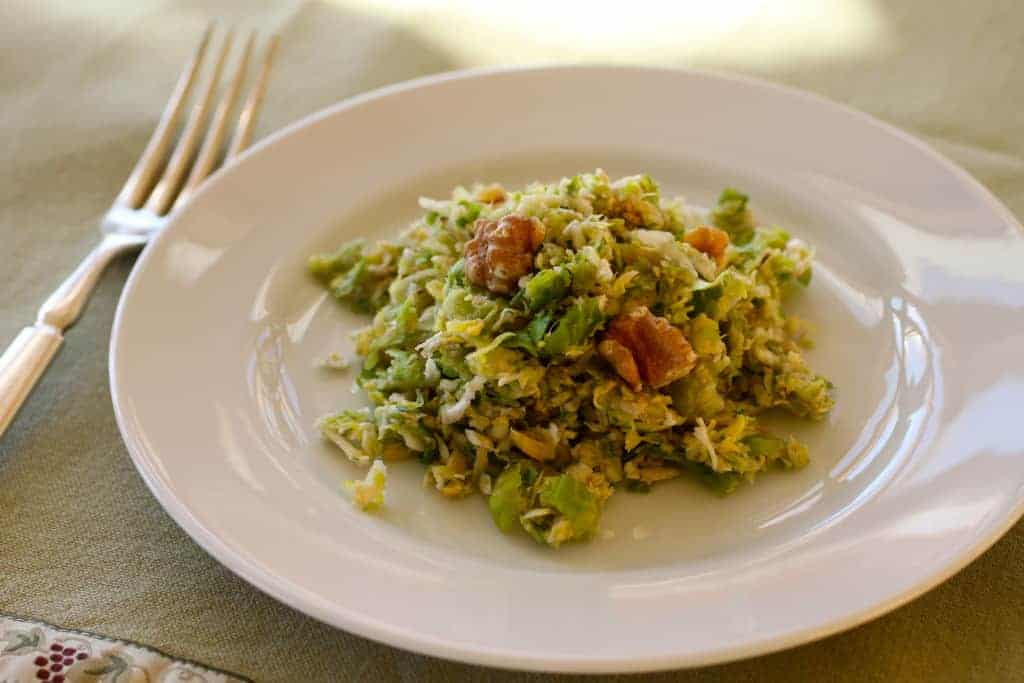 P.S. Hungry for more healthy diet tips and recipes? Sign up for my newsletter here.
This post contains affiliate links. That means if you click on a link and make a purchase, I may make a small commission. This does not affect the price you pay but helps fund the website.
Pin it for later!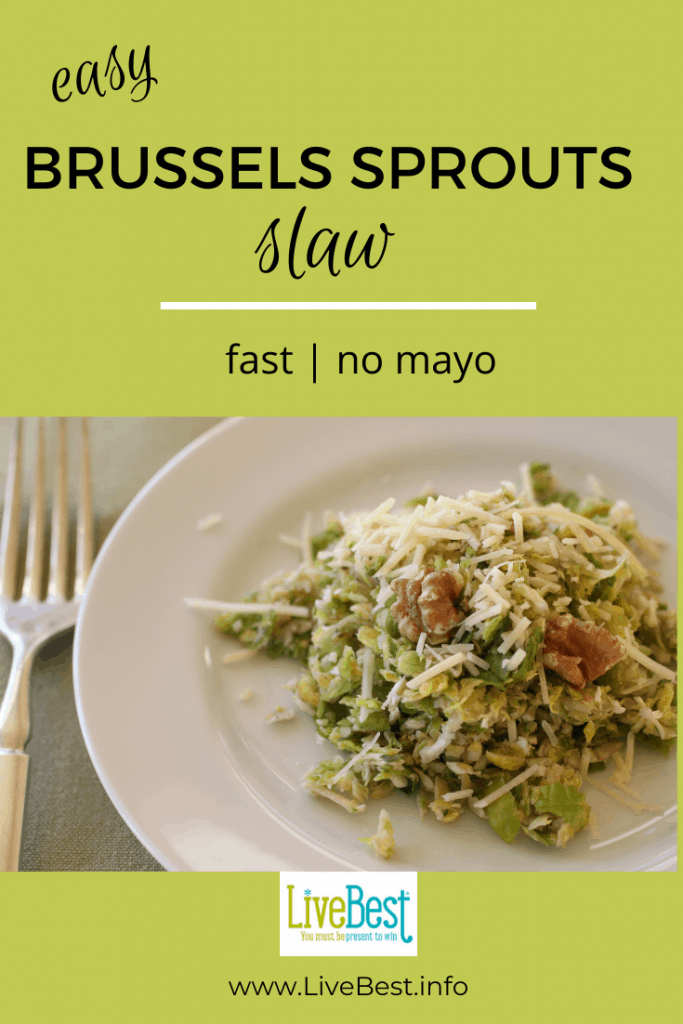 Print
Shaved Brussels Sprouts Salad
Author:
Prep Time:

15 minutes

Total Time:

15 minutes

Yield:

6

1

x
Category:

Salad

Method:

no cook

Cuisine:

American
Ingredients
2 tablespoons

fresh lemon juice

1 teaspoon

Dijon mustard

1 tablespoon

shallot, minced

1/4 teaspoon

kosher salt
Freshly ground black pepper

1

pound Brussels sprouts, trimmed, finely grated or shredded with a knife

3 tablespoons

extra-virgin olive oil

3 tablespoons

walnuts, roasted, coarsely chopped

2 tablespoons

shredded Parmesan cheese
Instructions
In a small bowl combine lemon juice, mustard, shallot, salt and a pinch of pepper. Stir to blend. Whisk in oil; set aside.
Add shredded Brussels sprouts, walnuts, and cheese in a large bowl. Pour dressing over and toss to combine.
Notes
Dried cranberries, apricots, or cherries would also be a fine addition.
Keywords: raw salad, are vegetables healthy, ideas to make vegetables, slaw recipe