Better bones, blood pressure and muscles. A cappuccino is a morning ritual worth getting up for!
How do you begin your morning?
Mine begins with a gift. My husband makes me a cappuccino. Every. Single. Day. Warm and flavorful, it's more than a cup of coffee. It's a thing. A moment. It is my soul food. ❤️
I fell in love with this drink on a trip to Italy. In fact, we brought home an espresso maker as a souvenir. On the next trip we brought home cups. Before that, coffee didn't interest me. It does now! We've had several machines since the original La Pavoni, but now we use this Breville with Italian Lavazza beans.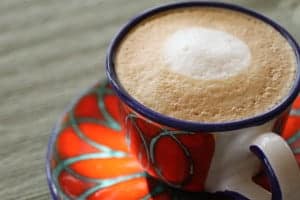 Morning, cappuccino!
It's my favorite milk moment. Those sips deliver a boost to my bones and help fuel my morning workout. It is the tastiest way to meet one of my 3 daily servings.
What's the best milk?
A trio of minerals found in dairy foods—calcium, potassium, and magnesium—play an important role in maintaining healthy blood pressure in adults. In fact, drinking milk and eating cheese and yogurt are associated with a reduced risk of heart disease, type 2 diabetes, and colon cancer. The calcium, vitamin D, and protein in dairy make it a supreme friend to your bones.
The dairy case is filled with choices–or confusing decisions. When it comes to nutrition, not all milks are created equal.
Cow's milk is the standard. Literally. Set by the FDA, cow's milk has a legal Standard of Identity which insures specifications, including permitted ingredients and how the it is processed. Long ago it  was intended to keep milk milk and keep unscrupulous characters from adulterating it by adding  water or other things. It essentially helps the buyer know that when buying milk they know there getting milk. .
The lowdown on milk vs. milk substitutes
Cow's milk provides 9 essential nutrients. It is rich in protein, vitamins and minerals making it one of the most naturally nutrient-rich beverages.
Soy beverage is the closest substitute to milk. It has no standard but mimics milk with added calcium and vitamin D and usually has added salt and sugar.
Almond and rice drinks? No standard is set for these. Levels of calcium, vitamin D, protein, and potassium can, in particular, be lower in these beverages. There are no government standards for anything but cow's milk, so at the store, compare the label and price of the milk you buy.
It takes 8 glasses of almond milk to get the same amount of protein as one glass of milk.
How much dairy do I need?
The reason 3 daily servings of dairy are recommend is because most Americans fall short on calcium, potassium and vitamin D. Cow's milk provides these. If you're lactose intolerant, try lactose-free. It's real milk just without the lactose sugar some people have trouble digesting.
At the store, compare the label and price of the milk you buy to see if it's giving you what you need and want in order to avoid unintended health consequences in the long term.
Looking for spice? You might like this Masala Chai.
P.S. Want more healthy diet tips and recipes? Sign up for my newsletter here.
This post contains affiliate links. That means if you click on a link and make a purchase, I may make a small commission. This does not affect the price you pay but helps fund the website.