Exotically fragrant, supremely sippable, Masala Chai Tea Latte cools the summer heat, soothes a winter chill, and is easy to make at home.
mmmm…that sweet, spicy aroma.
mmmm…that supremely sippable cuppa.
How to make an Iced Chai Tea Latte
Grind and steep spices in water and milk.
Strain and chill.
Pour over ice. Or heat for a cuppa something warm and sippable.
Masala Chai Spice Mix Ingredients
The spices are can vary, but in my Masala Chai recipe I use whole star anise, fennel, cinnamon, cloves, cardamom, coriander, and black pepper, but you can absolutely use ground spices. But more, I use just a tablespoon for sugar. One. Tablespoon. Many commercial mixes are overly sweet, so I really like this less-sweet version.
Grinding whole spices is worth the fragrance alone. That's because the volatile oils are released. It's also why whole spices last longer than pre-ground spices.
All these spices fill the drink with beneficial plant compounds and antioxidants.
Milk is a good source of protein, plus calcium and vitamin D are good for bones, and the potassium is good for blood pressure.
Tea has flavonoids that may reduce inflammation and support a healthy immune system.
Hot or iced, Masala Chai Tea Latte is good to snuggle on the couch with or put your feet up on the porch.
A Masala Chai Surprise
I had the most delicious hot Masala Chai at an Indian restaurant. It was warm and spicy, fragrant and best or all, not to sweet. I asked the server what made it so good.
He shuffled off to the kitchen and was gone so long I thought he got busy and forgot my question.
But then he came back carrying a silver tray with all the spices they used to brew their homemade chai. I was as delighted with his tender gesture as I was with the tea. He proudly showed me the cardamom pods, star anise, fennel, cinnamon, and more.
So I recreated that right here for you and me! Head's up, there are several spices in Masala Chai. That's what makes it so fragrant and delicious. But it's super simple to make. Just boil water and those spices. If you don't have all the spices on hand, you can still make it with fewer spices.
How long do spices last?
The aging process begins when they are harvested. That continues as long as they sit in your cupboard. As the oils evaporate, they're exposed to light, heat, and moisture, spices lose flavor. Ground spices last about a year. Whole spices around 2 years. But give them a sniff to see how they smell. Dusty and weak? Time to replace. Strong and spicy? Good to use.
I use a marble mortar and pestle or a small electric coffee grinder that I keep just for spices. Both are less than $20. The mortar and pestle I prefer has a rough interior surface which easily breaks up the hard spices. The more you work the spices, the finer they become.
Using ground spices
You can use the ground spices in this recipe, but when you grind whole spices, you realize what a certain spice smells like and how much flavor it contributes. If you have a local spice shop or ethnic market try that, or order online at Penzeys.
How to Boil Water was an early Food Network show designed for the novice cook.
Obviously. 😉
Building your cooking chops may begin with pouring cereal or spreading peanut butter on toast, but it's not hard to ramp up your game. Even with limited skills and time, delicious food is a few minutes away. Like the Masala Chai Tea Latte, it just takes hot water.
Having mastered water a while ago, I moved on to more complicated recipes, like the time I made boned Cornish hens stuffed with fruited rice pilaf. Brushed with a currant glaze, those little birds were so good to eat. But they also took two days to put together. That was then.
Now I want gentler, simpler recipes. Unlike the study that found Millenials don't eat cereal because they don't want to wash the bowl, I'm OK with cooking and the dishwasher. Though it does make me wonder what the future looks like when cereal is inconvenient.
How to cook hard boiled eggs
Hard boiled (or hard cooked) eggs seem like a no-brainer, but even experienced cooks get tripped up. If your eggs have green yolks, they're overcooked. The chemical reaction between sulfur in the egg white and iron in the egg yolk happens when the water is too hot or the egg is cooked too long.
To cook the Goldilocks, just right, version, place them in a saucepan. Add water to cover the eggs by an inch. Place on stove over medium-high heat. When the water begins to boil, cover the pan with a lid. Remove from heat and let the eggs rest in the hot water for 17 minutes (this time is for high-altitude, lower altitudes require about 12 minutes for large eggs). Remove the lid. Pour out the water and run cold water over the eggs. If you can, throw in ice cubes. This stops the cooking and makes eggs easier to peel.
How to make Instant Pot hard boiled eggs
The Instant Pot makes some of the easiest peeling eggs ever. Plug in Instant Pot. Pour 1 cup water in cooking pot. Place eggs on the Instant Pot cooking rack. Seal the lid. Turn value to Sealing. Press Manual, High, 5 minutes. When timer ends, allow steam to naturally release for 5 minutes, then Vent. Open lid and remove eggs. Cool them in a bowl of ice water to prevent further cooking. Store in the fridge.
To use those eggs…
1. Add chopped eggs to salad greens with sliced beets and walnuts.
2. Sprinkle with Everything Seasoning.
3. Mix chopped eggs with small spoonful of mayonnaise and another of plain yogurt. Add a handful of chopped celery. Sprinkle in salt and pepper and you have egg salad. Want more flavor? Add a pinch of curry powder to make curry egg salad.
Resources to help you be a better cook
Budding cooks may want to go beyond water.

More LiveBest recipes
Try the spices in Chai Walnuts, an easy recipe you can nibble on or sprinkle over yogurt or cottage cheese.
P.S. Hungry for more healthy tips and recipes? Sign up for my newsletter right here.
Pin it for later!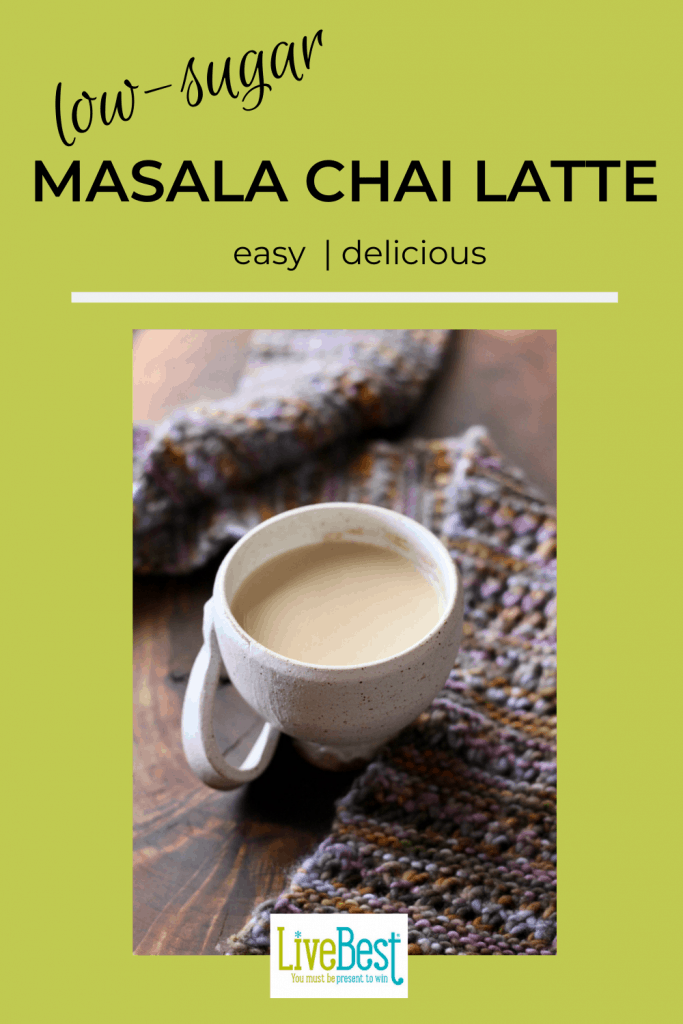 This post contains affiliate links. That means if you click on a link and make a purchase, I may make a small commission. This does not affect the price you pay but helps fund the website.
Print
Masala Chai Tea Latte
Supremely sippable and exotically fragrant, Masala Chai is easy to make at home for an iced drink or a hot one..
Author:
Prep Time:

10 mins

Cook Time:

10 mins

Total Time:

20 minutes

Yield:

4

1

x
Category:

Beverages

Cuisine:

Indian
Ingredients
2 cups

water

2 cups

milk

1

cinnamon stick, broken (or

1/2 teaspoon

ground cinnamon)

8

–

10

cardamom pods (or

1/2 teaspoon

ground cardamom)

5

cloves (or

1/8 teaspoon

ground cloves)

9

black peppercorns (or

1/8 teaspoon

ground pepper)

8

coriander seeds (or

1/2 teaspoon

ground coriander)

1/2 teaspoon

fennel seeds

1

star anise

1

-inch piece of fresh ginger, peeled, ¼-inch slices (or

1/2 teaspoon

ground ginger)

1 tablespoon

brown sugar

1 ½ tablespoons

loose black tea, such as Assam
Instructions
Grind the whole spices in a mortar and pestle or spice grinder.
Place the milk and water in a medium saucepan and add the spices, ginger and brown sugar. Over medium-high heat, bring to a boil, reduce the heat to low and simmer gently for 4 minutes, stirring occasionally to keep the milk from boiling over. Remove from the heat and add the tea; steep for 4 minutes. Strain and serve.
Notes
I use whole spices here because they deliver more flavor. Whole spices retain fragrant oils longer than ground spices.
Nutrition
Serving Size:

1 cup

Calories:

70