Chocolate Cherry Almond Biscotti are a sliced, twice-baked cookie. Easy to make, this biscotti recipe makes good dunkers with milk, wine, coffee, or tea!
The smell of chocolate cake baking in the oven is filled with anticipation. Leading to a forkful of deliciousness.
But after whipped the eggs, measuring the flour then watching it collapse in the oven, anticipation changes to frustration and disappointment. 🙁
The altitude is our nemesis.
High altitude adjustments for baking
I live at 5,200 feet, where cakes and breads rise faster, cookies run into each other as they spread across the sheet, and pie fillings thicken slower. Blame the air pressure. Like a weight, air pressure impacts how foods react in the oven. As elevation increases, air pressure decreases. So there is less weight on the food.
Baking powder and baking soda cause baked goods to rise. That's great until the air pressure is so low they overreact. Food rises too fast, before the structure is set, so then collapses. But it's not just the leaveners. The altitude also dulls flavor so you need more flavor enhancers such as salt, spice and vanilla the farther you are from the sea.
How Boiling Point affects cooking
Lower air pressure also impacts the boiling point. Less pressure on the surface of the water means it heats faster. The boiling point of water at sea level is 212°F versus the boiling point at 5,000 feet is 202°F. Those ten degrees means foods take longer to cook in Wyoming than they do in San Diego. Liquids evaporate faster at higher elevations so proteins don't have sufficient time to set a firm structure. So cookies spread and piecrusts brown before the apples cook.
If you've baked in the Rockies, you know what I'm taking about. We're fortunate if we have one recipe we can depend on.
Now we have one hundred.
Susan Purdy's Pie in the Sky, Successful Baking at High Altitudes cookbook is a collection of recipes that were home-tested for baking at sea level, 3,000, 5,000, 7,000 and 10,000 feet. Purdy traveled across the country with pans and ingredients in tow to help us figure out how to bake cakes, pies, cookies, breads and pastries no matter where we live. Filled with tips and tools, this is a book I wish I'd found years ago.
Not baking today? Pin for later!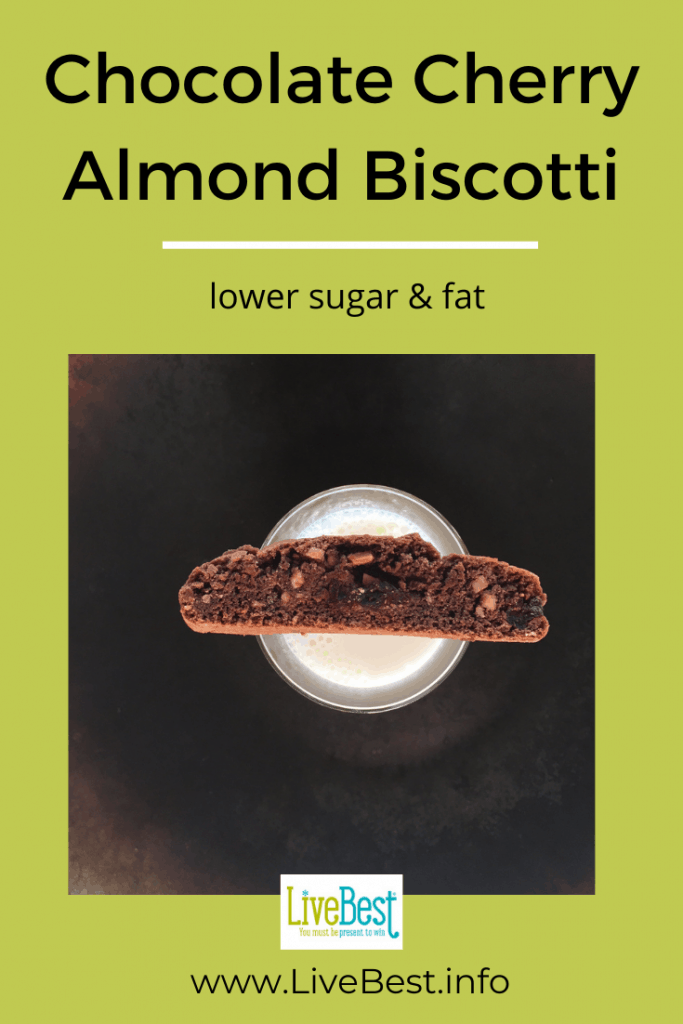 Chocolate Cherry Almond Biscotti recipe
Using techniques from Pie in the Sky, I adapted my own Chocolate Cherry Almond Biscotti recipe. Biscotti are a sliced, twice-baked cookie. They are good dunkers. Try milk, wine, coffee, or tea. These cookies freeze well. Wrap them tightly and freeze up to 9 months.
If you're not a chocolate fan, try Apricot Ginger Biscotti.
These slice and bake – and bake again cookies – are super easy. Roll in a uniform-sized log, so baking times are similar. I bake on a silpat liner to make clean up easier. Course, you don't want to slice on the silpat, that's what the cutting board is for! (here are some of the items I use to bake with.)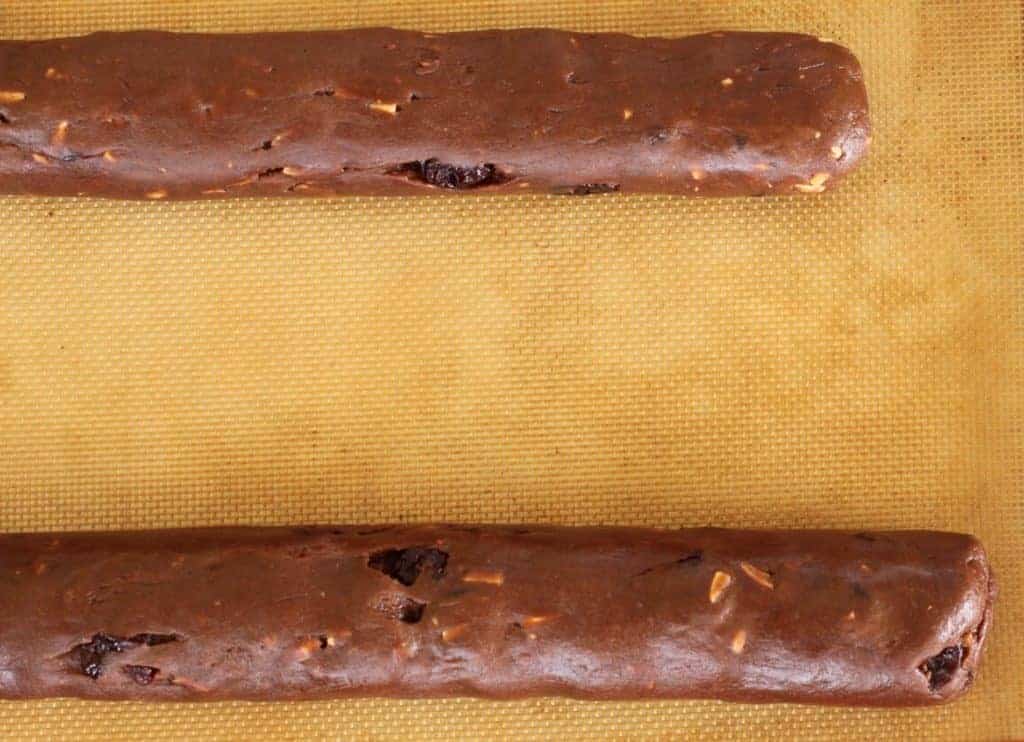 P.S. Hungry for more healthy living tips and recipes? Sign up for my newsletter here. 
Tag me on Instagram @JudyBarbe if you make this recipe, or leave a comment below, please!
Print
Chocolate Cherry Almond Biscotti
Biscotti are a sliced, twice-baked cookie. They are easy to make. The dough can be made ahead and baked later. They're also good dunkers! Try milk, wine, coffee, or tea.
Author:
Prep Time:

30 min

Cook Time:

45 min

Total Time:

1 hour 15 minutes

Yield:

40

1

x
Category:

Dessert

Method:

Baked

Cuisine:

American
Ingredients
½ cups

slivered almonds, toasted

2 ½ cups

white whole wheat flour

¼ cup

unsweetened cocoa

1 ¼ teaspoons

baking powder

½ teaspoon

baking soda

½ teaspoon

salt

3 tablespoons

butter, room temperature

1 cup

sugar

3

eggs, lightly beaten

1 ½ teaspoons

almond extract

1 teaspoon

vanilla

1/3 cup

dried cherries
Instructions
Stir: together flour, cocoa, baking powder, baking soda, and salt. Set aside.
Mix: cream the butter and sugar until well blended. Scrape sides and bottom of bowl with a rubber spatula to incorporate butter and sugar. Add eggs, almond extract and vanilla. Beat these until well blended. Add flour mixture and slowly mix all ingredients together. Blend in almonds and cherries.
Bake: Heat oven to 350°F. Line two baking sheets with silicon liner or lightly spray with cooking spray. Divide dough in half. If dough is sticky, spread a couple teaspoons of flour on the counter. Place the dough out on the counter. Shape each half of dough into a log about 11-inches long and 2-inches wide. Place logs on cookie sheet, 3–inches apart. Bake 20-25 minutes, until they are firm to the touch and a toothpick inserted into the center comes out clean. Remove from oven, transfer log to a cooling rack. Allow to cool about 5 minutes. Reduce oven temperature to 325°F. Put log on a cutting board and slice across the log into ½-inch pieces. Place cut side up on cookie sheet and bake 15 to 18 minutes more. Cool on cooling rack. Cookies will crisp as they cool. Store in airtight container.
Notes
To toast almonds: Spread almonds on a baking sheet. Place in cold oven, turn oven to 350°F. Bake almonds 8-10 minutes until lightly browned. Remove from oven, set aside to cool.
Nutrition
Serving Size:

2

Calories:

145
Keywords: chocolate cookie, fruit cookie, twice baked cookie, low fat cookie
I'm an almond fan. You too? You might like:
Cherry Almond Amaranth Smoothie
Judy Barbe is a registered dietitian, speaker, and author of Your 6-Week Guide to LiveBest: Simple Solutions for Fresh Food & Well-Being. Sign up to have every day health solutions delivered to your Inbox. What are you waiting for? It's right over there on the right side of the screen.