Fresh herbs, lemon and orange give Mediterranean flavor to grilled leg of Lamb, right in your own backyard!
As more people lean in to a Mediterranean diet and eating style, lamb is a good fit. A traditional Greek, Moroccan and Spanish food, lamb lends itself to flavors of that region including lemon, garlic, onion, cumin, paprika, thyme, and rosemary.
How to choose lamb for a recipe
Depending on the cut, lamb works with your schedule. Quick cook or slow, grill or skillet, oven or slow cooker. In general, with meat, the farther from the hoof or ears, the more tender the meat. That's because those muscles don't have to work as hard as neck, shoulder, chest and legs. Tougher piece become more tender with low, slow cooking. The more tender the piece, the quicker the cooking.

How to cook lamb
The way to cook lamb depends on the cut.
For quick-cook meals, choose lamb ribs, loin or deboned leg of lamb. Lamb loin and rib chops are grilled in about 15 minutes. Rack of lamb is ideal for grilling or roasting. Ground lamb can be used in meatloaf, tacos, shepherd's pie or lamb burgers.
Lamb shoulder is good roasted or stewed, while shanks are best braised or slow-cooked. The leg comes from the hindquarter and is one of the most economical. Versatile leg of lamb can be butterflied, cubed for kabobs, cut into steaks, or cooked whole. In this Citrus Herb Grilled Leg of Lamb recipe, I cooked it on the rotisserie. Perfect for summer! However you cook it, medium rare is 145°F and medium is 160°F. A meat thermometer is the way to go.
Citrus Grilled Boneless Leg of Lamb recipe
The ingredients
4-pound leg of lamb, boneless
2 tablespoons Dijon mustard
2 cloves garlic
1 cup fresh herbs, mint, parsley, oregano, and/or basil
1 whole lemon
1 orange, peeled
¼ cup oil
¼ teaspoon pepper
Blend fresh herbs, lemon and orange.
Coat lamb with marinade, refrigerate for 4 to 6 hours.
Then pop it on the grill. You can cook it in the oven or use indirect heat on the grill. Indirect is one side of the grill burners are on and you place the meat on the side the burners are not on. Check the temperature with a meat thermometer.
How to store lamb
Once you buy, ground lamb should be used within a day or two of purchase. Cook chops, roasts and steaks within 3-5 days. If you want to store it longer, freeze ground lamb and stew meat for 3-4 months and lamb chops, roasts and steaks for 6 to 9 months. Thaw in the refrigerator before cooking.
Sheep are grazers. A natural weed eater, grass, legumes, and other plants are what they prefer. Their diet, as well as the gender, age and amount of fat impacts the flavor of the meat. Young females provide a mild flavor while the meat from older males is stronger. Most of the lamb found in grocery stores today is from sheep that is less than a year old.
P.S. Hungry for more tips and recipes? Sign up for my newsletter here.
This post contains affiliate links. That means if you click on a link and make a purchase, I may make a small commission. This does not affect the price you pay but helps fund the website.
Pin it for later!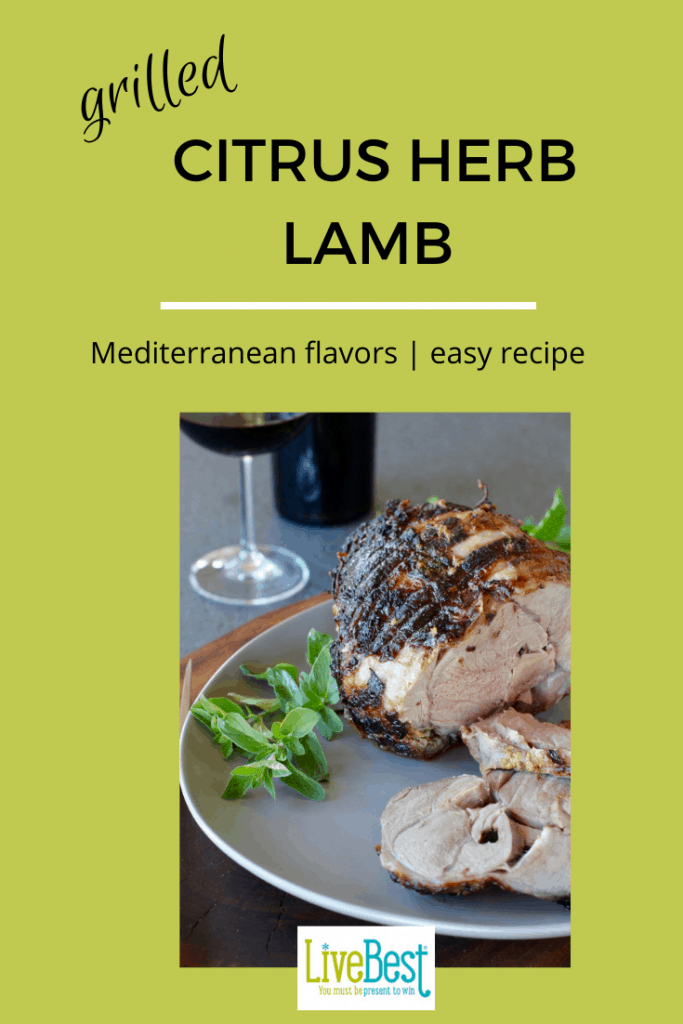 Print
Mediterranean Boneless Grilled Leg of Lamb
The fresh herbs, lemon and orange give a Mediterranean flavor to Citrus Herb Grilled Leg of Lamb, right in your own backyard!
Author:
Prep Time:

6 hours

Cook Time:

40 minutes

Total Time:

6 hours 40 minutes

Yield:

1

0

1

x
Category:

Main

Method:

Grill

Cuisine:

American, Mediterranean
Ingredients
4

-pound leg of lamb, boneless

2 tablespoons

Dijon mustard

2

cloves garlic

1 cup

fresh herbs, mint, parsley, oregano, basil

1

whole lemon

1

orange, peeled

¼ cup

oil

¼ teaspoon

pepper
Instructions
In a blender or food processor, combine mustard, garlic, herbs, lemon, orange, olive oil and pepper. Blend until smooth. Marinade will be thick. Spoon into a large zip-top bag, add lamb. Close the bag and massage the meat to coat it well. Place in the refrigerator to marinate for 4-6 hours, or overnight.
When ready to cook, remove lamb from marinade, leave some of the mixture on the meat. Thread on rotisserie skewers making sure the meat is centered. A lopsided roast results in uneven cooking. Place a drip pan under the roast to avoid flare-ups. Turn on the grill and rotisserie following the manufacturer's instructions. Turn on the motor. Cook at 325°F for 20 to 40 minutes, depending on size of roast and your preferred doneness.
To test for doneness, insert an instant-read meat thermometer or remote thermometer into the center of the roast. The internal temperature for medium rare is 145°F and medium is 160°F. Begin checking doneness before the minimum cooking time. Roast increase about 5 to 10 degrees in temperature during the 15-minute resting time after it is removed from heat. Heat drives the juices into the center of the meat, so allow to rest for 15 minutes to redistribute the juices before slicing.
On a gas grill, turn all burners to high, close lid and heat until hot, about 15 minutes. Scrape grates to clean. Turn off burners on one side of grill. Turn remaining burners to medium. On the side without heat, grill lamb, fat side down, over medium heat, 25 to 30 minutes, depending on doneness. A drip pan under the meat will help keep the grill clean from dripping fat. Remove lamb from grill and loosely cover with foil, let rest for about 15 minutes before slicing.
Notes
I cooked this on the rotisserie for a slow cooked, slow basted lamb. You could also grill it or roast it in the oven.
Nutrition information is adjusted for marinade use. Marinade provides flavor, but is not all consumed.
Nutrition
Serving Size:

6 ounces

Calories:

400
Keywords: roast lamb, hot cook lamb, what types of lamb are good for a recipe?