This Everything Seasoning seeds and flavoring on their own don't add up to much. But together the sum of their parts make everything taste better. That's why it's called Everything!
"Enjoy the little things in life because one day you'll look back and realize they were the big things." Robert Brault
As we open new calendars, it's natural to look back and take stock. Were there meaningful moments? Did I meet the goals I set? Is my health were I want it? Did I do fun things? Did I learn a new skill?
A year of sunsets
A few years ago I set a goal to photograph sunsets several times per week. Noticing the light, colors, and seasons challenged me to look for something good enough to earn a camera click. Through the year, day by day, photo by photo, my skill improved, I observed seasons change and discovered that some of the more spectacular sunsets happened in winter – when it's cold, dark and stark.
Funny thing is you can notice a moment when you're in it, but when you capture it and then revisit it, it becomes fresh again. We think we'll remember the things that move us, but thoughts and experiences are fleeting. When you photograph it or write it down, it sticks around. When you review it later, it's even stickier. I still appreciate the pictures because they are part of my computer screen saver. But more, I value the accomplishment of achieving.
Record 3 Good Things
Our brains are hardwired to perform at their best, not when they are negative or even neutral, but when they are positive. Researchers found that people who wrote down three good things each day for one week were happier and less depressed on follow up visits one month, three months and even six months later. One week!
When you record a daily list of the good things in your life, your brain is forced to scan the last 24 hours for potential positives – laughter, feelings of accomplishment, connections with others, a welcome from your pet, glimmers of hope, a beautiful sunset, a song well sung, a compliment, a great bite of food…whatever. Use that new calendar to force your brain to look for the good.
When you focus on the little things that are positive you become more skilled at seeing it, while pushing out annoyances and frustrations. It's easy to forget that happens in a year, but these notes help you look back and see a powerful year of accomplishments!

One cup is good. 10 minutes is good, too.
Small things add up to big results health wise, too. Just thirty minutes of physical activity a day boosts overall health, even done in 10-minute segments.
The benefits of eating vegetables
It's also the little things on your plate. Fiber from a variety of beans, nuts, seeds, fruits and vegetable improves your gut microbiome. And those vegetables may be the next best thing since sliced bread. Recently researchers found that people who ate a serving of leafy green vegetables a day maintained a sharper mind as they aged.
Compared with those who rarely eat the greens, the folks who ate a cup of raw (or half-cup cooked) of spinach, broccoli, bok choy, kale, or collard greens got more vitamin K, folate and lutein, which helped slow brain aging or cognitive decline by 11 years. This was a small study and doesn't prove that vegetables are a 'magic bullet' but does add to the list of benefits of healthy eating and being physically active over the long term. One cup. Ten minutes. Isn't that the truth? It's the little things.
Everything Seasoning Uses
This Everything Seasoning recipe is like that. The seeds and flavoring on their own don't add up to much. But together the sum of their parts make everything taste better. You likely know about Everything Bagel Seasoning.
The sesame seeds, poppy seeds, onion, garlic and salt are crunchy flavor boosters to baked potatoes, hummus, scrambled or hard-cooked eggs, sandwiches, plain yogurt, popcorn, sliced cucumbers or tomatoes or avocado toast. Here are more than a dozen delicious toast topper ideas.
If you like this, rate it below and pin it for later 😉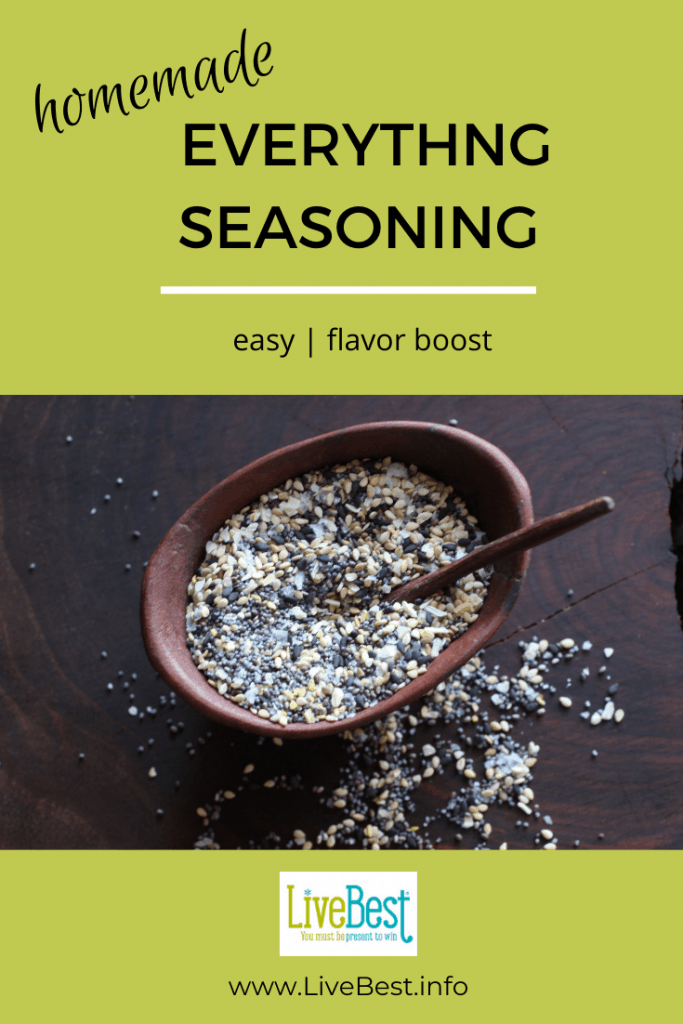 The Everything Toast: Everything Seasoning, Smoked Salmon, Avocado, Grapefruit Toast
Or make an open-faced sandwich. This sandwich was one of the best things I've eaten in recent memory. OMGosh, I ate a modified version of this toast for breakfast 3 days in a row at the Mercantile in Denver's Union Station. Or maybe 4 days. It was THAT good.
On toasted bread, spread a yogurt horseradish schmear. Layer fresh spinach or arugula, smoked salmon, avocado and grapefruit. Sprinkle with Everything Seasoning.
Horseradish schmear: 1/4 cup plain Greek yogurt + 1 teaspoon horseradish
Check out a dozen more toast toppers here and this open-faced sardine sandwich.
P.S. Hungry for healthy diet tips and recipes? Sign up for my newsletter here!
Print
Everything Seasoning Recipe
Sesame seeds, poppy seeds, onion, garlic, and salt are crunchy flavor boosters to baked potatoes, hummus, scrambled or hard-cooked eggs, sandwiches, plain yogurt, cottage cheese, popcorn, sliced cucumbers or tomatoes, avocado toast, well, just about EVERYTHING!.
Author:
Prep Time:

10 minutes

Total Time:

10 minutes

Yield:

1 cup

1

x
Category:

Snack

Cuisine:

American
Ingredients
4 tablespoons

sesame seeds, toasted

3 tablespoons

poppy seeds

2 teaspoons

minced, dried onion

2 teaspoons

coarse salt, such as Maldon or Morton's Kosher

2 teaspoons

chia seeds, optional

1 teaspoon

minced, dried garlic
Instructions
Mix: all ingredients together. Store in airtight jar.
Nutrition
Serving Size:

.5 teaspoon

Calories:

15
Keywords: everything spice, how to make everything but the bagel seasoning, how to start eating healthy