The lowdown from a beekeeper plus Honey Spiced Popcorn. Sweet, salty, crunchy with a spicy kick, one of my favorite sweet snacks!
I love to cook with my very own honey. When I was asked to bring dessert to friend's for dinner. I took Honey Spiced Popcorn and set it on a big platter. Everyone nibbled on it as we sat and talked. We all agreed that was a fun dessert. But before I get to the recipe, I wanted to take you on a tour of the beehive.
The Queen Bee
As beekeepers, we've learned that bee hives have unique personalities. It's all about the Queen. She sets the tone of the hive. We love to see the queen, but with 30,000 to 50,000 bees, she can be hard to find. A marked queen is easier to find. A felt-tip marker is used to mark her abdomen which helps identify her. There is an international color system so you know what how old the queen is based on the mark. See the blue mark on the bee in the photo? That's the queen. She was born in 2015.
Meet the bee hives
As a new beekeeper we needed a system to identify each hive and keep records of them. A friend said. "That one looks like a Tiffany box." Meet Tiffany Hive. Tiff is on the mellow side. These bees don't get too excited when we open the hive to inspect. They are solid honey producers.
Olive Hive is a few months old. A former hive was experiencing a population explosion, so to prevent them from swarming (recognizing that the hive can't accommodate all the bees, they leave the original hive to create a new one), we took a few frames that contained eggs, larvae, bees, nectar and honey and put them in Olive Hive. We moved the hive about 3 miles away so that the bees wouldn't return back to their original hive.
Four weeks later we inspected the hive to discover that the bees had nurtured and raised their own new Queen and she was already laying eggs and developing her hive. Very exciting!
Inspecting the bee hive
When we inspect the hive we look at the honeycomb. This is the hexagonal beeswax structure where bees store nectar, pollen and honey. It's also where the eggs are laid and larvae and pupae grow.
We are looking for eggs (which look like a grain of rice) and larvae (looks like a white worm) to know the queen is still alive and doing her job. Bees are eggs for 3 days, larvae for 6 days and brood for 12 days.
We're also looking for nectar and honey. We can see the bees coming in and out of the hive and honeycomb. Many with different colored pollen on their legs. Pollen is protein for the nursery. With the queen laying 1,200 to 2,000 eggs per day, the bees need a continuous supply of food.
We're also looking for mites and other pests that can cause damage. In this photo you see open honeycomb that is filled with nectar. The white band at the bottom is capped honey.
The best part? Honey!
The bees have a pretty sweet place to live. They like:
the sunrise to warm their entrance
shade to keep them cool
trees to protect from wind
water to drink
The second year of beekeeping resulted in about 150 pounds of honey from two hives. That's a great gift and I'm enjoying eating and cooking with it. Which leads to Honey Spiced Popcorn. 😉
But before I get there, here are a few more honey recipes:
I also like Taste of Honey recipe book.
How to make this easy gourmet Honey Spiced Popcorn
Finally! Here's how to make Honey Spiced Popcorn. Sweet, salty, crunchy with a spicy kick, this is one of my favorite recipes. If you don't like spicy, just omit the cayenne.
This is so easy to make. Unlike caramel corn, this is more heat and eat. Well, with some baking too. But so much easier than making a caramel! Plus there's much less butter than a traditional caramel corn recipe.
Pop the corn.
Melt honey, butter, vanilla, salt, and cayenne pepper.
Spread popcorn on lined baking sheet, toss with syrup.
Bake at 300 degrees for 20-25 minutes.
Like peanuts? Add them now.
P.S. Hungry for more healthy living tips and recipes? Sign up for my newsletter here. 
Pin it for later!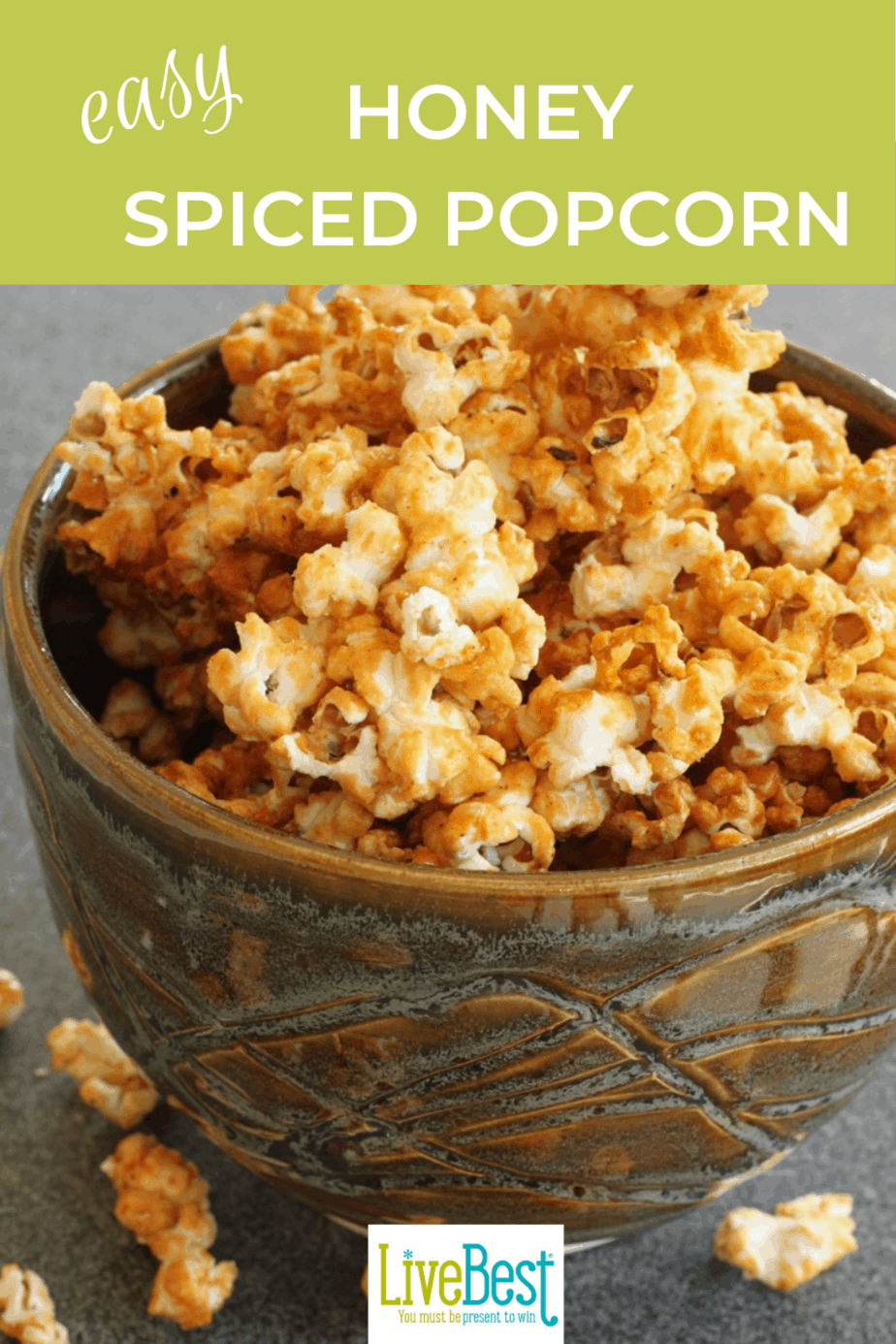 Print
Honey Spiced Popcorn
Sweet, salty, crunchy with a spicy kick, this is one of my favorite sweet snacks!
Author:
Prep Time:

5 minutes

Cook Time:

35 minutes

Total Time:

40 minutes

Yield:

10 cups

1

x
Category:

Snack

Method:

Stove, oven

Cuisine:

American
Ingredients
1/2 cup

popcorn kernels

2 tablespoons

canola oil

1/2 cup

honey

2 tablespoons

butter

1 teaspoon

vanilla

1/2 teaspoon

salt

1/2 teaspoon

cayenne pepper

1/2 cup

peanuts
Instructions
Pour oil in heavy-bottomed 4-quart pan. Heat over medium-low heat for a couple of minutes. Add popcorn kernels. Cover with lid and shake pan regularly. If popcorn starts to touch the lid, carefully lift part ofd the lid and pour some into a large bowl. Return pot to stove and continue cooking and shaking until popping stops.
Line a baking sheet with a silicon mat or lightly spray with cooking spray.
In a 1-quart pan, stir together honey, butter, vanilla, salt and cayenne pepper. Heat and stir occasionally until mixture boils.
In a large bowl combine popcorn and honey syrup. Stir to coat. Be careful, this hot syrup can burn you.
Spread popcorn on lined baking sheet.
Bake at 300 degrees for 20-25 minutes.
Remove from oven. Sprinkle with peanuts. Allow to cool.
Nutrition
Serving Size:

1 cup

Calories:

155
Keywords: sweet popcorn, caramel corn, baked caramel corn, homemade caramel corn, easy caramel corn
This website contains affiliate links. Thats means if you click through and make a purchase I may receive a commission from the seller, not from you. It does not increase the price you pay.