Whipped feta is an easy-to-make dip, spread, and pasta topper!
Whipped Feta Dip
This is just one of those recipes that seems to fit. I've served this to my book group and to friends with crackers and veggies, slathered it on toast and burgers. Besides being quick and easy, it looks simple, yet elegant. Plus it's a great way to use feta that you have on hand. Which is why I made this recipe, I had feta I needed to use. But it's so good that I added feta to the grocery list.
The ingredients
Feta cheese: the anchor to this recipe provides body plus calcium and protein
Plain Greek-style yogurt: adds creaminess + protein and calcium. Conventional plain yogurt can be used but the dip will be thinner.
Olive oil: a couple teaspoons for flavor, creaminess, and body.
Garlic: for a bit of flavor. If you don't like raw garlic, you could add roasted garlic or just love it out.
How to make it
This is a super simple recipe that is blended in the food processor. The goal is to make it smooth and fluffy. The Greek yogurt bumps up the protein and thins out the dip which adds to the creaminess.
Break up the cheese with the yogurt. Then drizzle the olive oil in so it doesn't pool up in the bottom of the work bowl as you run the food processor.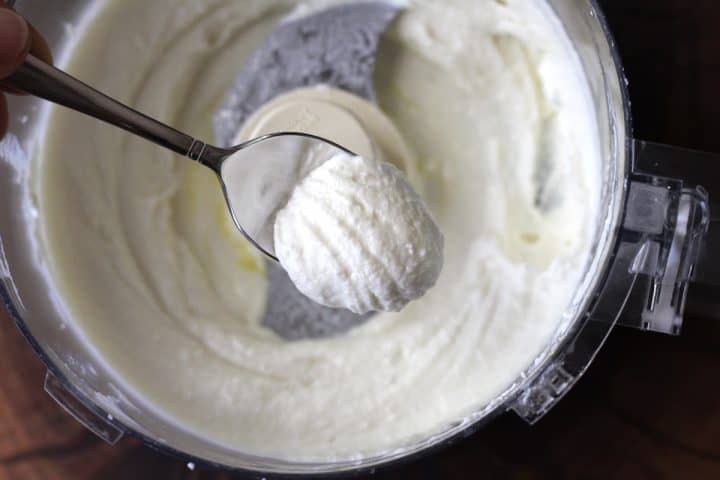 Why I like feta cheese
Tangy and salty it delivers a zesty punch to recipes. Like most cheeses, it provides calcium and protein. For those who are salt sensitive, sodium is on the higher side for feta, so a dab may do ya'.
lt's lower in fat and calories than many cheeses which makes it a go-to ingredient for me. Feta is usually a side note to many recipes, but with whipped feta it's the star!
How to store feta
Feta keeps for up to a month in the fridge. If your feta is packaged in liquid, keep the liquid. This is a brine which flavors the cheese. Just keep it covered. No brine? No problem. Not all feta is packed in brine. Keep it covered in the fridge. If you see mold, time to toss it. You can freeze feta but it will be crumbly when it thaws. This whipped feat is an excellent way to use it!
What to serve with Whipped Feta
Feta is a staple in Greek food. So when you think of Mediterranean foods, think feta. Add whipped feta to your meal prep routine. Grab the meal prep planning sheet here. See how you can use throughout the week! 👇
Serve it with:
crackers
sliced cucumbers, cherry tomatoes, celery, or pepper strips
spoon it on cooked pasta
spread on sandwich or wrap
I spread it on lightly toasted bread and topped the feta with arugula, sliced canned beets and orange slices.
More feta recipes
If you make this recipe, snap a picture and tag @JudyBarbe on Instagram. I'd love to see how you enjoy it! I also appreciate readers leaving a review and rating on this page.
Pin in for later!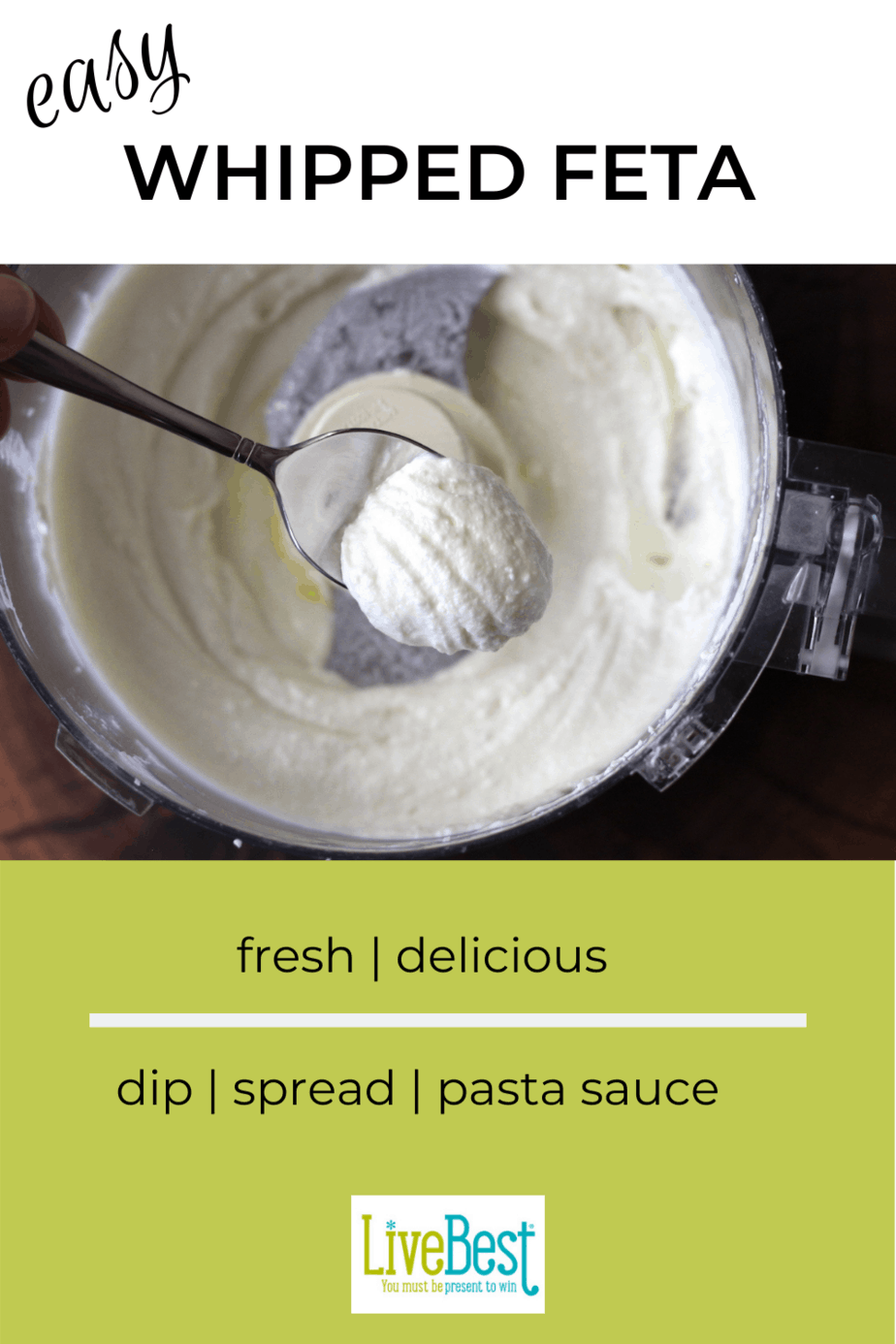 This post may contain affiliate links which means if you click through and make a purchase, the seller pays me a commission. It does not increase the price you pay.
Print
Whipped Feta Dip
Whipped feta is an easy-to-make dip, spread, and pasta topper!
Author:
Prep Time:

10 minutes

Total Time:

10 minutes

Yield:

2 cups

1

x
Category:

Appetizer

Method:

Food Processor

Cuisine:

Mediterranean
Ingredients
1 1/4 cups

feta

1/3 cup

plain Greek yogurt

1

garlic clove

2 teaspoons

olive oil
a finger pinch of salt and pepper
Instructions
Combine feta, yogurt, garlic, salt and pepper in food processor, pulse to break up cheese. Turn machine on and drizzle in olive oil. This keeps the oil from pooling in the bottom of the work bowl. Puree until smooth and creamy 30-60 seconds. Scrape sides of work bowl with a rubber scrapper. Puree for 30 seconds more.
Notes
Keeps for a week in the fridge.
Keywords: whipped feta, cheese dip, easy recipe