Ancient-grain spelt is enjoying a well-deserved renaissance! Don't miss out on all the protein, fiber and chewy texture in the Layered Spelt Salad.
Are you looking for better heart health, improved digestion, or increased energy? Add whole grains to your grocery cart.
Ho, hum! Whole grains are good for you
If you've heard it once, you've heard it dozens of times; whole grains are good for you. It's their fiber, vitamins and minerals that make them the darling of your plate.
But wait…whole grains have healthy benefits
Research published in The American Journal of Clinical Nutrition, reported that, compared to those eating only refined grains, whole-grain eaters absorbed fewer calories and burned more calories when at rest. To the tune of about 100 calories.
Surveys indicate that more of us want to eat whole grains, but we struggle with how to do it. And how to do it so that they taste good. Not like tree bark, for instance.

Please meet spelt
Though it's been around for 7,000 to 10,000 years, this ancient grain is enjoying a renaissance. Spelt is a sub-species of wheat. Because of that lineage, it does contain gluten though less than regular wheat. Some people who are wheat sensitive tolerate spelt, but it is not suitable for those with celiac or gluten intolerance. With 19 grams of fiber per cup, this is a grain to think twice about. And then cook it!
How to cook spelt
Spelt is not for the spontaneous. It takes about an hour to cook, though presoaking overnight can shorten the cooking time by 20 minutes or so. Bring to a boil, then simmer 1 cup whole spelt grains in 3 cups liquid (water or broth).
Well-drained and covered, cooked spelt lasts for a week, refrigerated. Wrapped tightly, it can be frozen for 2-3 months. But you don't want to miss out on all the protein, fiber and chewy texture it adds, do you?
Using cooked spelt
Use it as a hot cereal or top with yogurt and fruit
Substitute for rice in other recipes or serve as you would rice.
Add to soups like you might use barley or farro.
Top spelt with cottage cheese and toasted pumpkin seeds.
Add to green salads or mix with drained white beans, cucumber and tomato or to a salad of mushrooms, artichoke hearts, black olives and vinaigrette.
How to make Layered Spelt Salad
Cooking the spelt takes the longest time of all the ingredients. Think about cooking it while you're doing something else and stashing it in the fridge to use later in the salad.
Then mix and match the salad with the vegetables you have on hand.
Substitute spelt with quinoa, farro, bulgur or other cooked grain.
The ingredients
½ cucumber, diced
½ cup celery, sliced
½ cup red cabbage, shredded
½ cup broccoli, raw or cooked
½ cup spelt, cooked
2 tablespoons sunflower seeds
2 teaspoons olive oil
3 tablespoons plain yogurt
¼ teaspoon dried basil flakes
¼ teaspoon dried oregano
¼ teaspoon salt
¼ teaspoon freshly ground pepper
Why I like Layered Spelt Salad
I love the chewy texture of this grain!
Spelt's protein and fiber give it staying power, so you won't be scrounging for a snack soon after eating.
Herbed yogurt dressing is a bit like better-for you Ranch.
Crunchy sunflower seeds have healthy fat and protein.
I've suggested vegetables, but make it easy and use what you have on hand.
I created a free, 5-day challenge you can join by clicking this link. You'll get tips and tools, resources and recipes to create your own roadmap to meet your fiber goals toward high fiber meals. Don't ya? Won't ya? Seriously, it's only 5 days 😉 Find it right here.
Pin it for later!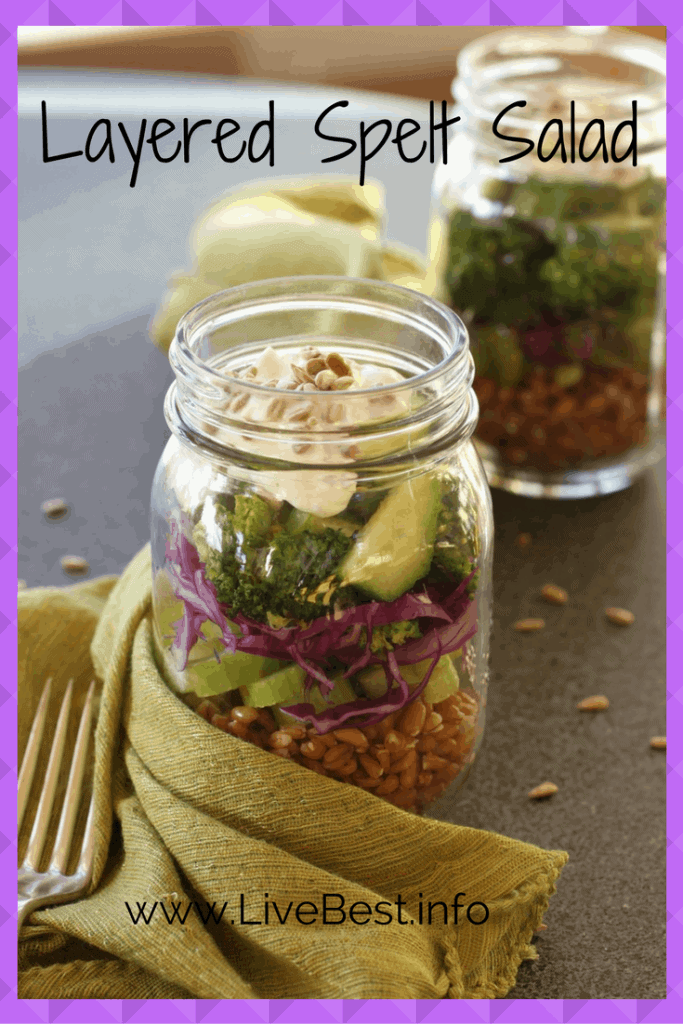 P.S. Hungry for more healthy living tips and recipes? Sign up for my newsletter here. 
Print
Layered Spelt Salad
This is a salad-to-go recipe. Make it the night before and store in the refrigerator. Save time by using the vegetables left from dinner.
Author:
Prep Time:

20 minutes

Cook Time:

60 minutes

Total Time:

1 hour 20 minutes

Yield:

2

1

x
Category:

Salad

Method:

stove

Cuisine:

American
Ingredients
½

cucumber, diced

½ cup

celery, sliced

½ cup

red cabbage, shredded

½ cup

broccoli, raw or cooked

½ cup

spelt, cooked

2 tablespoons

sunflower seeds

2 teaspoons

olive oil

3 tablespoons

plain yogurt

¼ teaspoon

dried basil flakes

¼ teaspoon

dried oregano

¼ teaspoon

salt

¼ teaspoon

freshly ground pepper
Instructions
Cook spelt: bring 3 cups water or stock to a boil, add one cup spelt. Cover the pan, reduce heat to low. Simmer 40-75 minutes (depending on if you soaked it ahead), until the grain is soft but still chewy. Drain off excess water. Store covered in the refrigerator. Can be stored up to a week.
Dressing: in a small bowl, stir together the olive oil, yogurt, basil, oregano, salt and pepper.
Salad: Layer spelt and vegetables in 2 Mason jars, top with dressing and sunflower seeds. Refrigerate until you're ready to eat.
Notes
Cooked spelt can be stored a week in the fridge or frozen for 3 months, so cook some while while you're doing other meal prep to make this salad super easy.
Nutrition
Serving Size:

half the recipe

Calories:

210
Keywords: salad to go, lunch salad, how to cook spelt, can spelt be frozen