Mango Jalapeno Dressing takes salad dressing to the tropics. Add a jalapeño and you have a best-dressed chicken breast with this mango sauce!
Don't you love it when you make something delicious out of seemingly throw away food?
I bought a mango last week to use in a salad. That dinner fell by the wayside and when I got back to the mango, it was overripe. The mushy fruit still had great flavor, so I repurposed it into a sauce.
How to make an easy Mango Sauce
Blend peeled mango, onion, jalapeño, oil vinegar and ground coriander. I grilled the jalapeño fora few minutes to add smokiness but that's optional.
You end up with a sweet, spicy, tangy dressing.
I drizzled it over grilled chicken and fresh arugula. (Yep, that arugula I picked from my garden).
On Day 2, I tossed it with shredded red cabbage. So that's a twofer from an overripe fruit.
I also used used the dressing as a marinade. Mangos have natural tenderizing properties, making them a perfect ingredient for marinades.
Pin it for later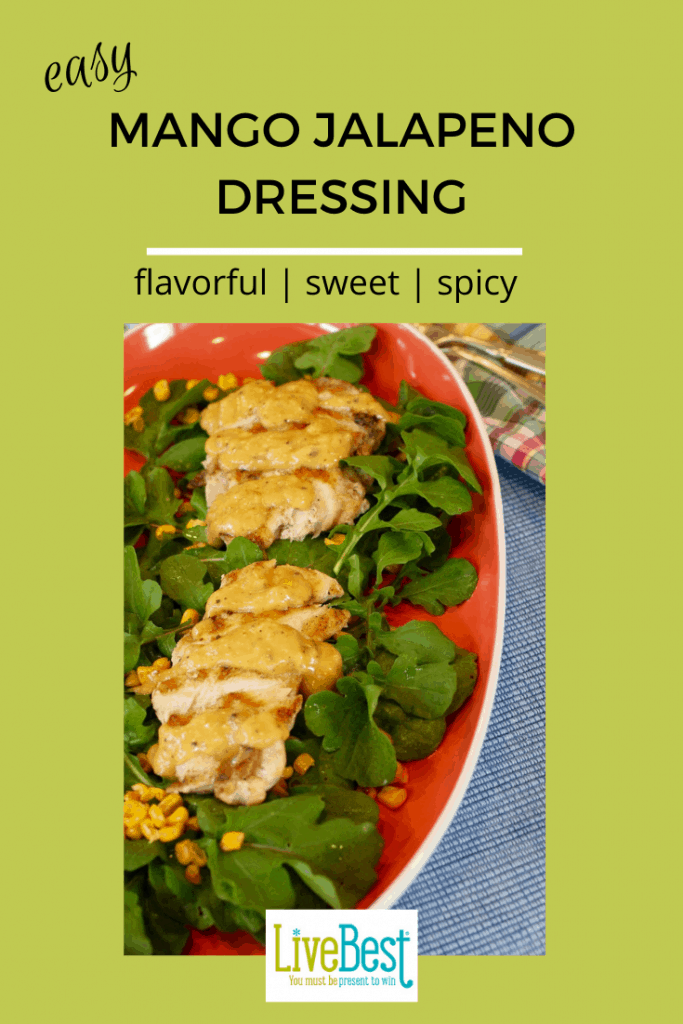 How to choose mangoes
When you buy a mango, choose it based on firmness and when you plan to eat it.
1. Squeeze the fruit gently. A ripe one will give slightly.
2. Don't focus on color. The red color of some varieties doesn't indicate ripeness.
2. Mangoes ripen at room temperature, becoming sweeter and softer over several days. To speed up ripening, place them in a paper bag at room temperature.
How to cut a mango
A mango can be a challenge to cut until you know about the seed…it's a large, flat seed in the center. To cut the fruit, you need to trim around the seed. Here's how:
Wash the fruit, then set the it on a cutting board and slice lengthwise about 1/4-inch off of center…just so your knife runs along one side of the seed. Turn it over and repeat. You'll end up with two "cheeks" of flesh. I prefer a knife, but some people like a mango cutter.
Use a small, serrated paring knife (this is the knife I use all the time) to cut the cheeks into a cubes. The knife shouldn't penetrate the skin.
When you have your cubes, push the skin up, so it turns inside out. The flesh will pop up and you can trim the cubes away from the skin.
How to store mangoes
Mangos may be cubed and placed in an airtight container in the refrigerator for several days or in the freezer for up to six months. Toss the cubes in a salsa, grilled squid mango salad, spoon over yogurt, or blend into a smoothie. Lots more mango recipes here.
Try fresh cubes with a sprinkle of salt, lime juice, and chili powder.
No need to let the fruit go soft just to make the dressing. This jalapeño mango recipe allow lots of flexibility. If you want, roast the jalapeño by searing it in a medium-hot skillet until it darkens. Add the whole jalapeño if you like more heat. You can also do that on the grill. If you want a thin salad dressing, add more oil and vinegar. However you use them, rest assured they're delivering good-for-you vitamin C, vitamin A, and fiber.
P.S. If you like this recipe, you may want more nutrish and delish ones to help with healthy eating. Sign up for my newsletter here.
This post contains affiliate links. That means if you click on a link and make a purchase, I may make a small commission. This does not affect the price you pay but helps fund the website.
Print
Mango Jalapeno Dressing
Mango Jalapeno Dressing takes salad dressing to the tropics. Add a jalapeño and you have a best-dressed chicken breast!
Author:
Prep Time:

10 minutes

Total Time:

10 minutes

Yield:

1 cup

1

x
Category:

Sauce

Method:

no cook

Cuisine:

Mexican, American
Ingredients
1 cup

fresh mango, pitted and scooped from shell

1/2

jalapeno, seeds removed, roast if you'd like

2 tablespoons

red onion, chopped

3 tablespoons

oil, I used canola

2 tablespoons

apple cider vinegar

1/4 teaspoon

ground coriander or

2 tablespoons

fresh cilantro
pinch of salt
Instructions
Combine ingredients in blender or food processor. Blend until smooth.
Nutrition
Serving Size:

2 tablespoons

Calories:

65
Keywords: Mango sauce, what to do with leftover mango, mango dressing