Grilled Squid (calamari) Mango Salad is filled with fresh Asian flavors of mango, lime juice, jalapeno, and ginger. A delicious, easy, healthy summer salad in about 15 minutes.
When you think of grilling, a sizzling burger might come to mind. Or a pork chop.
Have you thought of squid?
What is squid?
Squid meat has a mild flavor and firm, chewy texture. Many of us have probably eaten calamari battered, fried and dunked in a sauce. That's squid. Part of the mollusk family, this prehistoric creature with its ten arms, is related to the octopus. They are popular in Mediterranean and Asian cuisines, in seafood restaurants and bar menus.
Eating fish twice a week is healthy
Nutrition guidelines recommend 2 servings of fish per week, 3 to 4 ounces each, for the lean protein and heart-healthy omega-3 fats they provide. Two servings seems worth it because observational studies show that people who eat more fish are at reduced risk for heart attacks and stroke than those who eat less fish. When it's battered and fried, the healthful benefits get lost. So baked, steamed, or grilled fish is best.
Grilled Mango Squid Salad
This grilled squid salad is filled with fresh Asian flavors from a dressing of mango, lime juice, fish sauce, jalapeno, ginger and herbs. Together, they make a delicious summer salad in about 15 minutes.
How to cook squid
Squid is sold fresh and frozen. If buying fresh, look for clear eyes and a fragrance that reminds you of the ocean. Cook it within a day or two. Shop frozen for a longer shelf life. Thaw in the refrigerator before cooking. Overcooking toughens squid so you feel like you're chewing on a rubber band. Moderate temperature and short cooking time prevents that. Short is about 5 minutes. You may find whole squid or cut into rings or strips. Any form works in this recipe though the whole squid may be easier to grill. If using rings, a grill basket or cast iron griddle keeps it from falling through the grates.
Seafood solution, a favorite find
I've heard from readers that they get confused when they try to buy fish. To make sure I have fish on hand, I've been ordering fish for home delivery via Vital Choice, an online retailer selling wild-caught, sustainably harvested Alaskan salmon and northwest Pacific seafood such as halibut, tuna, shrimp and lobster.
I love convenience, so knowing that I can get delicious, healthy, eco-friendly seafood delivered to my door makes life so much easier to have these things on-hand in my freezer. Vital Choice has a loyalty program where you get points for every dollar you spend, redeemable for discount coupons.
I met the owner at a nutrition conference where we were able to talk about his business. Before founding Vital Choice, Washington State native Randy Hartnell spent more than 20 years fishing Alaskan waters for salmon, herring, and other regional species. His goal is to bring those fish and their health benefits to a larger market, while fishing responsibly to preserve the sustainability of wild fish and seafood. All of the Vital Choice seafood is certified sustainable either by the Marine Stewardship Council (MSC), the State of Alaska's Responsible Fisheries Management (RFM) program, or Monterey Bay Aquarium's Seafood Watch program.
How to cut a mango
A mango can be a challenge to cut until you know to cut around the large, flat seed in the center. Wash the fruit, set it on a cutting board and slice lengthwise about 1/4-inch off of center, so your knife runs along one side of the seed. Repeat on the other side. You'll end up with two "cheeks" of flesh.
Use a small, serrated paring knife to cut around the mango between the skin and the fruit. The knife shouldn't penetrate the skin.
Cut a tic tac toe pattern.
Push the skin up, so it turns inside out. The flesh will pop up and you can trim the cubes away from the skin.
How to tell if mango is ripe
To buy mango, choose it based on firmness and when you plan to eat it. Color does not indicate ripeness. Squeeze the fruit gently. A ripe one will give slightly. Mangoes ripen at room temperature, becoming sweeter and softer over several days. To speed up ripening, place them in a paper bag at room temperature.
More mango recipes 😉
Pin it for later!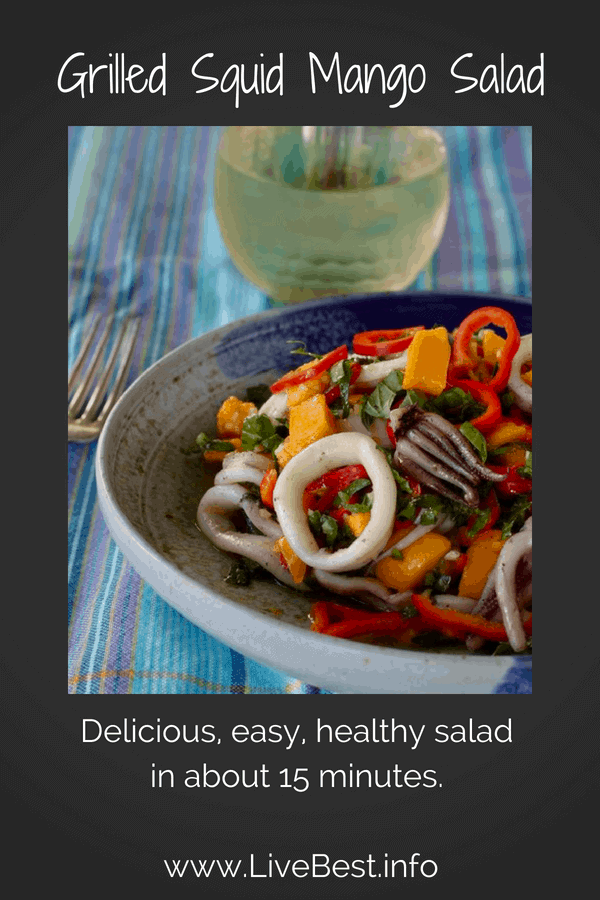 P.S. Hungry for more healthy living tips and recipes? Sign up for my newsletter here.
This post contains affiliate links. That means if you click on a link and make a purchase, I may make a small commission. This does not affect the price you pay but helps fund the website.

Print
Mango Squid Salad
Grilled Squid Mango Salad is filled with fresh Asian flavors of mango, lime juice, jalapeno, ginger and herbs. Together, they make a delicious, easy, healthy salad in about 15 minutes. Serve this salad with warm squid or chill for a cold salad.
Author:
Prep Time:

15 minutes

Cook Time:

5

Total Time:

20 minutes

Yield:

2

1

x
Category:

Salad

Method:

Grilled

Cuisine:

Asian
Ingredients
1

pound squid

1/2 teaspoon

oil

2 tablespoons

lime juice

1 tablespoon

olive oil

1 tablespoon

fish sauce, find this in the Asian foods section

2 teaspoons

jalapeno, finely chopped

2 teaspoons

fresh ginger, finely chopped

1/4 teaspoon

salt

1/3 cup

fresh herbs, such as parsley, mint, and/or basil, chopped

1 cup

fresh mango, diced (could be

1

–

2

mangos)

1/3 cup

red pepper, strips
Instructions
Squid: Rinse squid. Pat dry. In a medium bowl, toss squid with 1/2 teaspoon oil. Grill over medium heat 3-5 minutes in a grill basket or griddle. Overcooking toughens the squid.
Note: You can also cook the squid in a pan over medium heat.
Dressing: Whisk together lime juice, olive oil, fish sauce, jalapeño, ginger, and salt. Stir in herbs, squid, mango, and peppers. Stir to coat all ingredients.
Nutrition
Serving Size:

half the salad

Calories:

375
Keywords: salad with protein, how to grill squid, calamari salad, calamari