Baked chicken breast makes these tacos easy. Sweet and spicy moist lean chicken, crunchy red cabbage and quick pickled onions make healthy tacos you're gonna love. Ready in 30 minutes.
How many times have you pulled them out of the freezer? Staring at this block of frozen chicken breasts wondering how to make them interesting.
Hold on a sec.
I think I have something for you.
Hot. Honey. Chicken. Tacos.
This quick and easy dinner is delish and nutrish.
How to make easy baked Hot Honey Chicken Tacos
A Mexican chef told me tacos are 3 bites of corn tortilla folded around a filling. In this recipe, it's a spicy honey orange marinade which adds flavor and helps keep the chicken moist plus shredded cabbage and quick pickled onions that add crunchy pizazz.
Place chicken in shallow baking pan.
Add honey, chipotle pepper, adobo sauce, and orange juice.
You can bake it right away or let it marinate 30 minutes or overnight in refrigerator for flavors to develop. You can grill the chicken over medium heat, but keep an eye on it so it doesn't overcook.
How to quick pickle onions
While chicken is marinating, add thinly sliced onion to vinegar to a glass or stainless steel bowl. Vinegar can react with aluminum, so that's why the stainless steel or glass. Plastic can pick up odors, but you can use a plastic bowl if that's what you have. Anywho, this is called a quick pickle. In just 30 minutes, you have a tangy, crunchy taco topping. Store leftovers in the fridge for up to 3 weeks.
Grab a warm tortilla and layer chicken, red cabbage, pickled onion, top with dollop of plain yogurt for a 3-bite taco.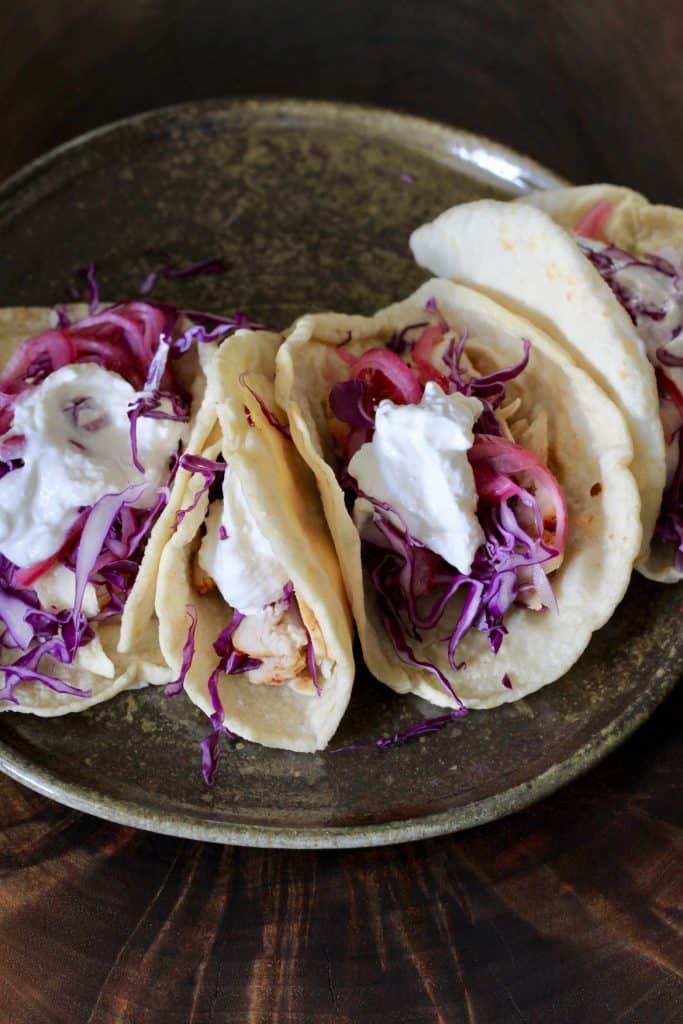 I get a lot of questions on cooking with chicken, so let's dig a little deeper
How to defrost chicken
I keep frozen chicken on hand. It's an easy solution to what's for dinner. 'course, you need to defrost those frozen bricks.
It's best to defrost in the fridge. The cold temperature keeps bacteria from growing. It's not good to set them on the counter. That's because room temperature is ideal for bacteria to grow and as parts of the chicken thaw, these thinner area could reach temps where bacteria thrive.
But if you need to defrost in a hurry, place the air-tight or leak-proof package in a sink filled with cold water. Change the water every 30 minutes until the chicken is thawed. I prefer that to trying to microwave them. It's just too hard to get them defrosted without partially cooking the chicken.
How to oven bake chicken breasts
Boneless, skinless chicken breasts are lean protein. Because they're lean, they can go from moist and juicy to dry and tough in the time it takes a rooster to crow.
As the temperature climbs, the proteins squeeze out the water. The higher the heat, the more water escapes, cooking the moisture right out of the meat. So a moderate oven temperature (350°F) works better than a higher temperature, such as 425°F.
A broth, marinade (like hot honey), or other liquid also helps keep the chicken more moist. And a uniform thickness improves cooking so that one end doesn't cook before the middle. Pounding the chicken into an even thickness with a meat mallet, or cutting it into even pieces is another way to do that. Slice the breast in half by cutting through the breast sideways, parallel to the cutting board. Kind of like splitting a bagel.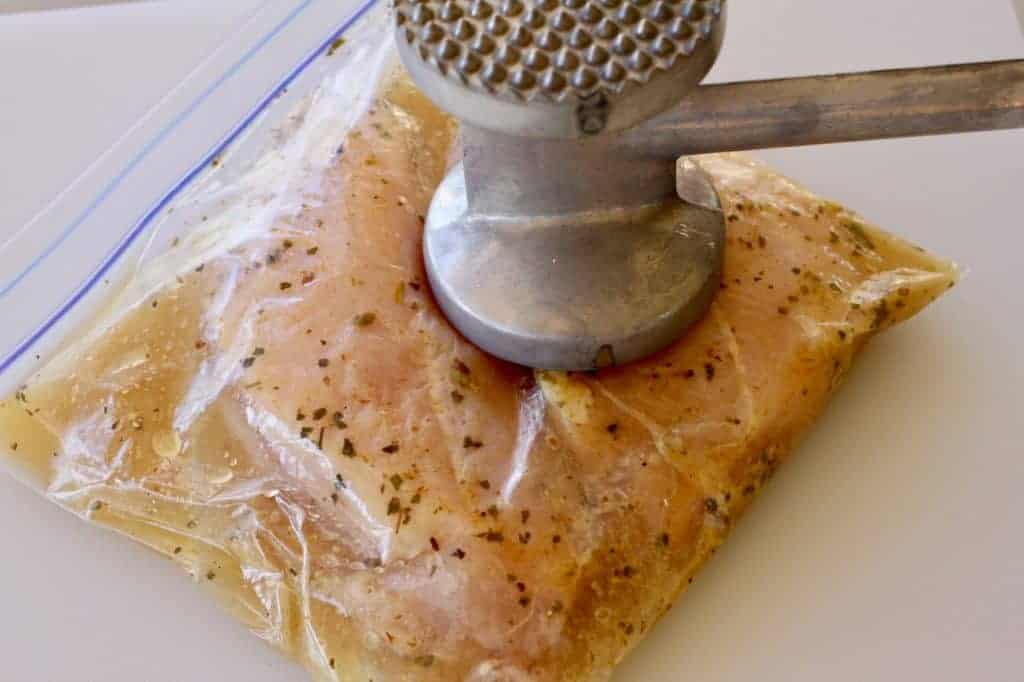 How to tell if chicken is cooked
It's not enough to poke it to see if the chicken is firm. It's not enough to see if juices run clear. Boneless chicken should be cooked to 165°F. To take the temperature of a chicken breast, insert the thermometer into the side rather than from the top, then wait 15 seconds to get the temperature.
How long does chicken keep?
Store raw chicken on a tray in the coldest part of the refrigerator, the back, bottom shelf for up to 2 days. Once it's cooked, store it up to 3 days in the fridge. Chicken can be frozen for up to a year, if it's well wrapped. Even after a year, the chicken won't be bad, it just may be freezer burnt which can give an off flavor.
Should you wash raw chicken?
No.
Though your mom may have rinsed chicken, it is not recommended. Rinsing can spread raw juices and bacteria around your sink, onto your countertops, or onto other foods. Bacteria in raw meat and poultry cannot be rinsed off. Heat is the only way bacteria is killed. So you just need to cook it.
So be sure to wash your hands, kitchen work surfaces, cutting boards, and utensils thoroughly with soap and hot water immediately after they have been in contact with raw meat or poultry, including frozen and fresh.
Pin it for later!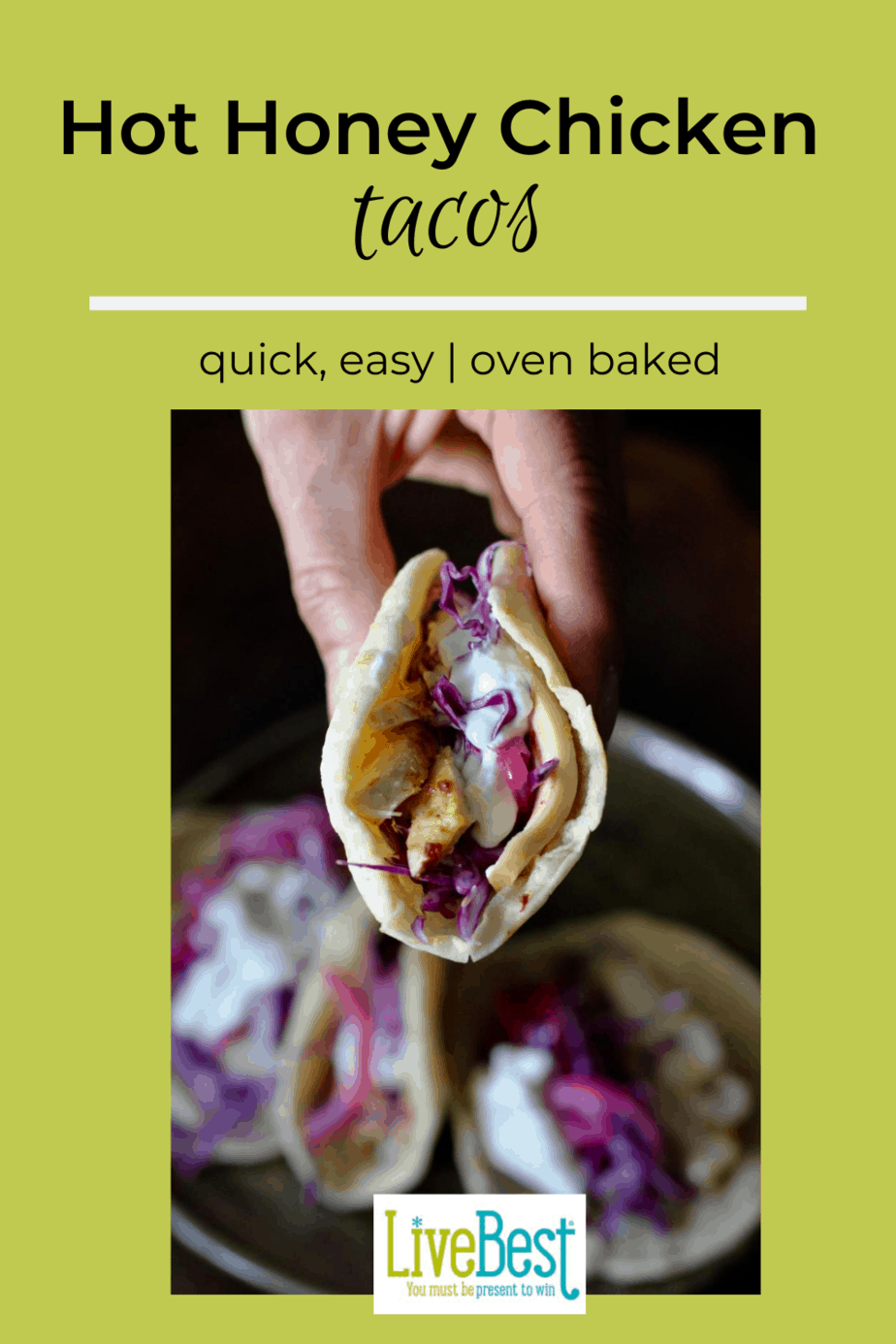 I like tacos. Here are some of my other recipes.
MORE healthy taco recipes
MORE healthy Mexican food recipes
P.S. Hungry for more healthy living tips and recipes? Sign up for my newsletter right here!
This post may contain affiliate links which means if you click through and make a purchase, the seller pays me a commission. It does not increase the price you pay.
Print
Hot Honey Chicken Tacos
A sweet and spicy marinade adds pizzaz to chicken breasts. Baked, they turn out moist and flavorful. Fill your tortilla with hot honey chicken, shredded red cabbage, pickled onions and a spoonful of plain yogurt.
Author:
Prep Time:

20 minutes

Cook Time:

20 minutes

Total Time:

30 minutes

Yield:

4

tacos

1

x
Category:

Dinner

Method:

Oven

Cuisine:

Mexican
Ingredients
1

pound boneless, skinless chicken breast, split or pounded to uniform thickness

2 tablespoons

honey

1 tablespoon

minced chipotle pepper, find in the Mexican food aisle

1 teaspoon

adobo sauce (from chipotle peppers)

1 tablespoon

frozen orange juice concentrate or

2 tablespoons

orange juice

½

red onion, thinly sliced

¼ cup

red or white vinegar

2 cups

red cabbage, thinly sliced

½ cup

plain Greek-style yogurt
Instructions
Heat: oven to 350℉
Wash: your hands before cooking. To avoid bacterial contamination from the raw chicken, thoroughly wash the cutting board, counters and knives and your hands after handling raw chicken. And be careful that raw juices don't come in contact with cooked chicken.
Chicken: Place in shallow pan. Add honey, chipotle pepper, adobo sauce, and orange juice. Bake now or, if you have time, let chicken marinate 30 minutes or overnight in refrigerator.
Pickled Onion: Combine onion and vinegar in small glass or stainless steel bowl. Stir occasionally while preparing chicken.
Cook: Add chicken and marinade to baking pan. Separate chicken so it's in a single layer. Bake chicken in 350°F oven for 20 minutes or until temperature reaches 165°F by using a meat thermometer. Or grill the chicken over medium heat.
Tortillas: I like them warm. Heat skillet, cast-iron skillet, or griddle over medium heat. Toast tortilla for a couple of minutes per side. Keep warm in oven.
Final step: Remove chicken to cutting board, slice against the grain into ¼-inch pieces. Layer chicken slices, red cabbage, pickled onion, top with dollop of yogurt on tacos.
Keywords: healthier taco, baked chicken breast, easy dinner