Is it a power bowl? A Buddha bowl? A burrito bowl? Yep. Yep. Yep. Whatever you call it, you're spooning into a bowlful of flavorful Mexican foods 3 ways.
For those who don't like their food to touch, bowls aren't your thing. For those of us who like variety in every bite, bring on bowls (10-Minute Peanut Rice Bowl)!
Mexican food staples
Corn, beans and chiles are the backbone to Mexican cookery. Though the cuisine is as varied as the varieties of each. However you arrange them, we love these foods.
Blue, red, sweet, and starchy, corn is used in tortillas, hominy, drinks, soups, and the street food favorite, corn on the cob, slathered with mayonnaise and chile. 🌽
Protein-rich beans are simmered as a pot of beans, or mashed and refried.
From the hothothot Habanero to mild green peppers,🌶 chiles flavor and fill, like in Poblano stuffed with black beans and quinoa.
Chile facts: As a general rule, the smaller the chile, the hotter. The seeds and veins are where most of the spicy heat resides, so if those are removed, or not released by cutting, the heat stays in the chile, not in your mouth.
How hot are chiles?
Capsaicin is the component in chili peppers that makes you cough, shudder, or cry. The Scoville scale measures the heat in a chile based on Scoville Heat Units. The world according to Scoville indicates that Pepper X and Carolina Reaper ring in with a fiery 800,000 to 3,200,000 heat units, the Habanero and Scotch Bonnet 100,000 to 350,000, poblano can range from 1,000 to 1,500, a jalapeno anywhere from 2,500 to 8,000 and bell pepper has 0 to 100. Though any one pepper can surprise you with its mildness or heat. There is something for everyone with chiles.
How to cook chiles
When you do cut them, handle with care. Chile oil can stay on your skin, actually burning your fingers. So if you rub your eye, uh, ouch! Don't do that. Gloves help but a good handwashing is a must. In your mouth, water will spread the spicy oil, where fat and sugar may help put out the fire. Milk, sour cream, cheese, and yogurt are often added to spicy dishes to tame the flame.
At a Yucatan cooking school, I learned to use whole chiles for flavor without heat by leaving the chiles whole. Simmer them whole to add floral and citrus flavors, but without the spiciness. Choose one of each varietal to add flavor interest. Cook with the chiles that match your heat tolerance. I used a poblano and a jalapeno with the corn and beans in this recipe.
Why I like this one-pot Mexican Burrito Power Bowl
I wanted a recipe that was fiber rich, flavor forward, plant based and flexible. ✅
I used a fiber-rich rice, lentil, quinoa blend for the grains. What's so good about a bowl is that you can use foods you have on hand. If you already have some cooked grains, use those. Spelt, brown rice, or farro would work. Pinto beans or kidney beans can be used instead of black beans I used. In one big pot, cook your veggies. I used onion, jalapeno, garlic, sweet potato, black beans, corn, and grape tomatoes. Before you serve it, chop an avocado or spoon over some guacamole. I gave it a big squeeze of lime juice.

Another bonus is that this one-pot dish keep well, so you can eat a few meals from cook once, eat twice or more!
#1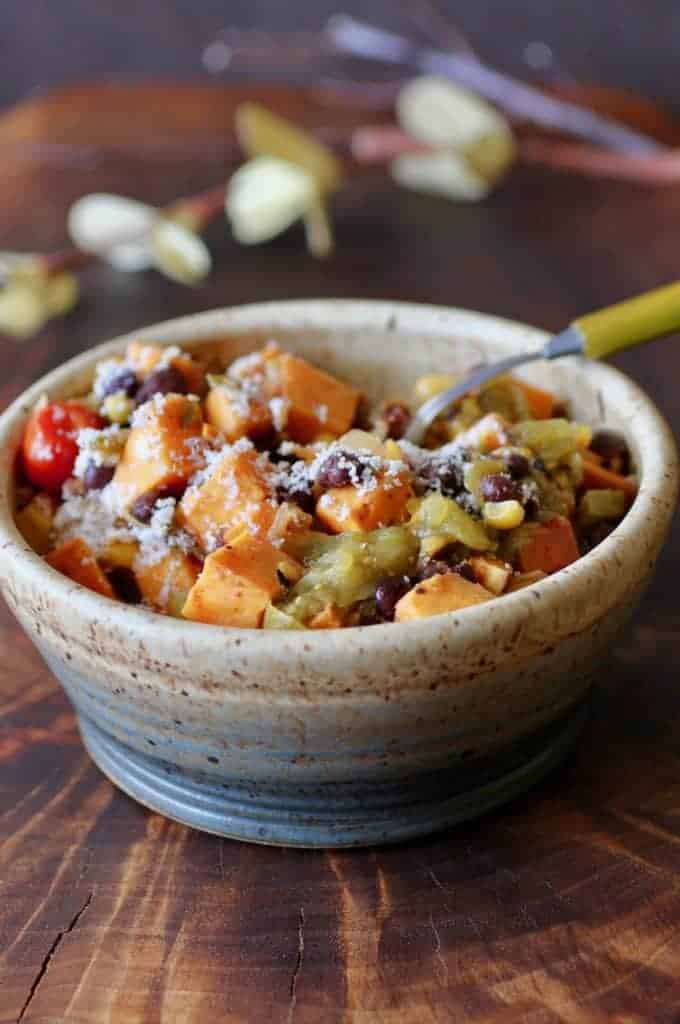 Burrito Bowl? Buddha Bowl? Power Bowl? Nourish Bowl?
um, yes. I call it a Mexican Burrito Power Bowl, but it makes a tasty taco. With an egg on top, it's a hearty breakfast. And then there was the dinner I originally made it for. Seems this easy vegetarian Mexican recipe worked for every meal!
MORE healthy Mexican food recipes
P.S. Hungry for more healthy diet tips and recipes? Sign up for my newsletter here.
This post contains affiliate links. That means if you click on a link and make a purchase, I may make a small commission. This does not affect the price you pay but helps fund the website.
Print
Mexican Burrito Power Bowl
Author:
Prep Time:

10 minutes

Cook Time:

25 minutes

Total Time:

35 minutes

Yield:

4

1

x
Category:

Bowl

Method:

stovetop

Cuisine:

Mexican
Ingredients
1 tablespoon

olive oil

1

small onion, diced

1

–

2

habanero, jalapeno, or poblano, chopped

2

cloves garlic, smashed

1

sweet potato, diced

1

(15 ounce can) black beans, rinsed, drained

2 cups

corn

1 1/2 cup

grape tomatoes

½ teaspoon

ground cumin

½ teaspoon

dried oregano

3 cups

cooked quinoa or other grain, such as farro, spelt, brown rice or a lentil, quinoa mixture
Salsa, green or red

½

lime

2 tablespoons

Cotija cheese, grated
Instructions
In a large pot over medium, heat oil, add onion and jalapeno, cook, stirring occasionally to soften, about 5 minutes. Add garlic and sweet potato, cook, stirring occasionally, 3 minutes. Add black beans, corn, tomatoes, cumin, oregano and ½ cup water.
Cover and cook 15 minutes or until sweet potato is tender.
Spoon over cooked grain. Drizzle with salsa, squeeze of lime and cheese.
Notes
Look for frozen or precooked grains to speed the cooking time.
Keywords: grain bowl, power bowl