Peruvian Soup is filled with quinoa, vegetables and a little spice. This humble soup is nourishing and good!
 I hiked the Inca Trail. I explored Macchu Pichu. I toured Lima, but I had to go to the remote Taquile island on Lake Titicaca to eat this delicious soup.
Julia Child said you don't have to cook a masterpiece, just use good ingredients.
Peruvian Quinoa Soup is just that.
The Peruvians have been using good ingredients for centuries.
The ingredients
onion, celery, carrots, potato, green beans, zucchini are listed in the recipe, but you can omit some and add others, such as sweet potato, broccoli, mushrooms, peppers
garlic, jalapeno, lime juice
dried ground cumin, dried leaf oregano
aji amarillo paste or yellow curry powder
chicken or vegetable
quinoa
Peruvian Soup recipe
No one is born a great cook, one learns by doing, Julia Child
Soup is a great place to start becoming a great cook because it's pretty forgiving. Keep an eye on the vegetables so they get soft but don't overcook and become mushy. You can vary the recipe and substitute your favorite vegetables but cut them into similar sizes so they cook evenly.
I joke that if I were Queen, I would require my subjects to take Family and Consumer Sciences (Home Economics) so they would know basic cooking skills. I can think of no better way to be Master of Your Universe than being able to feed yourself nutritiously, economically and safely.
Soften the chopped onion, celery and carrots for a few minutes.
Add garlic and jalapeño, cook a few more minutes.
Stir in spices, then quinoa and broth, potatoes and green beans, cook 15 minutes or so.
Add quick cooking zucchini, simmer until down, about 5 minutes.
Spicy, aromatic, and rich with vegetables and quinoa, this fiber-rich, humble soup is a LiveBest favorite. A unique ingredient, aji amarillo, is a yellow pepper used in Peruvian cooking for flavor and mild heat. Find it in larger grocery stores or buy it online. To keep you from running all over, I've substituted yellow madras curry powder in this recipe.
What is Quinoa
Quinoa (KEEN-wah) is a good ingredient.
Considered an ancient grain, the Incas called it "the mother grain." It continues to be a staple in Peruvian's diets. It's popularity has recently soared because for a grain, it is a good protein source. It cooks quickly, and the tiny seeds unfurl as they absorb liquid. It's favor is bland but it's versatility contributes to its popularity.
Find quinoa near the rice and other grains at the grocery store. I like that it cooks in about 10 minutes and provides fiber and protein. It's technically a seed, which makes it gluten free. When quinoa seeds uncurl, it's finished cooking. Fluff the cooked quinoa with a fork to keep it from compacting.
Do you have to rinse quinoa?
Quinoa has a natural coating called saponin.This actually protects the plant from predators, but it can lead to a bitter taste. It's easily removed by rinsing and draining. Some brands require rinsing before cooking, others have prerinsed the grains, so read the label to see if you need to take that step.
Pour the grains in a fine strainer. Set the strainer in a bowl of water so grains can float as you stir it. Lift the strainer out of the bowl and run cool tap water over. Let the quinoa drain for a few minutes before cooking.
How to use quinoa
Quinoa can be added to salads, served as a side dish (like cous cous), baked into muffins, even blended into smoothies. As I visited Peru, I discovered a few other ways quinoa to use it. Black quinoa-laced pancakes were so good that I ordered them twice. I haven't replicated that recipe…yet, but I consider this soup a best-in-class souvenir!
Because quinoa is so versatile, I cook it to help with meal prep. I use it in:
Quinoa Nutrition
With 8 grams of plant-based protein, 5 grams of fiber per cup, quinoa is a grain to add to your diet. Because of the health benefits, I like to cook extra to use through out the week. It keeps for a week in the fridge.
I created a free, 5-day challenge you can join by clicking this link. You'll get tips and tools, resources and recipes to create your own roadmap to meet your fiber goals toward high fiber meals. Don't ya? Won't ya? Seriously, it's only 5 days 😉 Find it right here.
What's a favorite meal from one of your travels?
P.S. Hungry for more get healthy tips and recipes? Sign up for my newsletter here.
This post contains affiliate links. That means if you click on a link and make a purchase, I may make a small commission. This does not affect the price you pay but helps fund the website.
Pin it for later!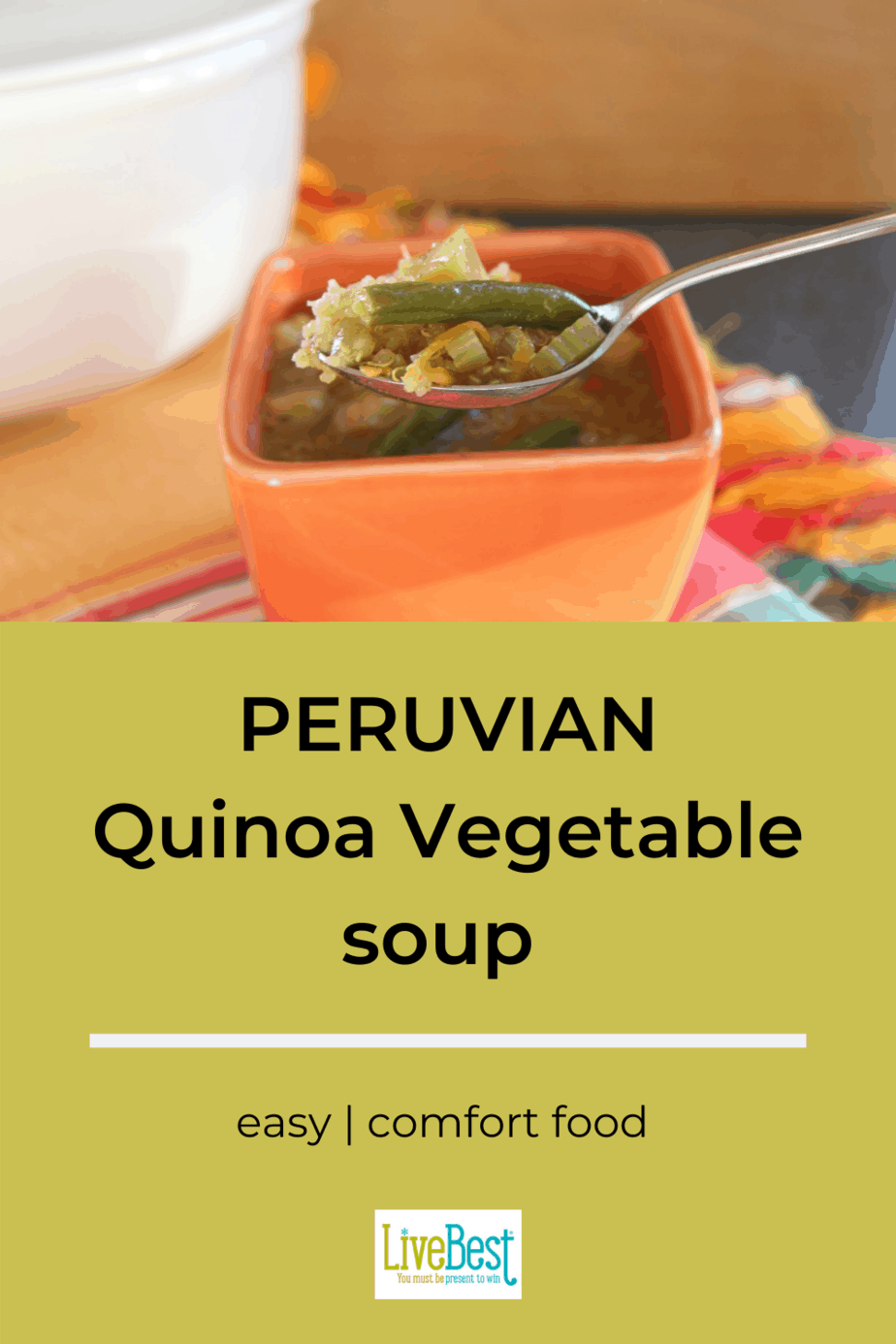 Print
Peruvian Quinoa Soup
Peruvian Quinoa Soup. Quinoa, veggies and a little spice make this humble soup PERFECT comfort food. Real food naturally.
Author:
Prep Time:

20 mins

Cook Time:

30 mins

Total Time:

50 minutes

Yield:

6

1

x
Category:

Soup

Method:

stove

Cuisine:

Peruvian
Ingredients
1 tablespoon

canola oil

1

onion, peeled and diced

3

stalks celery, diced

2

carrots, diced

1

clove garlic, minced

1

small jalapeno, minced

1 teaspoon

dried ground cumin

1 teaspoon

dried leaf oregano

3/4 teaspoon

aji amarillo paste or yellow curry powder

1

large potato, diced

1 cup

green beans, fresh, frozen or canned, drained

4 cups

low-sodium broth, chicken or vegetable

5 cups

water

1 cup

quinoa, rinsed and drained

1

zucchini, diced

½

lime, juiced

1/2 teaspoon

salt

1/4 teaspoons

pepper
Instructions
Heat oil in soup pot. Add onion, celery, and carrots. Cook 15 minutes until softened, but not browned.
Add garlic and jalapeno, cook 1 minute.
Stir in cumin, oregano and curry, cook 1 minute.
Add potato, green beans, water, broth and quinoa. Bring to a boil, cover, and reduce heat to a simmer.
Cook 15-20 minutes until vegetables are just cooked through and quinoa uncurls. Add zucchini and cook 5 minutes.
Just before serving, stir in lime juice. Season with salt and pepper. Serve.
Notes
Aji Amarillo is a yellow pepper used in Peruvian cooking for flavor and mild heat. Find it in larger grocery stores buy it online.
Nutrition
Serving Size:

1.5 cups

Calories:

230
Keywords: vegetable soup, is quinoa nutritious, how to cook quinoa, healthy soup