Filled with delicious flavors from mango and chiles, this high protein, high fiber, vegetarian Black Bean Quinoa Salad is a favorite!
Good digestive health
is a topic many of us are interested in. From reducing bloat, to going #2, to improving our gut bacteria, we're looking for fiber in our food.
What are the health benefits of fiber?
Fiber has powerful health benefits. It is best known for helping to keep food moving smoothly and regularly through your body, but this is only one of many ways that fiber contributes to good health.
Fiber helps you feel full longer. This can also help with weight control. Bye bye snack attack.
Fiber helps fight heart disease by lowering cholesterol.
Fiber helps keep blood sugar stable.
Fiber feeds our gut bacteria.
Fiber acts like a broom. A big help in preventing constipation and hemorrhoids.
Unfortunately, 9 out of 10 Americans don't get enough fiber. The average intake is about half what it should be. Yet our colons could use a hand. We're a constipation suffering nation! That's not surprising since the top sources of grains are breads, pizza, and desserts such as cookies and pastries, which are generally low in fiber.
How much fiber do I need? Fiber recommendations
The recommended intake for total fiber for adults 50 years and younger is set at 38 grams for men and 25 grams for women, while for men and women over 50 it is 28 and 22 grams per day, respectively, due to decreased food consumption.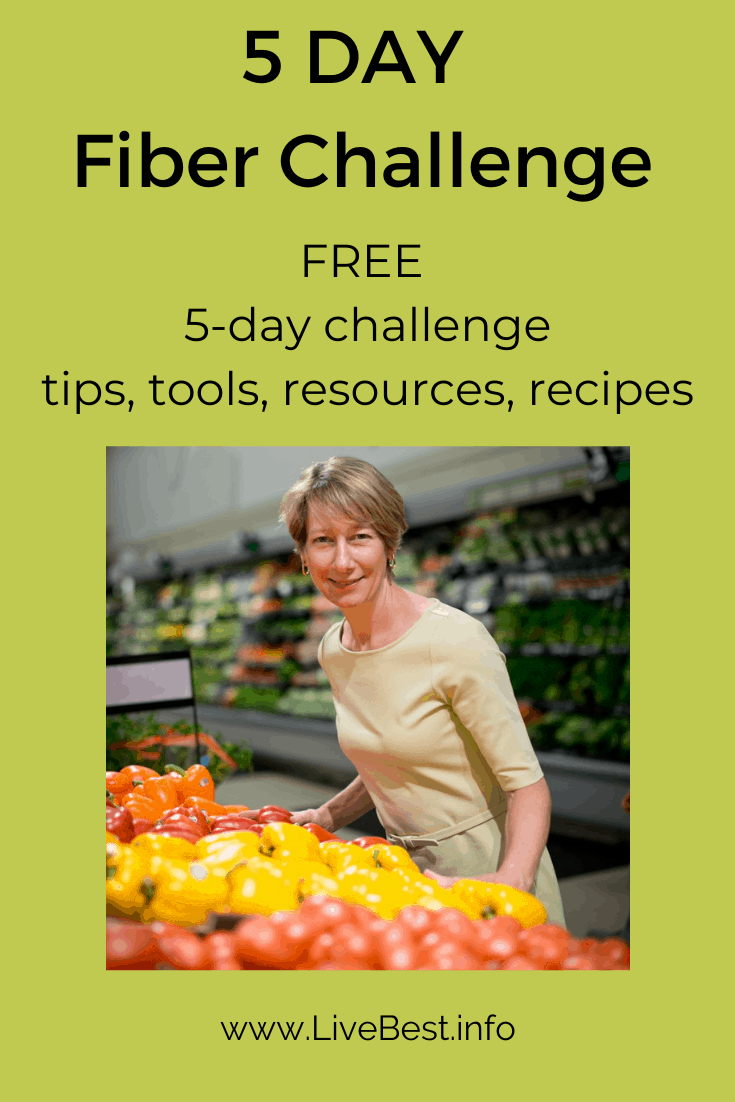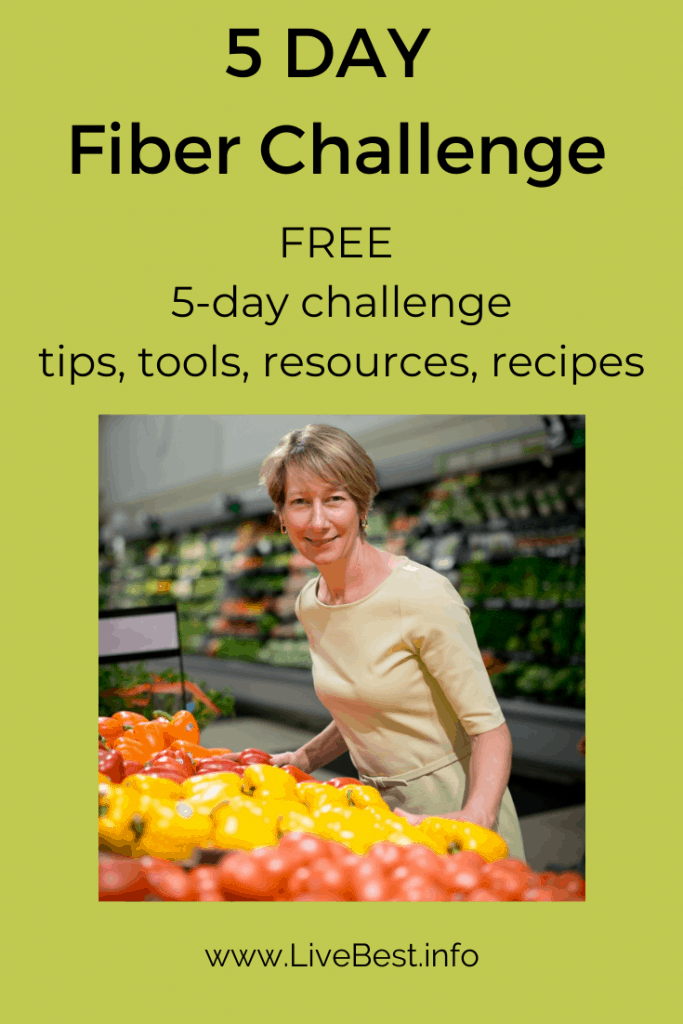 To reap all those benefits, I challenged myself to reach my daily fiber recommendations of 21 grams per day. Here's what I found.
Must. Plan. Ahead.
My biggest takeaway is to plan. The winning ticket is to have fiber-rich foods on hand. It is much easier to eat high-fiber foods when they're in the kitchen or fridge because these become meals and snacks. My kitchen has fruit, vegetables, canned and dried beans and whole grains ready to go. After my own challenge, I'm thinking more about fiber (is that weird?) so am using more fibery foods when I cook. Stay tuned for more fiber in recipes!
Cook once, eat more than that
Fiber isn't just twigs and branches. It really can be delicious eating for breakfast, lunch and dinner. Now I batch cook a couple high-fiber recipes each week such as Berry Cardamom Baked Oatmeal, Ginger Orange Granola, Layered Spelt Salad, White Bean Dip, Mexican Burrito Power Bowl, Blueberry Ginger Scones, and this Black Bean Quinoa Salad. This helps me stay on track because I have ready-to-eat food on hand.
I add ground flax seed to granola, smoothies, and oatmeal. I add white beans to smoothies and One Pot Baked Greek Chicken. I cut cucumbers, carrots, and peppers so they are convenient dippers. Weekly, I cook a whole grain such as spelt, quinoa or bulgur to add to salads like Blueberry, Corn, Quinoa Salad, or Roasted Vegetable Bulgur Salad, soups, or yogurt parfaits.
I toast walnuts (Chai Walnuts) or almonds (Salted Honey Sesame Almonds) to grab for a snack, add to salads, oatmeal, yogurt, or baked goods. With these on hand I met my fiber goal, deliciously. See, not twigs and branches!
Snack successfully
My third takeaway was as I added foods with fiber, I was less inclined to snack. But when I did have a snack, it was one with some fiber so the food was more filling. That means I wasn't in the cookie jar or potato chip bag so the snacks were the better-for-me kind. Here are 5 fiber-focused snacks I eat:
6 Triscuit (4) + nut/seed butter (3) = 7 grams
16 almonds (2.5) + 3 prunes (3) = 5.5 grams
2 Wasa fiber crispbreads (5) + hummus (2) = 7 grams
Apple (3) + peanut butter (2) = 5 grams
2 T black bean dip (2) + 12 baked corn tortilla chips (1.5) = 3.5 grams
The flop snack was popcorn, coconut and unsweetened cocoa. I was excited about the 7 grams of fiber, but it didn't satisfy a chocolate craving and was messy.

As you increase fiber, you also need more fluid so I
enjoyed a latte, tea or water in the morning,
kept a cup or water bottle (love this bottle because it keeps cold water cold and hot water with mint and ginger hot) at my desk, so it's easy to sip, and
packed a bottle for errands in the car.
Enjoy the results
An Australian study found people who reported higher fiber intake from eating whole grains, fruits and vegetables had an almost 80 percent greater likelihood of living a long and healthy life over a 10-year follow-up. That is, they were less likely to suffer from high blood pressure, diabetes, dementia, depression and functional disability. It could be that these people had better food choices overall or were more physically active, but definitely worth a few extra bites of foods with fiber. Of course, it's too soon to measure those effects from my challenge, but my energy level was good and the pay-off we normally don't talk about: trips to the bathroom were quicker and more frequent. Who doesn't want that?!
So more fiber-rich foods are a win-win-win!
Are you ready for your own fiber challenge? I created a free, 5-day challenge you can join by clicking this link. You'll get tips and tools, resources and recipes to create your own roadmap to meet your fiber goals. Don't ya? Won't ya? Seriously, it's only 5 days 😉 Find it right here.
Where do you find fiber?

In plant foods. Beans, nuts, seeds, whole grains, fruits and vegetables are the best sources.
With about 6 grams of fiber per cup, this Black Bean Quinoa Salad is one of my make once, eat more than that recipes. Eat it plain or
P.S. If you like this post, you might enjoy my LiveBest newsletter. Receive each new post delivered to your Inbox! Sign up right here. Pinky promise I won't overwhelm you with endless STUFF but I will help you get healthier!
Rate this recipe below and pin if for later, please and thank you!
Pin it for later!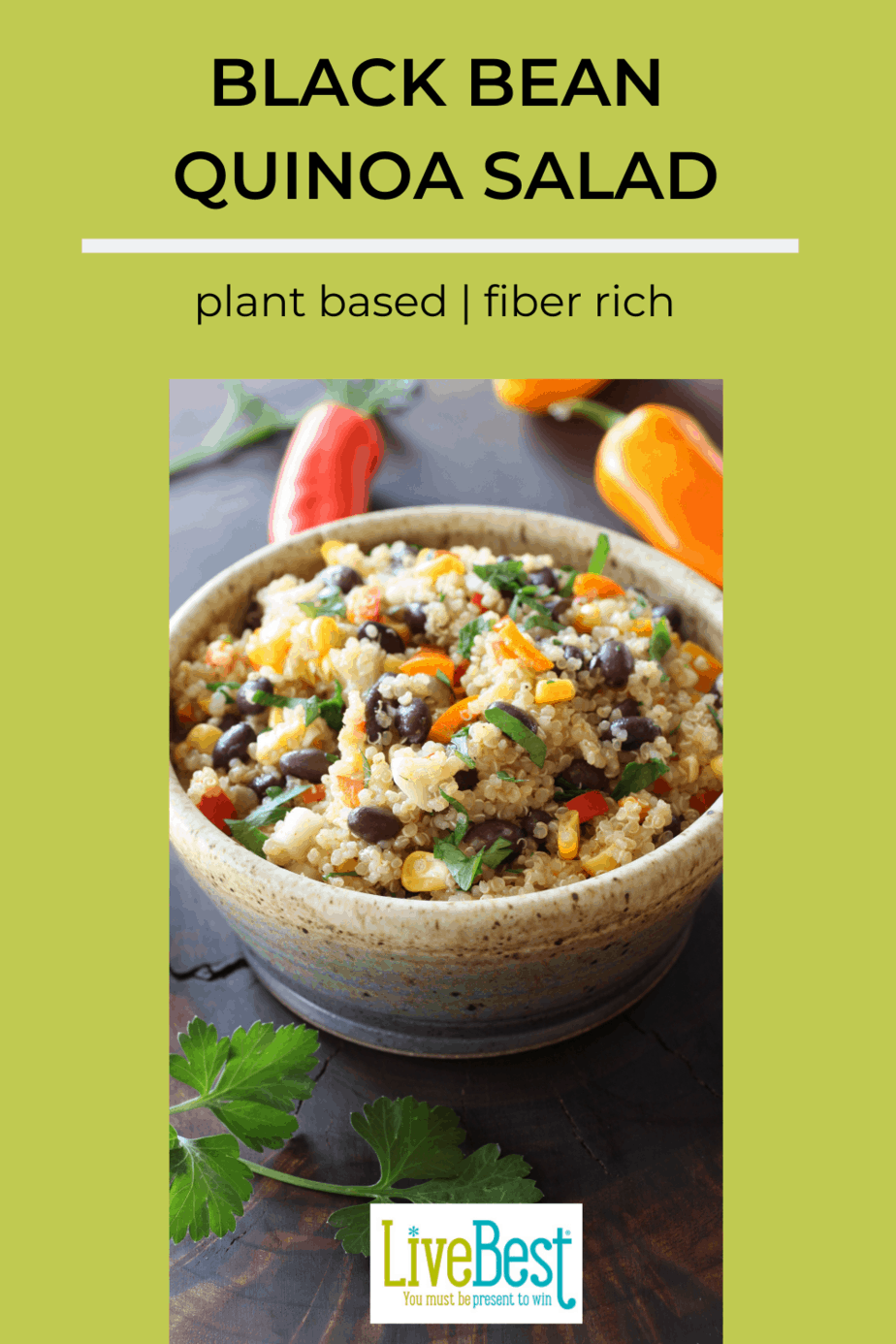 Print
Black Bean Quinoa Salad
Filled with delicious flavors, this high protein, high fiber, vegetarian salad is so good!
Author:
Prep Time:

15 minutes

Cook Time:

15

Total Time:

30 minutes

Yield:

8 cups

1

x
Category:

Salad

Cuisine:

American
Ingredients
3 cups

cooked quinoa

1

15-ounce can black beans, rinsed and drained

1 1/2 cups

corn (if using a

15.25 ounce

can, rinse and drain, add the entire can)

1 cup

bell peppers, chopped (red, yellow, orange or green)

1 cup

mango, diced

1/2 cup

jicama, diced

1

4-ounce can green chiles

1/3 cup

parsley or cilantro, chopped

1/4 cup

canola oil

2

–

3

tablespoons vinegar, apple cider, red wine, white or rice
juice and zest of one lime

1 teaspoon

ground cumin

1/2 teaspoon

paprika, smoked or regular

1/2 teaspoon

salt

1/4 teaspoon

freshly ground black pepper
Instructions
Salad: mix quinoa, black beans, corn, peppers, mango, jicama, green chiles, and parsley or cilantro.
For the dressing, you want 4 tablespoons of vinegar and lime juice. Depending on how big and juicy the lime is will determine if you use 2 or 3 tablespoons vinegar.
Dressing:  Combine oil, vinegar, lime juice and zest, cumin, paprika, salt and pepper. Stir to combine. Pour dressing over quinoa mixture. Stir to distribute dressing over salad. If you have time, refrigerate 15 to 20 minutes before serving for flavors to develop.
Notes
This salad keeps well so may be made ahead and refrigerated overnight. Stir to distribute dressing before serving.
Nutrition
Serving Size:

1 cup

Calories:

225
Keywords: high protein salad, make ahead salad, high fiber salad
Shop the post
This post contains affiliate links which means if you click on a link and make a purchase,  I may earn a commission from the seller. It does not impact the price you pay.
When you eat more fiber, well, sh*t happens!  You may be interested in:
This post contains affiliate links which means if you click through and make a purchase, the seller pays me a commission. It does not increase the price you pay.