I'd like you to meet my family.
My mom and her twin sister were treated for high blood pressure. My aunt was on dialysis for years because of the effects.
One grandma died from complications of osteoporosis.
The other grandma suffered with pancreatic cancer. My grandpa died from heart disease.
My dad was treated for prostate cancer and heart disease.
Does my family tree look like yours? This is a big reason I live the lifestyle I do – to fend off my genes!
These diseases carry a genetic component, but lifestyle choices play a huge role in reducing the risk of developing them. Three major factors are responsible for most of them:
unhealthy diet
lack of physical inactivity
tobacco use
These three raise blood pressure and blood sugar, cause abnormal blood lipids, overweight and obesity. They also explain the majority of heart disease, stroke, chronic respiratory diseases and some cancers. But they are also within our control.
Don't smoke. Period.
Make your feet work for you
Physical activity is a one-stop shop that improves muscles, blood sugar, mood, and more. Find an activity so you are "On the Move" every single day. Walk the dog, dance around the living room, ride your bike, take a class. Look hard to find something that you enjoy doing so you'll keep doing it.
Make your fork work for you
Food can be a powerful protector so make your kitchen your medicine cabinet. If you need a shopping list, you can download my LiveBest Shopping List.
Walnut Roasted Veg Salad

This salad is brimming with as much deliciousness as good-for-you ingredients including healthy fats, fiber and the plant compounds that protect us from heart disease, diabetes, cancer and brain deterioration.
To highlight a few of the dynamic salad ingredients…
Walnuts are unique among nuts because they contain the highest amount of alpha-linolenic acid, the plant-based omega-3 essential fatty acid required by our bodies. These healthy fats appear to enhance heart health and reduce inflammation.
Beans play a role in reducing high blood pressure, diabetes, cancer and heart disease.
Butternut squash is a good source of potassium, which helps maintain good blood pressure.
Shallots have 6 times more phytonutrients than a regular onion.
Blueberries appear to be beneficial in improving brain and heart health and fighting cancer.
You can see why I'm over the moon about this salad. I think it's a life saver!
Print
Walnut Roasted Veg Salad with Lemon Shallot Vinaigrette
Author:
Prep Time:

20 mins

Cook Time:

30 mins

Total Time:

50 minutes

Yield:

4
Ingredients
1 butternut squash, peeled, cut into 1/2-inch cubes, approximately 2 cups
1 cup green beans
1 shallot, thinly sliced
1 15-ounce can cannellini beans, drained and rinsed
1 cup walnuts, toasted (8-10 minutes at 350 degrees)
1/2 apple, cut into 1/2-inch cubes
1/4 cup blueberries
1/2 cup goat cheese crumbles
1/3 cup olive oil, divided
1 tablespoon walnut oil
1 tablespoon water
1/2 lemon, quartered
1 teaspoon fresh thyme
1/4 teaspoon salt
1/4 teaspoon pepper
Instructions
Preheat oven to 425 degrees.
Place butternut squash and green beans on a large baking sheet. Drizzle with 1 teaspoon olive oil. Stir to coat the vegetables and spread out into single layer. Sprinkle with salt and pepper. Roast in oven for 20 minutes, until vegetables are soft and beginning to brown. Remove from oven. Set aside to cool.
On a separate baking sheet, drizzle shallots with a few drops olive oil. Spread into an even layer. Add lemon quarters to the baking sheet, separate form shallots. Roast in oven for 10-12 minutes, until shallots are soft and beginning to brown. Remove from oven. Set aside to cool. Remove 1-2 tablespoons of the shallots to use in the vinaigrette.
To prepare the vinaigrette, drop 2 tablespoons shallots, walnut oil, water, roasted lemon quarters, fresh thyme, and 1/4 teaspoon each of salt and pepper in blender. Blend to combine, scrape sides of blender with rubber scraper, With blender running, drizzle in remaining olive oil. Blend for 2 minutes. Scrape sides, blend one minute more.
To prepare the salad combine butternut squash, green beans, shallots, beans, walnuts, apple, blueberries in a large bowl. Sprinkle with cheese. Drizzle vinaigrette over salad, stir gently to combine ingredients.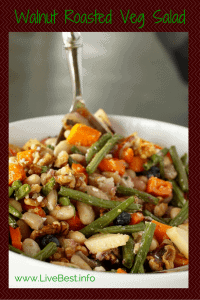 I'm a walnut fan. I like them as a snack because they are good sources of protein and fiber to keep you feeling full. I also like that they complement other foods, so I keep these versatile nutritious nuts on hand and use them regularly when I cook. Check out a few more of my recipes, such as:
I am pleased to be submitting this recipe to a recipe contest sponsored by the California Walnut Commission and am eligible to win prizes associated with the contest. I received free samples of California walnuts mentioned in this post. I was not compensated for my time but I loved receiving a box of goodies to get me going!
Loading InLinkz ...