Melt-in-your-mouth short ribs make Short Rib Ragu company worthy. The Instant Pot makes it a super simple recipe, even for a weeknight.
If you want a quick meal, look here or here. But if you want succulent, rich flavor, stick with me.
Fall-off-the-bone, melt-in-your mouth, cut-with-a-fork tender. Braised meats are comfort food. Especially so in winter. I'm making a braised beef dish because on a recent trip to Italy I fell for Bolognese ragu. Again.
Pin it for later!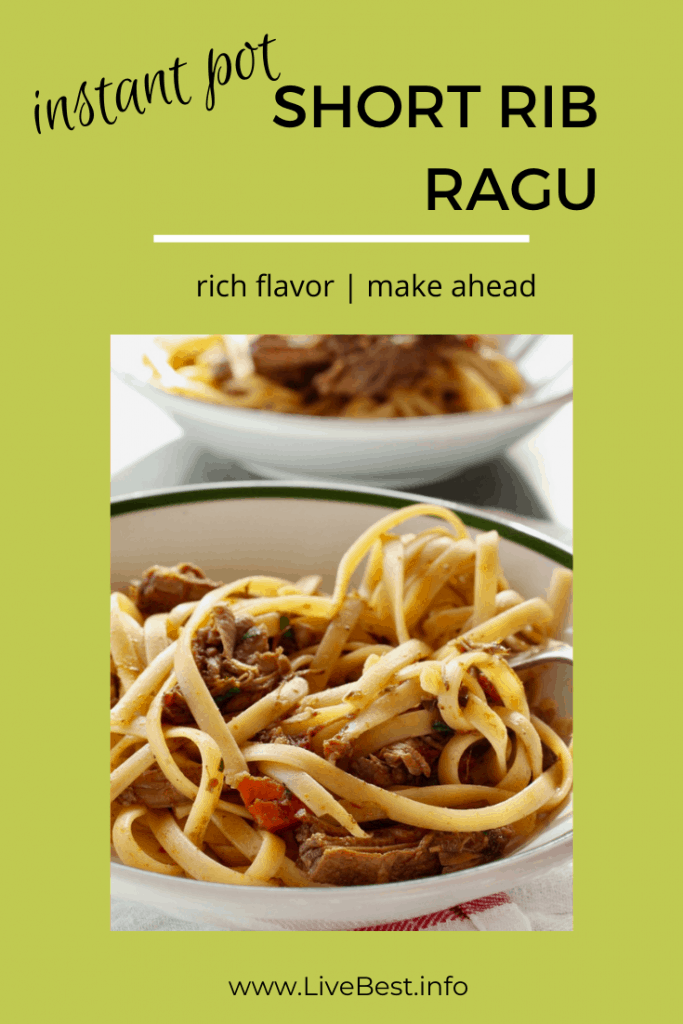 How to braise meat
Slow, low cooking with liquid breaks down tough fibers tenderizing the meat while developing rich flavor. Low heat is a bubble, not a boil, around 325° F. Braising requires a tight-fitting lid to keep in the moisture. There are many ways to braise. It can be done on the stovetop, but the oven is preferred over the stove because the heat is more uniform. But since it's sweltering summer and I don't want a hot kitchen, a slow cooker, pressure cooker or in my case, a brand-spanking-new Instant Pot are all good options.
Here's a slow cooked braised Texas Chile.

Cooking in an Instant Pot
Instant Pot is an electric pressure cooker plus. The plus is slow cooker, rice cooker, steamer, yogurt maker all-in-one appliance. My first Instant Pot cooking adventure was to make hard-cooked eggs. They cooked perfectly, no green ring and the shells slipped off beautifully. Then I made the #1 recipe on my blog: Curry Egg Salad.
The Instant Pot is a time saver
Anyway, the Instant Pot reduces cooking time by about two thirds because the food cooks under high pressure. And while it doesn't heat up the kitchen, it does create some delicious aromas!
The ingredients in a Bolognese ragu
Tough meat cuts: chuck, arm or shoulder roast, short ribs, round steak or brisket

Browned in oil. Browning is not cooking the meat, but searing a nice brown crust on the skin. This is a way to add flavor. Big meaty flavor. The trick is to not crowd the pan. Make sure each piece has space around it, otherwise, the meat just kind of simmers and steams.

Liquid: water, juice, beer, broth, wine
Seasonings: vegetables, herbs, spices
I went with bone-in short ribs, broth, wine, tomatoes and their juice, onions, carrots, celery, garlic and a handful of fresh herbs. Short ribs have a pretty thick fat layer. By trimming the ribs before cooking and allowing them to cool after cooking, you can remove quite a bit of extra fat because it will rise to the surface and solidify. Bones add even more flavor plus help thicken the sauce.
This Instant Pot recipe is great make-ahead recipe because flavors develop over the next day or two. And believe me, it tastes as good on the patio as it does but the fire.
A few more Instant Pot recipes to get you going
If you like braised beef dishes, try Texas Beef.
P.S. Hungry for more healthy living tips and recipes? Sign up for my newsletter right here!
Print
Short Rib Ragu
Melt-in-your-mouth short ribs make this company worthy. The Instant Pot makes it super simple. The richly flavored sauce is a staple of Northern Italy. Be warned, you'll be ready to eat because the cooking aromas are yum, yum, yum!
Author:
Prep Time:

30 mins

Cook Time:

1 hour

Total Time:

1 hour 30 minutes

Yield:

8

1

x
Category:

Dinner

Method:

Instant Pot

Cuisine:

Italian
Ingredients
1 teaspoon

canola oil olive oil

2

onions, minced

3

carrots, quartered, thinly sliced

1

celery rib, quartered, thinly sliced

1/4 cup

tomato paste

3

garlic cloves, minced

1 cup

red wine

1

14.5-ounce can diced tomatoes

1

14-ounce can beef broth

1

stalk fresh rosemary (or

1 teaspoon

dried)

5

sprigs fresh thyme (or

1/2 teaspoon

dried)

3

sprigs fresh oregano (or

1 teaspoon

dried)

2 1/2

to

3

pounds short ribs, trimmed of fat

1/2 teaspoon

salt

1/4 teaspoon

pepper
Instructions
Cook: Turn on Instant Pot. Choose Saute. Add oil. Brown short ribs by placing them in a single layer in pan. Don't crowd too much. Let them cook undisturbed for 5-7 minutes. Turn to brown the other sides of the ribs. Remove short ribs to a bowl. Add onions, carrots, celery, tomato paste, and garlic and cook until vegetables are softened and lightly browned, 10-15 minutes. Stir in wine, tomatoes and broth. Nestle the short ribs in the vegetables and top with herbs. Season with salt and pepper. Cover and choose Meat/Stew. Cook 35 to 50 minutes. I know this is a wide range. If you are cooking at low altitude, the time will be closer to 35 minutes. Higher altitude is about 50 minutes. Allow InstaPot to cool down for 15 minutes, then release steam by venting.
Then: Remove from heat. If you have time, refrigerate overnight. The fat will congeal so you can easily remove it and the flavors will improve. Remove meat and bones from sauce. Shred short ribs, then return to sauce. Heat sauce with meat. Serve over cooked fettuccine or polenta.
Notes
If you have time, refrigerate overnight. The fat will congeal so you can easily remove it and the flavors will improve.
Ragu may be frozen for 6 months in an airtight container.
Nutrition
Serving Size:

1 cup

Calories:

300
Keywords: beef dinner, Instant Pot, ragu, braised meat
Shop the blog
This post contains affiliate links. That mean if you click through and make a purchase, the seller pays me a commission. It does not impact the price you pay.
These tongs are great for serving ragu, tossing salad, and turning and stirring when you cook.

Here's a link to how my fellow food bloggers are keeping their kitchen's cool.