Slow cooked, richly flavored red Texas Chili recipe is great for entertaining. Lean chunks of tender beef and flavorful sauce, a beef chili that's comfort food!
As winter hangs on I'm rallying with comfort food. I mean, when you've had a recipe for more than 35 years, isn't that the definition of comfort?
Or is comfort food something that simmers and sends yummy aromas wafting through the house? Comfort food seems to taste better when it's shared, don't you agree? Before I get to the recipe, I'd like you to meet my father-in-law.
A Wyoming rancher's life
My father-in-law was a cattle rancher for more than three quarters of a century. He knows his cows' history nearly as well as he knows his kids. He's faced the ups and downs that come with a life in agriculture. As conditions change he adapts.
The Wyoming landscape is harsh for livestock. But ranchers across the state do their best to keep the animals fed and protected. Extreme cold brings frostbite and snow covers water and feed. During drought, grass is scarce. The solution is to buy more feed or sell some of the herd.
His herd has changed over the years. People want leaner beef with good flavor. Through breeding evolution, he continues to deliver the fresh, wholesome product that meets customer demand.
Beef nutrition
The good thing about beef is that it delivers on both taste and nutrition.
Nutrient rich, lean beef provides substantial amounts of vitamins and minerals, most notably protein, iron, zinc, and vitamin B12.
Despite the common reference to animal fats as "saturated," according to the United States Department of Agriculture, less than half of all fatty acids in meat fat are saturated. Lean beef typically contains more monounsaturated fatty acids than saturated fatty acids.
Many popular beef cuts meet government guidelines for lean, including favorites such as sirloin, flank steak, tenderloin, T-bone steak and 95-percent-lean ground beef.
Benefits of protein
Diets higher in protein can help minimize muscle loss as we age. As he ages my father-in-law is at risk for sarcopenia, the age-associated loss of skeletal muscle and function. So I want lean protein on his plate.
Rather than eating most of it at dinner, I suggest spreading it throughout the day so breakfast and lunch also have protein-rich foods, such as eggs, yogurt, milk, fish, and cheese.
Sarcopenia is associated with reduced strength and overall health and can lead to loss of independence, disability and premature death. Because falls are a major cause of death in seniors, maintaining muscle integrity is an important preventive tactic.
With 25 grams of protein and 10 essential nutrients in one 3-ounce serving, beef shows up regularly on my table. Three ounces is about the size of a smart phone. Even smarter because that's about 25 grams of protein and 50 percent of your daily protein requirement.
High-quality protein sources
High–quality protein is not hard to find. Meat, poultry and fish, milk, yogurt and cheese, eggs, beans such as black or pinto beans, and peas such as split peas and lentils, nuts and seeds, tofu, soybeans and hummus are all good sources.
Where to find protein
1 large egg = 6 grams
23 almonds = 6 grams
½ cup of beans = 7 grams
1 cup milk = 8 grams
1 cup quinoa = 8 grams
2 tablespoons peanut butter = 8 grams
1/2 cup Greek-style yogurt = 11 grams
1 cup plain yogurt = 12 grams
½ cup cottage cheese = 14 grams
1⁄2 cup firm tofu = 20 grams
3 ounces tuna = 22 grams
3 ounces of beef = 25 grams
3 ounces chicken = 26 gram
A few more beef recipes I like:
How to make Red Texas Chili
This beef chili recipe delivers on both levels. Plus it smells great as it bubbles on the stove and tastes even better.
Red Texas Chile, or Texas Chili, is good right away, but flavors develop even more if refrigerated overnight, making this a great dish for entertaining. Just reheat when you're ready to eat. This dish also freezes well. Seal it up tight and it's good for at least 3 months.
Ingredients
3 pounds boneless chuck, trimmed of fat, cut into 1-inch cubes
canola oil
garlic
flour
chili powder, ancho chile pepper
dried oregano, ground cumin, crushed red pepper, salt, pepper
2 cans beef broth

lime wedges
Cut beef in 1-inch pieces, trimming away fat. 
Cooks' note: Partially frozen beef is easier to trim. Just 20 minutes in the freezer can help.
P.S. Hungry for  more healthy tips and recipes? Sign up for my newsletter here.
This post contains affiliate links. That means if you click on a link and make a purchase, I may make a small commission. This does not affect the price you pay but helps fund the website.
Pin it for later!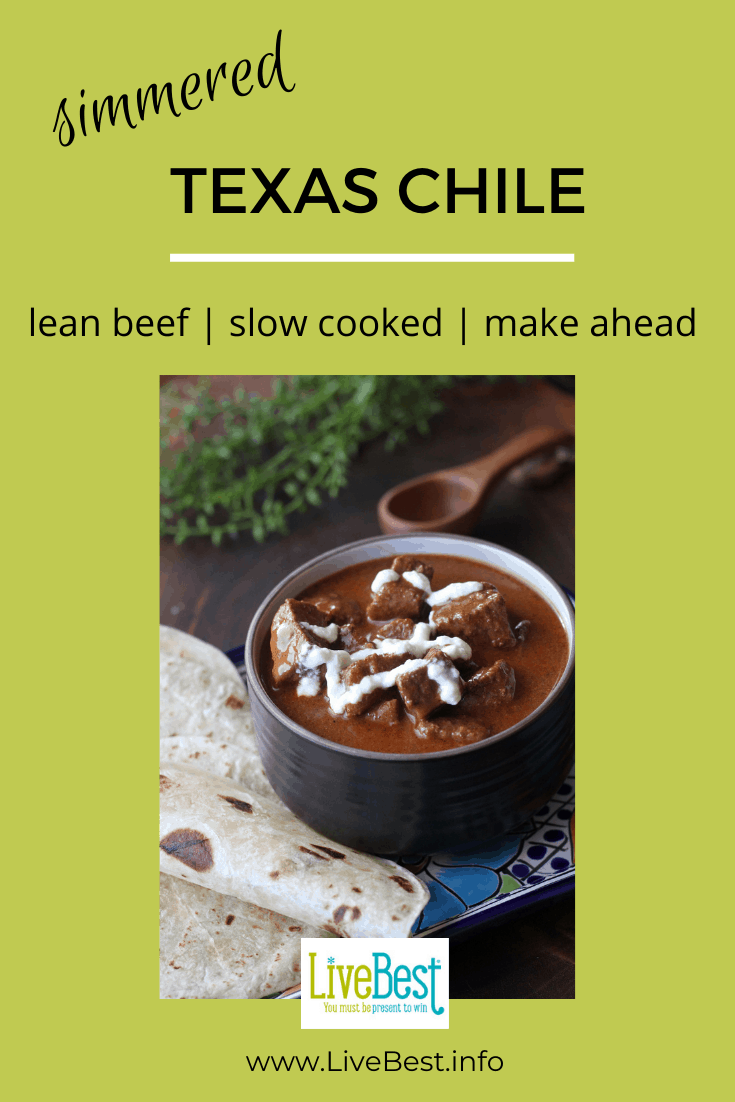 Print
Red Texas Chili
Slow cooked, richly flavored Texas Chili is great for entertaining. Lean chunks of tender beef is a flavorful sauce. That's comfort food!
Author:
Prep Time:

30 mins

Cook Time:

2 hours

Total Time:

2 hours 30 minutes

Yield:

8

1

x
Category:

Main Dish, Beef

Method:

Stove

Cuisine:

Mexican
Ingredients
3

pounds boneless chuck, trimmed of fat, cut into

1

-inch cubes

1 tablespoon

canola oil

2

cloves garlic, chopped

3 tablespoons

flour

3 tablespoons

chili powder

1 tablespoon

ancho chile pepper (or

1 tablespoon

more chili powder)

1 tablespoon

dried oregano

2 teaspoons

ground cumin

¼ teaspoon

crushed red pepper

2

cans beef broth, divided

½ teaspoon

salt

¼ teaspoon

black pepper
lime wedges
Instructions
In a small bowl combine flour, chili powder, ancho chile pepper, oregano, cumin, and crushed red pepper,  Set aside.
Heat oil in 4-quart Dutch oven over medium heat. Add beef, stirring frequently, until the meat changes color but does not brown.
Lower heat, stir in garlic, cook for 1 minute.
Sprinkle meat with chili mixture, stirring until evenly coated.
Stir in 1 ½ cans broth. Add salt and pepper. Bring to a boil, stirring occasionally. Reduce heat, simmer, partially covered, over low heat, approximately 1 ½ hours, stirring occasionally. Add remaining broth. Cook 30 minutes more, or until meat is tender and falling apart.
Finish with a squeeze of fresh lime juice over each bowl.
Notes
You can cook this in the oven too. Bake at 350℉ for 2 hours, covered pan, stir occasionally as it cooks.
Nutrition
Serving Size:

1.25 cups

Calories:

420
Keywords: beef chili, is beef nutritious, what are sources of protein, how much protein do I need