With just 5 ingredients, this refreshing Strawberry Cucumber Salad is super simple! Check out my video below.👇
I heard it.
The Meadowlark.
The cheerful song means the birds are back. And that means spring is here!
With spring we're ready to fresh bites, like a refreshing salad. But before I get to that, have you been spring cleaning?
Not sure if it's the bird, the extra evening light or the calendar, but I've been on a spring cleaning tear. I'm not alone. I've heard others are pulling out their cleaning supplies.
Spring Cleaning = Soul Food
Who knew the extra effort is also good for our well-being? Clutter adds pressure and fuels stress because it's hard to feel settled when things are in disarray. Order feeds your soul. Can you relate?
My sweaters are stacked by color. So are my shoes, well, sorta. Maybe you want to organize your pots and pans or the Tupperware drawer. Please toss those lids that don't have a mate.
If cleaning and organizing isn't your thing, try one of my best ever tricks. A jam session.
Jam Session my #1 time management strategy
I love my jam sessions. I set a timer for 60 minutes and focus on one project. Just one. It's amazing how clean my fridge gets when I zero in. Or how much writing I accomplish when I just write. No checking social media, no answering the phone, no getting up to get a drink.
If your kitchen counters are cluttered, jam on that. When you keep food on the counter, you're likely to snack more than those with tidier counters. So with a counter cleanse your feeding your soul by reducing clutter and reducing calories!
I did a 30-minute spice drawer jam session. I tossed those that didn't smell like the spice (that's how you can tell if a spice is old), then arranged them alphabetically. Spices give our immune system a boost. They also reduce inflammation, which contributes to heart disease, cancer, diabetes and other chronic disease. When they are easier to find, we're more likely to use them. I store most spices in a drawer and some in the cupboard on an expandable, tiered shelf so I can see them.

How to store spices
The fresher the spice, the greater the health and flavor benefit. Test freshness with your nose. If it smells strong and flavorful, it's probably still potent. To smell whole spices, such as peppercorns and cinnamon sticks, crush or break them to release their aroma. Label when you buy them to track shelf life. Ground spices last about a year, while whole spices last for two.
It's best to store spices and herbs away from heat and moisture, so that means away from your oven, stovetop, refrigerator, dishwasher or heating vent. During cooking, remove the spice from the container with a dry spoon. If you sprinkle directly from spice jar into a steaming pot, the moisture shortens the spice's life. I like these rectangular measuring spoons because they fit in the spice jar.
How long do canned foods last?
So what about other foods? According to the Canned Food Alliance, canned goods are good for at least 2 years after purchase. Typically, salad dressing keep for 3 months in the refrigerator; mayonnaise, two months; mustard, six to eight months and ketchup one month or longer. Soy sauce can be kept for many months in a cool, dark place. Tabasco sauce lasts for five years under the same conditions. And the Vinegar Institute claims that vinegar lasts indefinitely.
How to store nuts and seeds
The freezer is the best place for seeds and nuts. Cold temperatures protect seeds and nuts from rancidity. Take them out about 30 minutes before you are ready to cook. They can be frozen, for a year or two if kept airtight.
Cook's note: Toast spices such as fennel seed, cumin seed, sesame seed and white peppercorns to intensify their flavors. Add the seed or spice to a dry, heated skillet and cook a couple of minutes over medium heat until aromatic.
So back to the salad. What better way to end a cleaning spree than with a super simple and refreshing salad? Let me know how you like it.

Strawberry Cucumber Salad
That refrigerator jam session had a delish outcome. This is one of the easiest recipes ever! Slice strawberries and cucumbers. Drizzle with olive oil and vinegar. Sprinkle with sesame seeds.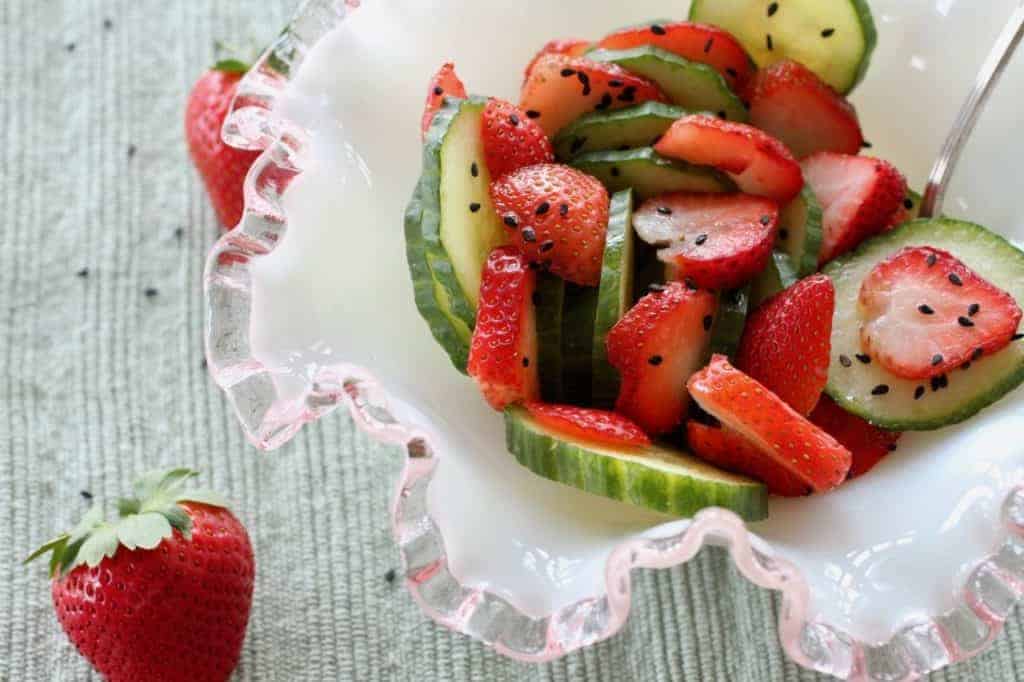 The ingredients
strawberries are packed with vitamin C. Just 8 of these heart-shaped nuggets have more vitamin C than an orange. Oh, plus fiber, potassium and health promoting polyphenols.
refreshing cucumbers are 95% water + have vitamin C and K.
toasted sesame seeds take this salad from super to superb. Amazing what a sprinkle of seeds can do!
With just 5 ingredients, this salad is quick and easy. People are surprised the strawberry/cuc combo is so good.
Pin it for later!
If you have extra strawberries, try these Strawberry Basil Tarts.
Shop the Post
A sharp knife helps keep slices uniform. This is a knife I use.

P.S. Want more healthy living tips and recipes? Sign up for my newsletter here. 
This post contains affiliate links which means if you click through and make a purchase, the seller pays me a commission. It does not increase the price you pay.
Print
Strawberry Cucumber Salad
With just 5 ingredients, this refreshing Strawberry Cucumber Salad is quick and easy!
Author:
Prep Time:

10 minutes

Total Time:

10 minutes

Yield:

2

1

x
Category:

Salad

Method:

no cook

Cuisine:

American
Ingredients
2 cups

strawberries, sliced

1

cucumber, sliced (

1/2 cup

to

3/4 cup

)

1 teaspoon

vinegar

1 teaspoon

olive oil

½ teaspoon

black sesame seeds, toasted
Instructions
Mix: Combine strawberries and cucumbers in a bowl. Drizzle vinegar and olive oil. Stir to combine. Sprinkle sesame seeds over top.
Notes
To toast sesame seeds: Add the seeds to a dry, heated skillet and cook a couple of minutes over medium heat until aromatic.
Nutrition
Serving Size:

1 cup

Calories:

80
Keywords: easy salad, 5 ingredients, fresh strawberry salad, cucumber salad