Pasta with asparagus and lemon wrapped up with creamy blue cheese is an easy dinner recipe. Quick for a weeknight, but good enough for Saturday night company, this one-pot meal is ready in less than 30 minutes.
Like an Easter egg hunt, that's how many people remember picking asparagus. Searching for stalks along river and creek banks when they were kids. It was a family outing with a yummy reward. Today most of us stroll the produce section rather than the riverbank.
How to make creamy lemon asparagus pasta  – a one-pot meal
Another day. Another answer required for what's for dinner. I hear ya. And I even like to cook. But some days the inspo is just not there, right? Something quick. Something that doesn't require a delivery guy. Oh, yeah, and can it taste good, too?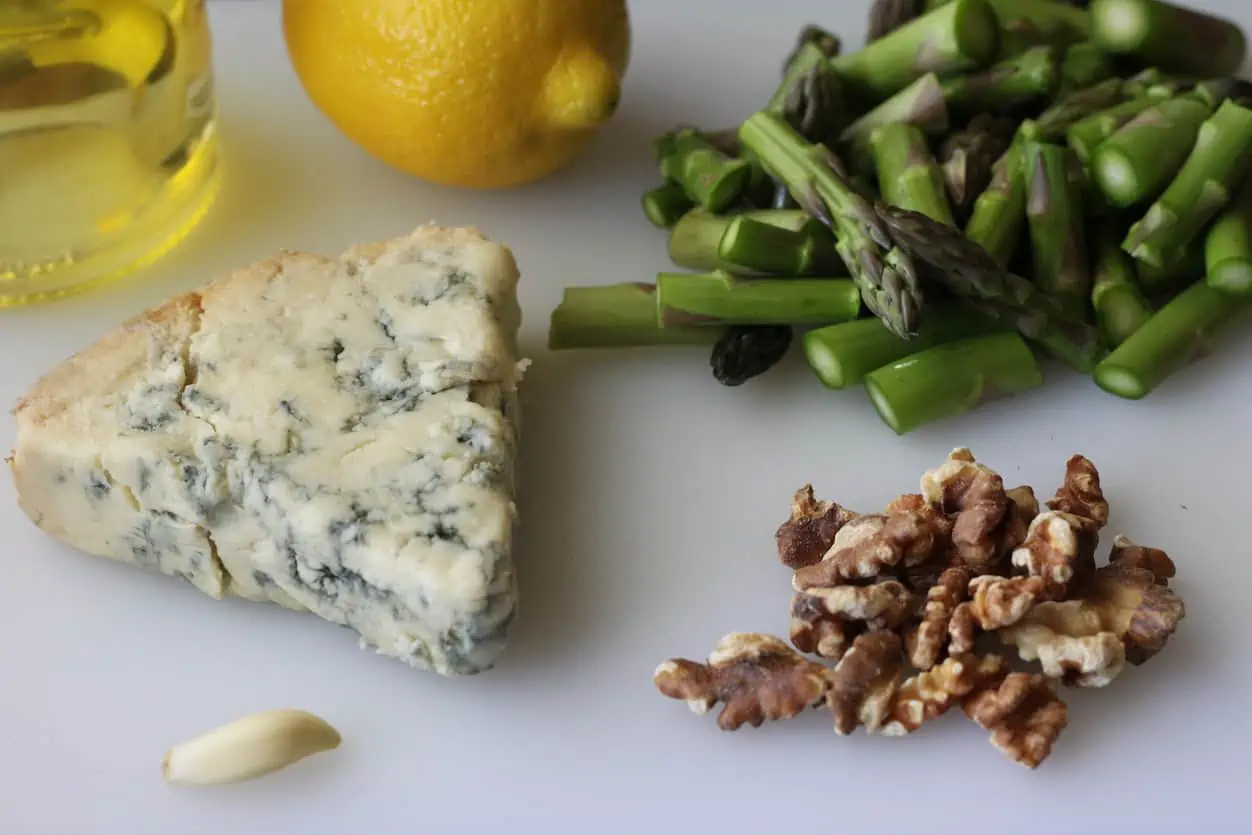 The ingredients
chopped walnuts or pine nuts
penne or farfalle pasta
olive oil
garlic
1 pound asparagus
blue cheese though goat cheese or feta works too
lemon wedge + lemon juice
Here ya go. The super simple creamy asparagus blue cheese pasta bowl.
Toast nuts.
Cook pasta.
Stir together chopped oil, asparagus, and garlic, cook 3 minutes. Add cheese, pasta, and water.
Sprinkle toasted nuts.
Why I love this no-cream Creamy Asparagus Blue Cheese Pasta Bowl
As if the name doesn't do it justice. Creamy and earthy, comfort from the pasta and crunchy nuts for texture. The melted cheese and pasta water make this creamy sauce without cream.
This recipe gives asparagus a major role. Which I love.
I also ❤️ blue cheese. It's stirred together with pasta water making a creamy sauce without cream.
Toasted walnuts or pine nuts add a crunchy bite.
Lemon makes it fresh and flavorful.
Overall, this is quick for a weeknight, but good enough for Saturday night company or your family after an asparagus hunt!
Creamy Asparagus Blue Cheese Pasta is a bowlful of good.
Cook's Note: Goat cheese can be substituted for blue cheese. Try pecans or pine nuts rather than walnuts.
How to tell if asparagus is bad
Shopping for asparagus, size is less important than freshness. Choose bright green, firm stalks with tightly closed tips. If it squeaks when you grab the bunch, it's fresh. Shriveled, limp and wet is not what you want. If it's slimy, it's time to toss. Asparagus doesn't keep long so plan to cook within a few days after buying. Store it in the fridge, wrapped in plastic or trim a little off the bottom and stand upright in an inch or so of water for a couple of days.
I heart asparagus
Asparagus is a busy cook's dream. Like an easy hairdo, it's a quick rinse and trim. That's just one of the things I love about asparagus. This recipe is your answer to a busy night, so get the pasta water going 'cuz that's what takes the longest time. But before we get to the recipe, let me just say that after the first bites my dinner-date husband asked that this asparagus blue cheese pasta be put on repeat.
Asparagus benefits
Like many vegetables, asparagus is a prebiotic. Prebiotics are natural, non-digestible food components that are linked to promoting the growth of helpful bacteria in your gut. They're the "good" bacteria. That's just one of the benefits. It's also low in calories, ½ cup or 6 spears has about 20 calories and 1 ½ grams fiber.
The best way to cook asparagus
Asparagus grows in sandy soil, so rinse it well. I fill a bread pan with water and soak the stalks for a few minutes. Speaking of stalks, asparagus stalks are tough. Break each stalk, just at the point where it snaps, 1-3 inches from the bottom. With a rinse and trim, asparagus is easy and quick to cook. It's best when crisp and tender. Steam in the microwave, grill or roast in the oven for 3 to 4 minutes.
Asparagus' mystery
Asparagus' most unique quality is how we remember we ate it the next time we pee. An odor in our urine. Blame it on converting asparagusic acid to sulfur-containing compounds. Controversy exists over whether we all produce it, because only some of us can smell it. About 40 percent of us detect it. Ben Franklin noticed it. I do too. In any event, it's a harmless reminder that we've eaten the highly nutritious vegetable.
More LiveBest Asparagus recipes
P.S. Hungry for more healthy diet tips and recipes? Sign up for my newsletter here.
Pin it for later!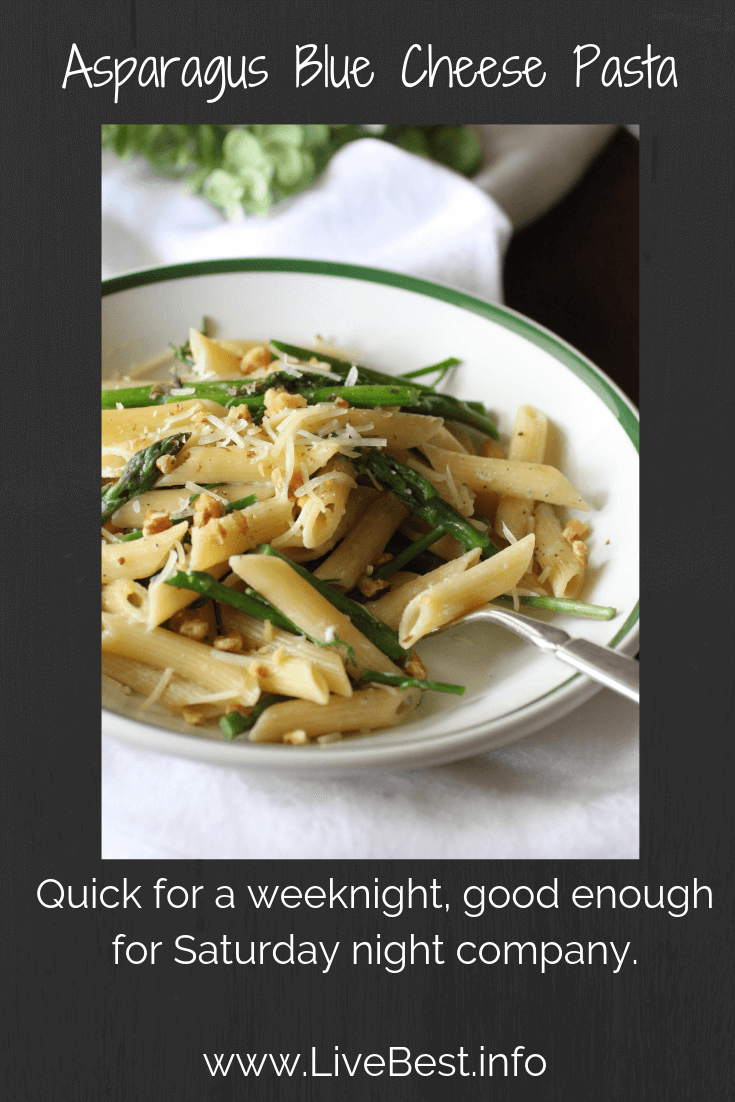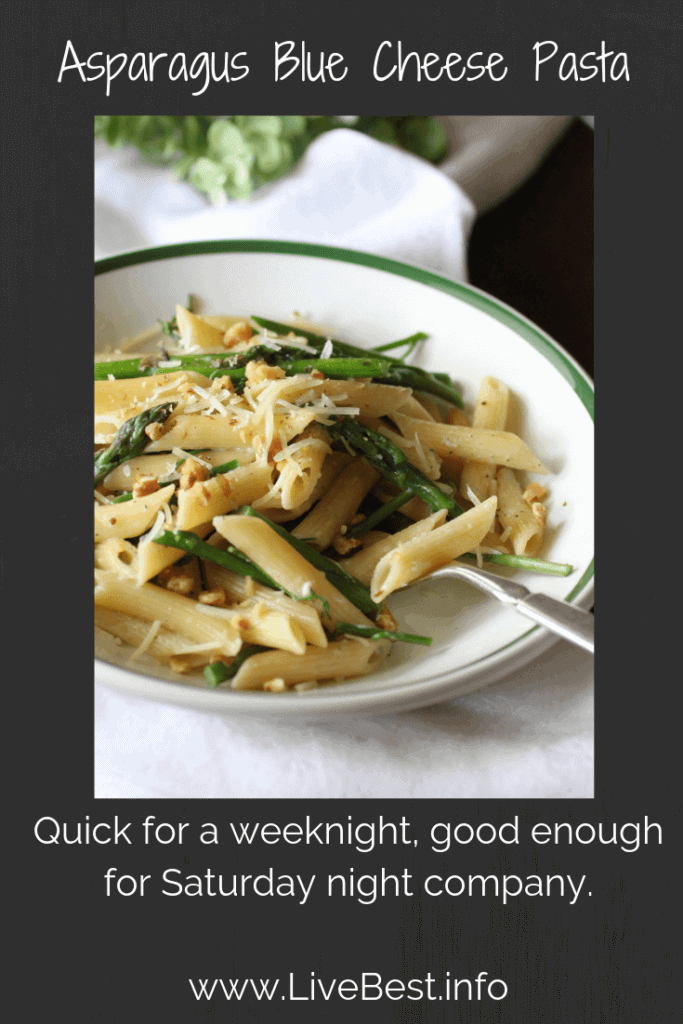 This post contains affiliate links. That means if you click on a link and make a purchase, I may make a small commission. This does not affect the price you pay but helps fund the website.
Print
Creamy asparagus blue cheese pasta
This creamy pasta is quick to fix and delish. Substitute goat cheese for the blue of you prefer.
Author:
Prep Time:

10 minutes

Cook Time:

15 minutes

Total Time:

25 minutes

Yield:

2

1

x
Category:

Dinner

Method:

Stove

Cuisine:

Meditteranenan
Ingredients
2 tablespoons

chopped walnuts or pine nuts

2 cups

penne or farfalle pasta, cooked

1 teaspoon

olive oil

1

garlic clove, crushed

1

pound asparagus, chopped into

1

-inch pieces

½

reserved pasta water

1/4 cup

crumbled blue cheese

1

lemon wedge, about

1 teaspoon

lemon juice
Instructions
Heat oven to 350℉. Bake walnuts 8-10 minutes. Set aside to cool.
Cook pasta according to package directions, minus 1 minute. Drain. But reserve ½ cup pasta water.
In pasta pot, over medium-low heat, add olive oil, garlic, and asparagus, cook stirring 3 minutes. This will sizzle when you add the ingredients. Add pasta back to pot, stir in cheese and 1/3 cup pasta water. I start with 1/3 cup and add more water if I need it, to make a creamy sauce.
To serve, sprinkle on chopped walnuts and squeeze a lemon wedge over, about 1 teaspoon juice.
Notes
Blue cheese can be replaced with goat cheese. Pine nuts can be substituted for walnuts.
Keywords: easy pasta, Mediterranean diet, easy dinner
Tonight you can forget about digging inside your fridge, hopelessly wondering, "What's for dinner?"
My FREE One-Pan Salmon with Spinach & Tomatoes checks all the boxes for a fab dinner.