Headed to Copenhagen? Here are some of my favorite things to see and do.
No offense, Sweden, but Denmark stole my ❤️.
I had one of the Best. Trips. Ever. in Scandinavia.
Ever.
But Copenhagen, you got me.
Maybe it was the day we rented bikes to buzz all over town. Or the walk we took with Caroline, a Tours by Locals guide. Maybe it was the colorful buildings, the cool canals, the cutest kids, the stunning architecture, the yummy sandwiches. Whatever it was, I enjoyed exploring the city that dates back to 1043.
We tasted Copenhagen
From salmon to sausages and herring to reindeer, I traveled with my fork! Whatever your budget and tastebuds, Copenhagen offers Michelen-star restaurants and street food.
I was all over the smorrebrod. Not just a scoop of tuna salad, smorrebrod are pretty, open-faced sandwiches on a dark, seeded rye bread, topped with things like:
picked herring onions, capers
hard-cooked egg, shrimp, mayonnaise, lemon zest, watercress
fish filet, remoulade, dill, capers, lemon
roast pork, stewed red cabbage, pickled cucumber
Danish meatball. potato salad, tomato, red onion, chives
Torvehallerne, was my first stop. Described not as a supermarket but a super market is where you'll find ready-to-eat and fresh fish, meats, fruits, vegetables, flowers, candies, pastries, and coffee. Coffee Collective was a daily stop for us, but so was Hallnernes Smorrebrod and tacos at Hija de Sanchez. Check out the taco deal when you order 3.
Lots of choices at Tivoli Food Hall. It's connected to Tivoli Gardens but there is an outside entrance, unrelated to the park, just around the corner.
Across the street from Tivoli Food Hall is John's Hotdog Deli, a food truck. Sausages are big in Scandinavia so I had to try one. They carefully trim the ends of the sausage, because as we learned from our server, "they're nicer" that way.
Reffen is a street food market with dozens of startup venues. This hopping spot is not walkable from downtown, but you can take the bike, bus 9A, port bus 991/992, hop on-hop off boats and buses or even your car. It may look like a sketchy area, but it's an industrial area.
And don't forget, they're called Danish, so try some pastries.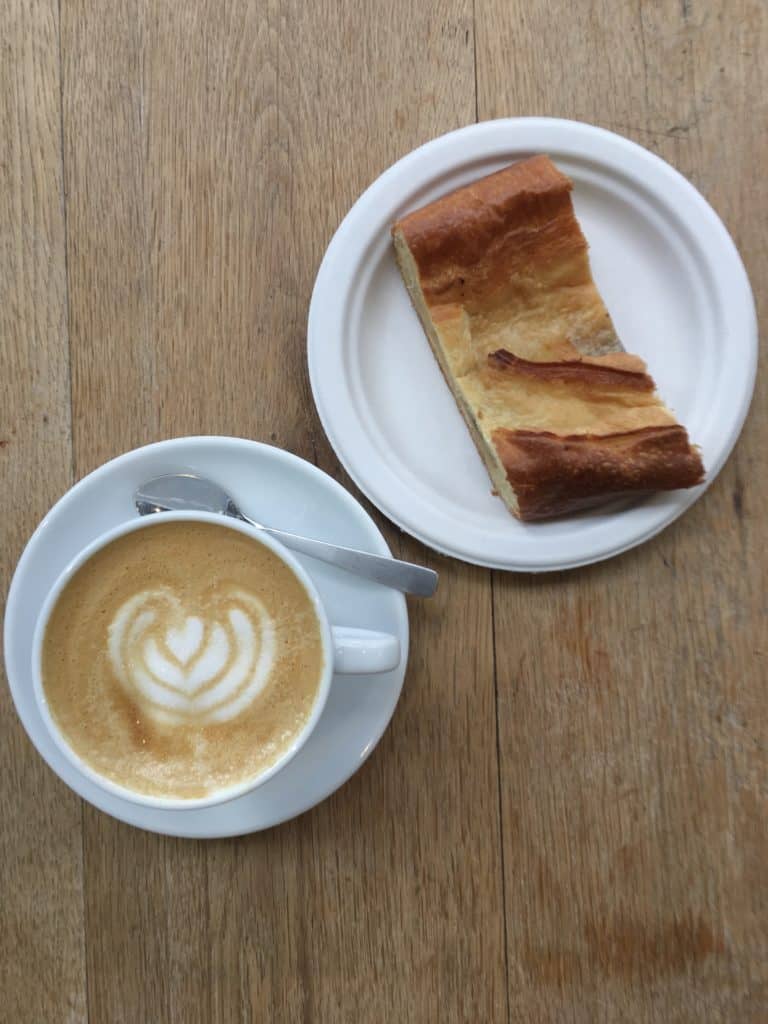 We explored Copenhagen
Tivoli Gardens, the park that inspired Walt Disney to create a theme park. This amusement park, one of the oldest (1843), does what amusement parks should, makes people happy. The lights at night are nice too!
Stroll Strøget, the city's pedestrian boulevard is filled with shops and cafes. Illums is a lovely department store that has cafes', bars and restaurants, some on the top floor include a great view of Strøget. Here you'll find one of the Illums Bolighus locations, a great shop of Scandinavian products.
The Back Market is a super-cool park north of city center.
Nyhavn is a touristy harbor, but the colorful, wooden buildings and bobbing boats make it a must see. Plus this is the street where Hans Christian Anderson (#20) lived.
Cobble-stoned Magstraede, dates back to the 18th century. One of the oldest streets is definitely worth a view.
Rosenburg Castle was built in the 17th century. In the basement are some of the Royal Crown Jewels, but we also enjoyed the building and gardens.
Amalienborg Palace is home to the the royal family. Four buildings make up the square. The Queen lives in one, the Crown Prince and his family in another and the other two are guest houses. You can catch the changing of the guard at noon.
Have you been to Amsterdam?

Yes.

It's worse here.

Our shuttle driver was referring to bikes. If you do rent bikes, pay attention. These are experienced cyclists who stay in bikes lanes and use hand signals. But biking is a great way to tour the city and experience the culture. We rented bikes from our hotel and had a blast!
What to Pack for Copenhagen
The weather can be unpredictable, so layers are good. I took a puffy vest, light rain jacket and gloves. Jeans and comfy walking shoes were appropriate for our activities in September.
My Waypoint Goods travel scarf was perfect. I wrapped up in it on the plane. I zipped my phone and hotel key in it while I rode a bike. I covered my head when it sprinkled and my ears when the wind blew.
Have you been to Copenhagen? What are your favorites?
Travel feeds my soul. Check out my Stockholm recommendations and more LiveBest travel posts here.
This post may contain affiliate links which means if you click through and make a purchase, the seller pays me a commission. It does not increase the price you pay.