I fell for Gallo Pinto, this black beans and rice recipe, on a trip to Costa Rica. I've been smitten with Costa Rica food and their national dish (and treasure) ever since!
We met in Costa Rica.
I've been smitten since.
I fell for Gallo Pinto, the black beans and rice that is a national Costa Rican dish (and treasure).
But it's not just me. Beans are on the big stage. The United Nations even declared an International Year of Pulses.
What are pulses?
Pulses are a group of 12 crops that includes dry beans, dry peas, chickpeas, and lentils. These hearty crops are high in protein, fiber, various vitamins, and provide amino acids.
Not only good for us, but good for the Earth. The Global Pulse Confederation says that pulse crops are one of the most sustainable crops a farmer can grow. It takes just 43 gallons of water to produce one pound of pulses, compared with 216 for soybeans and 368 for peanuts. They also contribute to soil quality by fixing nitrogen in the soil.
Why I like this rice and beans recipe
I'm all over a good deal and beans are good for the budget. A pound of dried black beans is less than $1.80. With some rice, peppers, onion and garlic, this is a wallet friendly meal.
These little beans are also filled with health benefits. Beans are rich in protein, calcium and iron. If you're looking for a meatless meal, look no farther. Their high protein content makes them a staple around the world.
With 8 grams of fiber per half cup, beans are also one high fiber food! We need between 25-35 grams of fiber per day, yet most of us maybe get half that. We could benefit from some bean therapy by eating more beans.
I created a free, 5-day challenge you can join by clicking this link. You'll get tips and tools, resources and recipes to create your own roadmap to meet your fiber goals toward high fiber meals. Don't ya? Won't ya? Seriously, it's only 5 days 😉 Find it right here.
Here is the official Institute of Medicine's recommended intake for total fiber:
adults 50 years and younger is set at 38 grams for men and 25 grams for women
men and women over 50 it is 30 and 21 grams per day, respectively, due to decreased food consumption.

Gallo Pinto: Black beans and rice
Black beans are one of the most antioxidant-rich foods around and when you combine them with rice, onions, peppers and garlic you have a satisyfing meal. The Costa Ricans enjoy Gallo Pinto for breakfast, lunch and dinner.
Sure I liked seeing sloth, toucans, crocodiles and volcanos, but who knew beans and rice would be my favorite memory?
Food draws me on my travels. I love to learn about what is local to an area. That means visiting markets, grocery stores and farms. As a result, I bring home some tasty souvenirs. Check out my travel posts here
How to make Gallo Pinto
The simmering enhances the flavors, but much of the cooking time is hands-off, so you can be off doing something else while dinner's cooking.
Simmer beans until tender, may take 2 hours on low.
Saute the rice and vegetables to soften.
Add broth or water, simmer 20 minutes or so.
This dish gets better over time. So plan to cook once and eat two or three times!
How to cook dried beans
Dried beans need to be rehydrated before cooking. One way is to soak them for 6-8 hours before cooking. I simply put them in a pot and cover with water before I go to bed. Another option is to cover beans with water. Bring to a boil and boil for 2 minutes. Remove from heat and let stand for 1 hour. Drain and rinse. At this point they're ready to cook.
But if you're short on time or just can't wait, use 2-3 cans of black beans rather than dried ones for all the goodness in the time it takes to use a can opener.
Here are other bean recipes to get you going…
Pin it for later!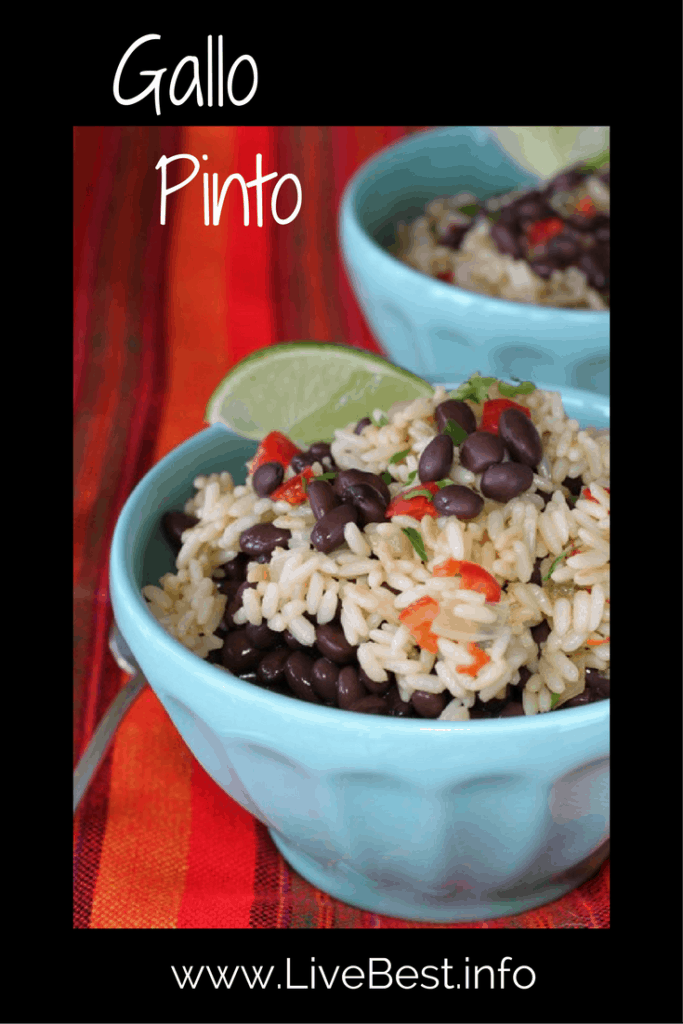 P.S. Hungry for more healthy living tips and recipes? Sign up for my newsletter right here.
Print
Gallo Pinto
Economical, hearty and healthy, this plant-based dish is delicious.
Author:
Prep Time:

9 hours

Cook Time:

2 hours 30 mins

Total Time:

11 hours 30 minutes

Yield:

8

1

x
Category:

Beans

Cuisine:

Mexican
Ingredients
1

pound dried black beans
water

1 tablespoon

canola oil

1 1/2 cups

long-grain rice

1

yellow onion, diced

1

red pepper, diced

1

–

2

jalapeno, diced

2

–

3

garlic cloves, minced

1 1/2 teaspoons

salt, divided

1/2 teaspoon

freshly ground black pepper

3 cups

vegetable broth ( or chicken broth and water to =

3 cups

)
lime wedge
Instructions
Place beans in large pot and cover with 6-8 cups water. Beans should have at least an inch of water over them. Cover and allow to soak for 6-8 hours or overnight. When ready to cook, drain and rinse beans. Return beans to pot and cover with 6 cups water and 1 teaspoon salt. Over medium heat, bring beans to a boil, reduce heat to low so beans cook at a simmer for 2 hours, or until softened. You want the beans to be cooked through, with a slight resistance when you bite one. Beans can overcook. When that happens the skins burst and they get mushy.
Heat oil over medium heat in large skillet. Add onion. Cook 8-10 minutes until onion is soft and translucent. Stir in rice and cook for 2 minutes. Add red pepper and jalapeño, cook for 3-5 minutes, stirring occasionally. Add garlic and cook for 1 minute. Pour in broth. Season with salt and pepper. Bring mixture to a boil then reduce heat to low, Cover and cook 20-23 minutes until liquid is evaporated.
Scoop beans from liquid and stir into rice. Squeeze lime wedge over just before serving.
Notes
If you're short on time or just can't wait, use 2-3 cans of black beans rather than dried ones for all the delicious healthful goodness in the time it takes to use a can opener.
Or cook the beans in your crock pot. Place beans in slow cooker, cover with 4-6 cups water. Cook over medium heat for 2-3 hours until beans are tender.
Nutrition
Serving Size:

1 cup

Calories:

370