Gyros Breakfast Burritos, what a way to start the day! Spinach, beef, yogurt, and cucumbers…this breakfast (or dinner) burrito recipe is positively delicious.
Do you hear it? The school bell is about to ring.
The backpacks are getting dusted off and filled. But backpacks aren't the only thing that need filled. The breakfast table should be part of the back-to-school plan.
A better breakfast
If you're headed to school of work, breakfast should have at least 3 food groups to provide sustained energy until the next meal rolls around. That means some high-quality protein, whole grains, fruits, vegetables, or dairy.
Break that fast with breakfast
The benefits of breakfast range from kids doing better in school with fewer behavioral issues, to maintaining a more normal weight, more energy, and a better mood.
Breakfast eaters have better diets with more nutrients, vitamins, and minerals because when you skip it's difficult to make up those lost nutrients. University of Minnesota researchers found that eating breakfast daily or frequently is strongly associated with a reduced risk of developing type 2 diabetes, high blood pressure, and obesity.
Power the morning with protein
Protein helps you feel full longer and keeps your blood sugar more stable so you can concentrate better. With this combination, you'll be lots more fun to be around. 😉 So, front-load the day to stabilize hunger hormones.
Research suggests that eating 20 to 30 grams of high-quality protein at each meal–breakfast, lunch, and dinner, rather than the current practice of eating more protein at dinner–satisfies hunger which can prevent overeating plus it optimizes muscle development.
As a food enthusiast and good health encourager, I love to share the deliciousness of food. Here's one of my favorite beef recipes: Texas Chile. Slow cooked, it's so tender and perfect to serve a crowd.
With 25 grams of protein and 10 essential nutrients in one 3-ounce serving, beef shows up regularly on my table. Three ounces is about the size of a smart phone. Even smarter because that's about 25 grams of protein and 50 percent of the your daily protein requirement.
High-quality protein sources
High–quality protein is not hard to find. Meat, poultry and fish, milk, yogurt and cheese, eggs, beans such as black or pinto beans, and peas such as split peas and lentils, nuts and seeds, tofu, soybeans and hummus are all good sources.
Where to find protein
1 large egg = 6 grams
23 almonds = 6 grams
½ cup of beans = 7 grams
1 cup milk = 8 grams
1 cup quinoa = 8 grams
2 tablespoons peanut butter = 8 grams
1/2 cup Greek-style yogurt = 11 grams
1 cup plain yogurt = 12 grams
½ cup cottage cheese = 14 grams
1⁄2 cup firm tofu = 20 grams
3 ounces tuna = 22 grams
3 ounces of beef = 25 grams
3 ounces chicken = 26 gram
What beef is lean?
The leanest beef cuts include round steaks and roasts (eye of round, top round, bottom round, round tip), top loin, top sirloin, and chuck shoulder and arm roasts. For ground beef, choose extra lean. The label should say at least "95% lean." That's what I used for my recipe Gyros Breakfast Burritos.
I love this gyros breakfast burrito recipe!
I love this recipe because the ingredients are super flavorful. Plus it meets my nutrition recommendation that a breakfast include at least 3 foods groups.
Protein: beef, eggs
Vegetables: spinach, onion, cucumber
Dairy: yogurt, feta
Spices boost the antioxidants and seriously, with all that spinach, even Popeye would pull up a chair!
Frozen Gyros Breakfast Burritos
This recipes makes 10 burritos. Freeze the filling or the burritos  in airtight container for later then reheat in microwave. How's that for smart planning?
Pin it for later!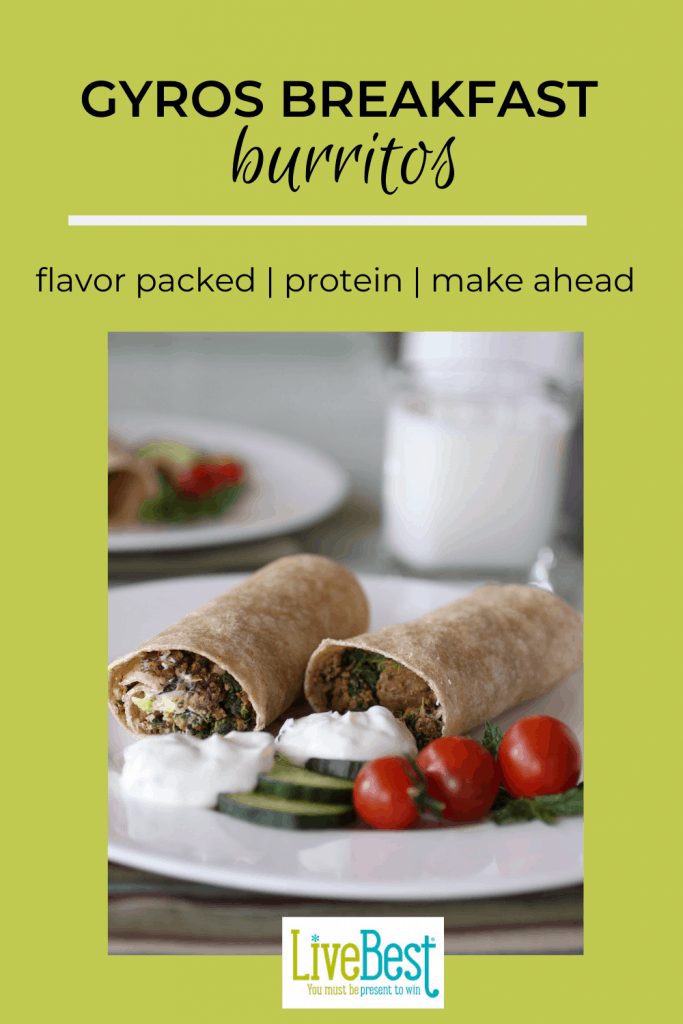 More make-ahead breakfasts
P.S. If you like this recipe, you may want more ideas to help you get started with healthier eating. Sign up for my newsletter here.
Print
Gyros Breakfast Burritos
Gyros Breakfast Burritos, what a way to start the day! Spinach, beef, yogurt, feta cheese and cucumbers…this makes breakfast positively delicious.
Author:
Prep Time:

20 minutes

Cook Time:

20 mins

Total Time:

40 minutes

Yield:

10

1

x
Category:

Breakfast

Method:

Stovetop

Cuisine:

Mexican, American
Ingredients
1

pound 95% lean ground beef

1

onion chopped

1

garlic clove, chopped

1 tablespoon

tomato paste

1 teaspoon

dried oregano

1 teaspoon

dried basil

1/2 teaspoon

salt

1/4 teaspoon

cinnamon

1/4 teaspoon

fennel seeds

1/4 teaspoon

cayenne pepper

1

10-ounce package frozen spinach, cooked, drained

2 tablespoons

raisins

9

eggs

1/2 cup

feta cheese

1/2 cup

plain yogurt

1/4 cup

cucumber, finely chopped

1 tablespoon

fresh mint, chopped

1 tablespoon

olive oil

1 teaspoon

lemon juice

1/4 teaspoon

salt

10

whole-wheat tortillas
Instructions
Make yogurt dressing by combining yogurt, cucumber, olive oil, mint, lemon juice and salt in a medium bowl. Set aside.
In a large non-stick skillet, add beef and onion. Cook over medium heat until beef is browned. Stir in garlic, tomato paste, oregano, basil, salt, cinnamon, fennel seeds and cayenne pepper. Add spinach and raisins. Cook until heated throughout.
(At this point, mixture may be refrigerated overnight or frozen for later use. Thaw before using and heat in large non-stick skillet over medium heat.)
In a medium bowl, stir eggs with a fork or whisk until well beaten. Pour eggs into beef mixture. Stir and cook until eggs are set about 10 minutes.
To make burritos, spoon filling onto tortilla, sprinkle feta cheese over filling then drizzle yogurt sauce over cheese. Fold tortilla around filling.
Burritos may be frozen but omit the yogurt sauce. Wrap each burrito in plastic or foil and store in air tight container. Unwrap and reheat in microwave.
Notes
One of the things I like best about this recipe is that I get bestovers. I freeze the leftover filling or filled burritos for later. NOTE: The yogurt sauce makes enough for four burritos.
Nutrition
Serving Size:

1

Calories:

300
Keywords: breakfast burrito, how to make healthier breakfast burritos, make ahead breakfast, freezer meal
Shop the Post
Here are a couple of kitchen tools I like (find more in the LiveBest Equipment List).
This post contains affiliate links which means if you click through and make a purchase, the seller pays me a commission. It does not impact the price you pay.