Nuts in honey, Almond Thyme Honey, is honey infused with nuts, dried chile, thyme and orange zest. Drizzled over cheese, it's an easy, elegant appetizer and also a sweet gift. 
I haven't always been fascinated by bees. 🐝 I was aware of them, watching as they moved among flowers and appreciating the result: honey. 🍯
I'm a beekeeper
But then I became a beekeeper. Well, one of a pair of beekeepers. When I told my husband I wanted to keep bees. I knew what he was thinking: Seriously? Is this a good idea. These things sting people! But outwardly he said something like…"Really? We don't really know much about bees…"
So we got the bees and he was on board. He has become the head beek (or King) and finds them to be a great hobby. We love watching them, learning more about these smart creatures and using all things honey bee.
So, I'm not the Queen. The real Queen Bee deserves the Queen title. Her personality dictates the nature of the hive. A docile queen has a docile hive. The hive is devoted to their Queen. They feed her and keep her comfortable. When the temperature drops to 53° F., they cluster around her flapping their wings to keep her warm. Like 93° F. warm!
She's also a busy bee. During most of the year she may lay up to 2,000 eggs per day.
Like this Queen Bee spoon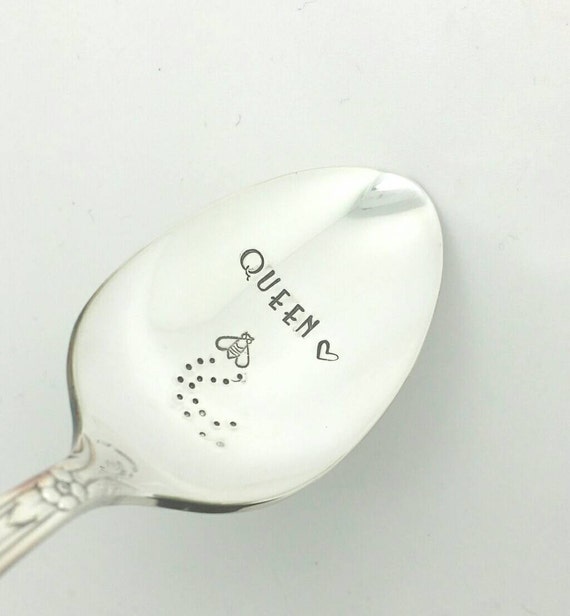 No matter how much honey we collect from our busy bees, I still love dipping in the honey jar. I use an antique jam jar for honey at the table. It makes me buzz with happiness.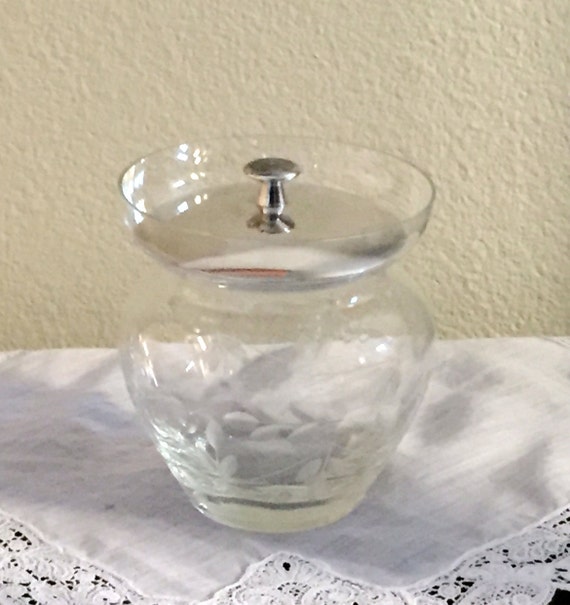 Though when I saw this Alessi Honey Jar, I started having second thoughts on the above! I've been a fan of the simple, creative Alessi designs for years.


In fact, I bought this Alessi Honey Dipper for a tea-drinking friend last year. And one for myself, too. I love the honey comb shape! Because it's stainless steel, I put it in  the dishwasher.
Do you have special towels you pull out for company?  I also give towels as hostess gifts. I wrap a bottle of wine, a jar of honey, or these Apricot Pecan Crisps. Thinkin' these Honey Bee Towels would bee cute!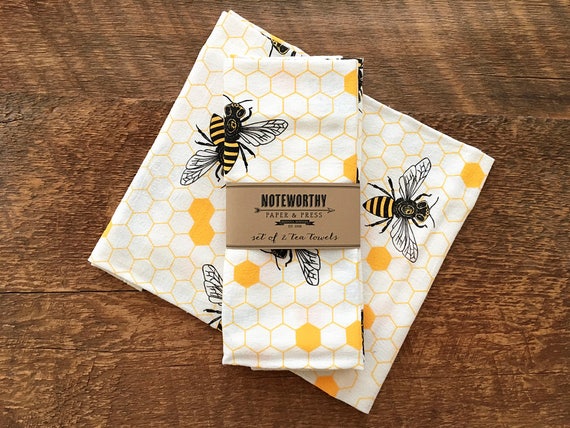 This porcelain tea cup made me smile. Can't you see yourself sipping a cuppa somethin'? Could be tea or a hot toddy with water, whiskey, lemon and honey while you read The Secret Life of Bees.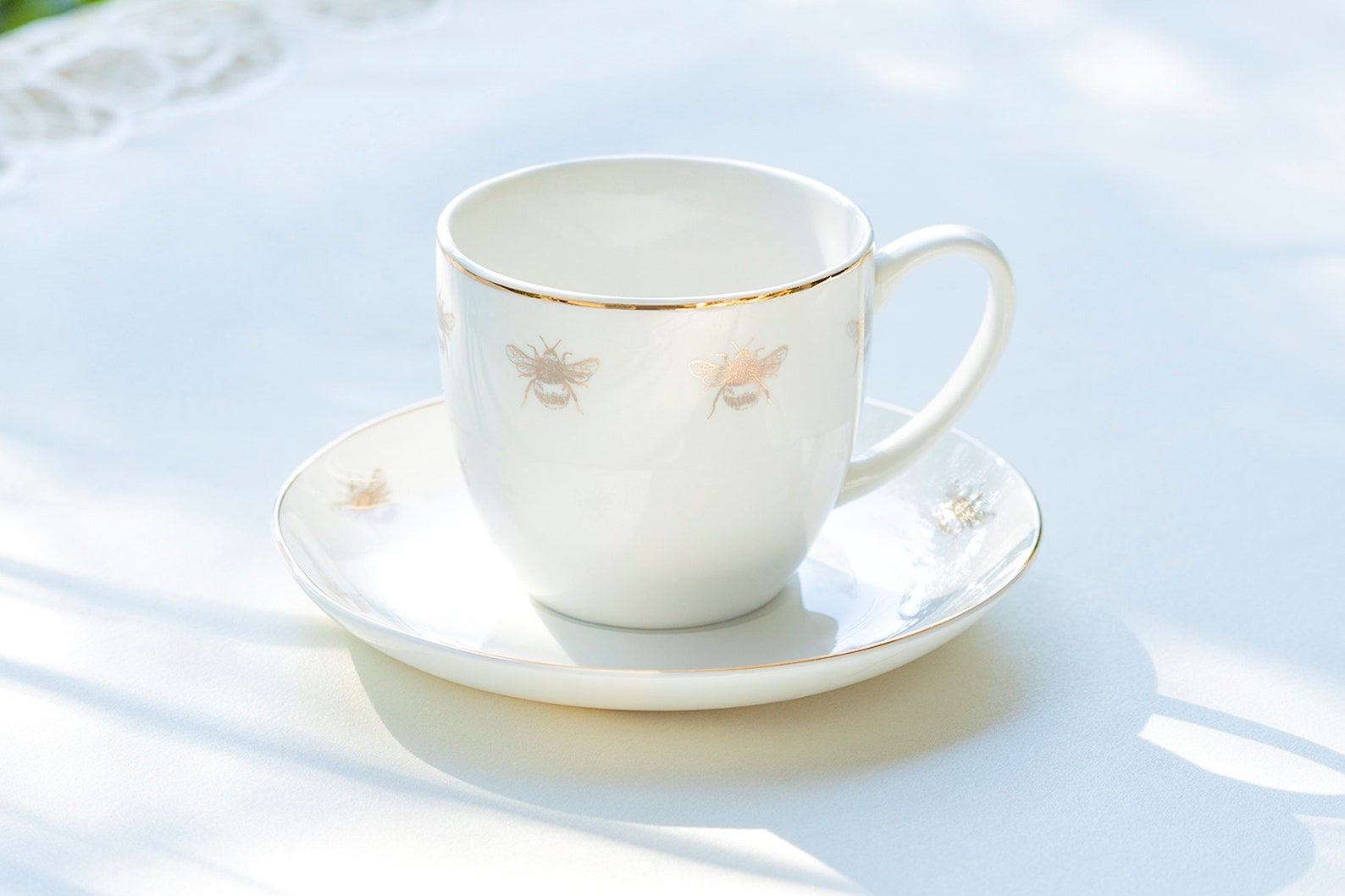 This vintage spoon is a perfect reminder to let it go. Er, let it bee.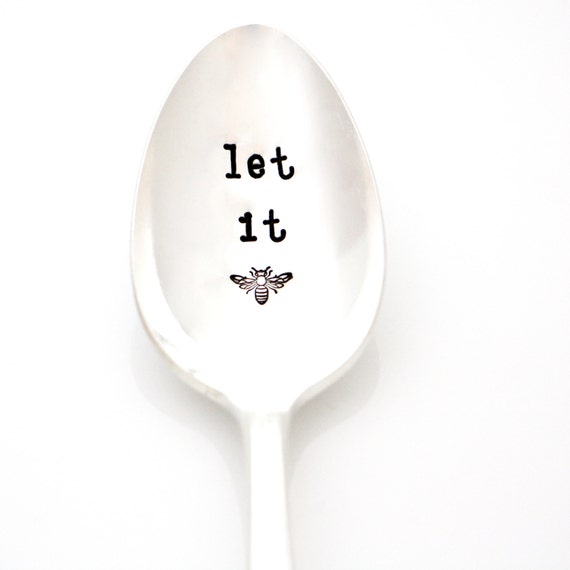 The first time we collected honey from the hive, I was overwhelmed with the scent. I still haven't found the words to describe the sweet, silky aroma from the honey. Maybe you can get a sense of it with this Almond Milk & Honey Body Lotion

Or try a mask such as Pharmacy Honey Potion antioxidant hydration mask.
The hexagonal shape of honeycomb keeps me in awe. Awesome, that bees use the comb as a nursery to raise the baby bees and to store their food (honey). These genius architect's use the walls of the hive and neighboring cells to maximize efficiency in building the six-sided wax comb which uses less energy (honey) to build the comb they need. Without any gaps, the hexagon shape holds the maximum weight with the least amount of material. This Honeycomb necklace is a great example of that simplicity.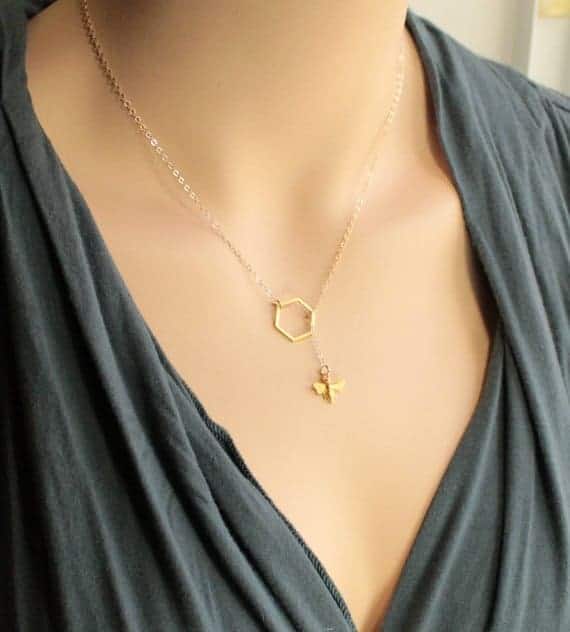 Rather than get a bee in my bonnet, I'm following Winnie the Pooh's advice, "Bee Positive. All Day. Everyday." The Hive Rules may not win the spelling bee, but they are something to stick with!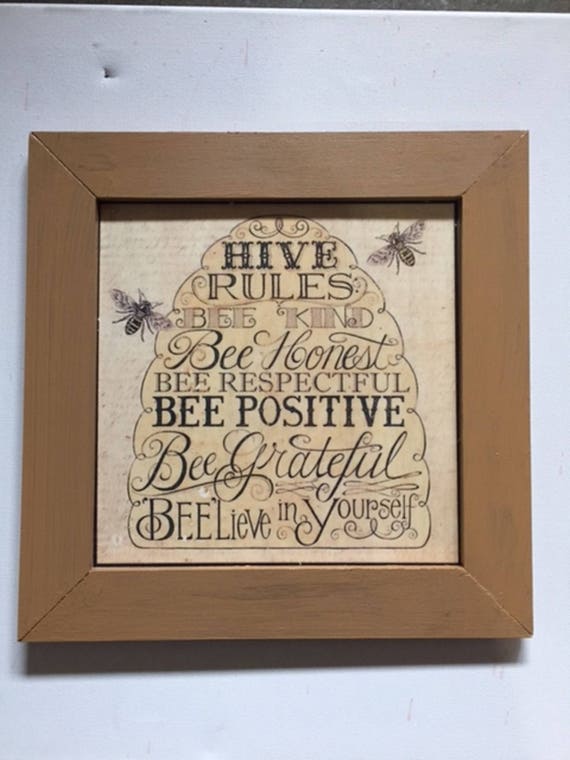 This cheerful art print of Plant Pollinators reminds me it's not just bees who do all the heavy lifting!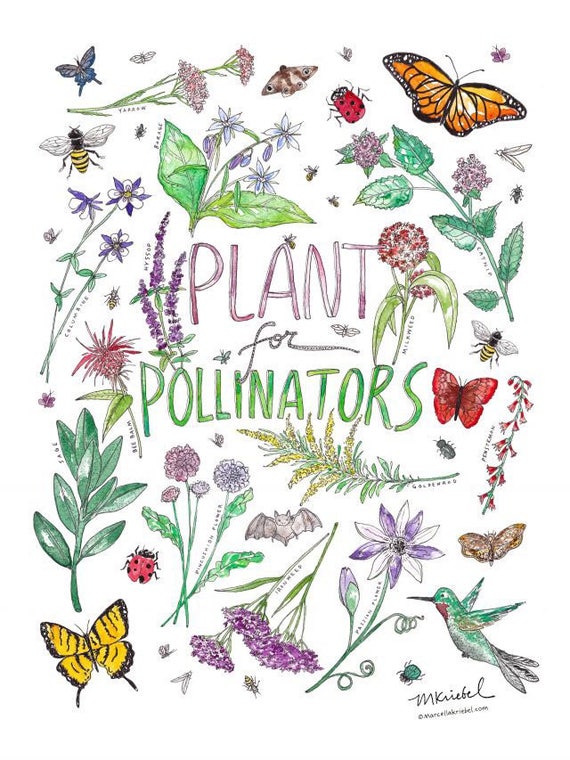 It was sweet seeing all the bee love as I shopped. Plus I found some fun bee and honey gifts for you (and me). I invite you to learn about beekeeping and meet the hives here.

I'm always looking for ways to cook with the honey from our hives. I've looked at lots and lots of recipe books and Taste of Honey is the one I bought. I've written two books filled with food solutions, Your 6-Week Guide to LiveBest, Simple Solutions for Fresh Food & Well-Being and LiveBest Seasonally. I've included links to some of my favorite recipes on the blog below. Maybe my next book should focus on honey recipes!
Quick tip when you are cooking with honey:
How to measure honey
Cook's Note: Measure the oil before measuring honey. The oil helps the honey slide right out of the measuring cup.  Use a liquid measuring cup to measure honey. The kind with a pour spout.
How to make nuts in honey: Almond Thyme Honey
Almond Thyme Honey is nuts in honey. Honey infused with thyme, orange zest, nuts and dried chiles. It is super simple to make. You can use walnuts, pecans, hazelnuts, pine nuts…about any lil' nut you like. I serve it drizzled over cheese.
Mix: ingredients together. Cover. Let rest a couple of days before serving for flavors to develop. Refrigerate up to a 6 months.
The photo is Manchego cheese but it's great with blue cheese, Parmesan, white Cheddar or Swiss. But I've also eaten it on a peanut butter sandwich and I've drizzled it over yogurt. I love it with the Apricot Pecan Crisps in the photo.
The ingredients
3/4 cup toasted almonds, coarsely chopped (or use walnuts, hazelnuts, pecans or pine nuts)
1 cup honey
2 tablespoons olive or walnut oil
1/2 teaspoon orange zest, freshly grated
3 dried Japonese chiles, the long skinny red or orange ones. If you can't find them, substitute another dried chile.
1 tablespoon fresh thyme leaves (1/4 teaspoon dried)
1/8 teaspoon each salt and pepper
Stored in these Weck jars, it makes a welcome gift. Or you might gift:
P.S. Hungry for more healthy living tips and recipes? Sign up for my newsletter here.
This post contains affiliate links. That mean if you click on a link and make a purchase, I will make a small commission. This does not affect the price you pay.
If you like the recipe share it on Facebook or save it to Pinterest so you can find it again later.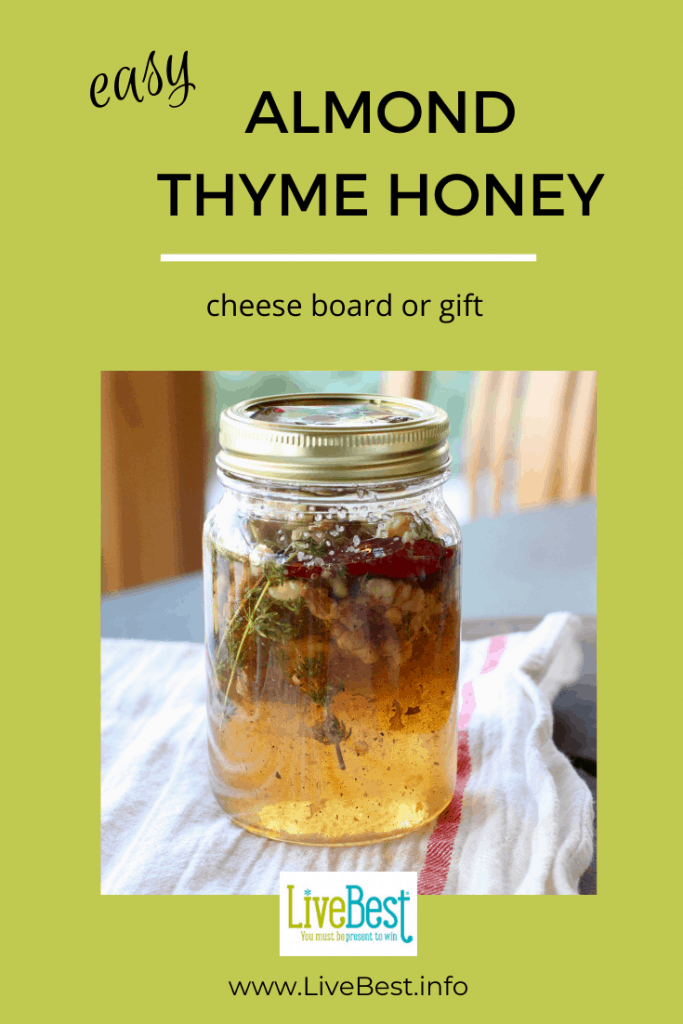 Print
Almond Thyme Honey
Spoon this over cheese to serve as an appetizer. Drizzle on yogurt. Or give as a gift with Apricot Pecan Crisps.
Author:
Prep Time:

10 minutes

Total Time:

10 minutes

Yield:

2 cups

1

x
Category:

Appetizer

Method:

no cook

Cuisine:

American
Ingredients
3/4 cup

toasted almonds, coarsely chopped (or use walnuts, hazelnuts, pecans or pine nuts)

1 cup

honey

2 tablespoons

olive or walnut oil

1/2 teaspoon

orange zest, freshly grated

3

dried Japonese chiles

1 tablespoon

fresh thyme leaves (

1/4 teaspoon

dried)

1/8 teaspoon

each salt and pepper
Instructions
Mix: ingredients together. Cover. Let rest a day or two before serving for flavors to develop. Refrigerate up to a 6 months.
Notes
Dried Japanese chile (or Japonese chile) is a red/orange long, narrow chile.
Nutrition
Serving Size:

2 tablespoons

Calories:

130
Keywords: easy appetizer, quick dessert, honey, infused honey,
This post may contain affiliate links which means if you click through and make a purchase, the seller pays me a commission. It does not increase the price you pay. As an Amazon Associate, I earn from qualifying purchases.