Chopped kale, warm quinoa, toasted walnuts, sweet prunes drizzled with olive oil and balsamic vinegar = one of my favorite salads!
Easy ✅
Economical ✅
Leftovers ✅
Good for you ✅
Well, hello! A lunch salad or salad for dinner, this is a healthyish, feel good and good-to-eat salad. It's economical, quick to fix, rich in fiber and makes enough for leftovers that keeps well plus delivers healthy dividends.
How to make Kale Quinoa Salad
Make once, eat more than that
I love recipes that are worth the cooking time. This one keeps for 3-4 days in the fridge. So it's great to pack for lunch or grab from the fridge to catch your next Zoom meeting.
Quinoa cooks in about 15 minutes. While it's cooking, toast the nuts for about 12 minutes at 350℉. Chop the kale. Roll the leaves up like a cigar and thinly slice the 'cigar.' Pour warm quinoa over kale. Drizzle with vinegar and oil. Toss in nuts and prunes (or your favorite dried fruit).
The ingredients
Quinoa and walnuts kale provide protein (helps you feel full).
Kale, prunes, and walnuts deliver fiber (aids digestion)
Walnuts add crunch and healthy fats
Prunes add naturally sweet chewy bites (makes it taste good)
Olive oil and balsamic vinegar for a quick and easy dressing
Make this work for what you have. Substitute a whole-grain you have on hand. Use dried cranberries, raisins, or apricots rather than prunes. No walnuts? Use pecans, hazelnuts, or almonds.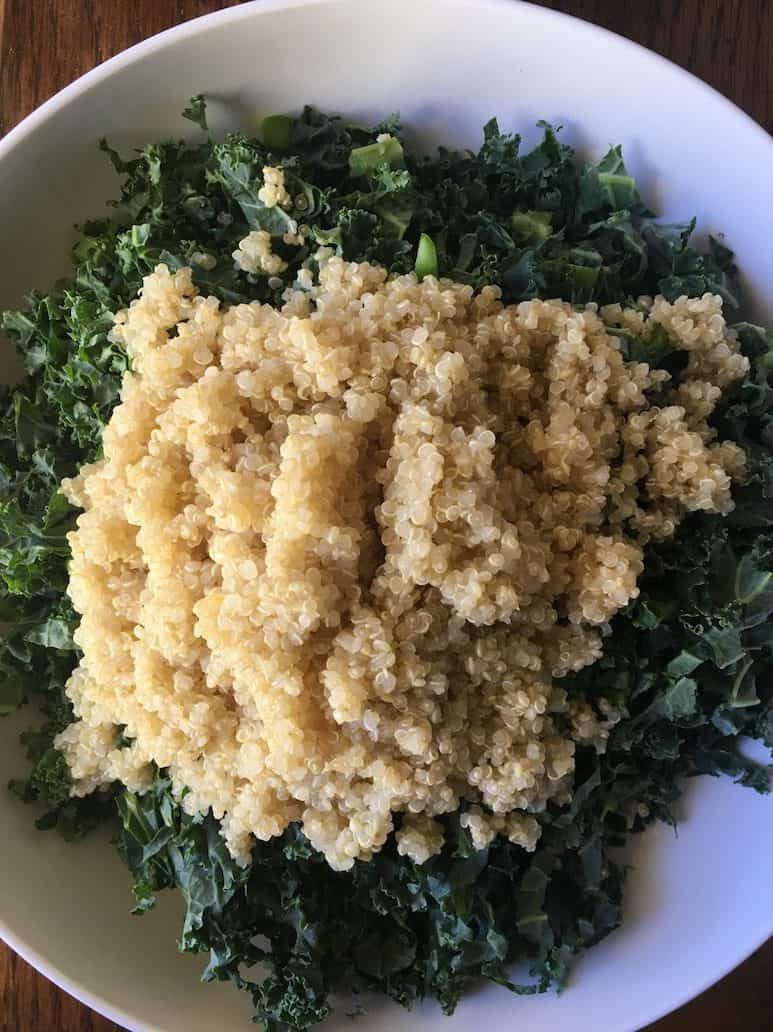 Is kale good for you? Or the kale conundrum
Kale has a reputation. Kind of like homework. It's good for you but tough to like. It's true kale delivers multiple health benefits, with potassium, vitamins and minerals. But it's chewy texture and bitter taste, often keeps it off your plate.
How to make kale better or less bitter?
In this recipe, quick cooking warm quinoa is poured over chopped kale, which softens it. Then a 3-ingredient vinaigrette mellows the kale even more. Stir in crunchy walnuts and sweet prunes for an upscale salad that keeps well. I mean, it almost hides the kale.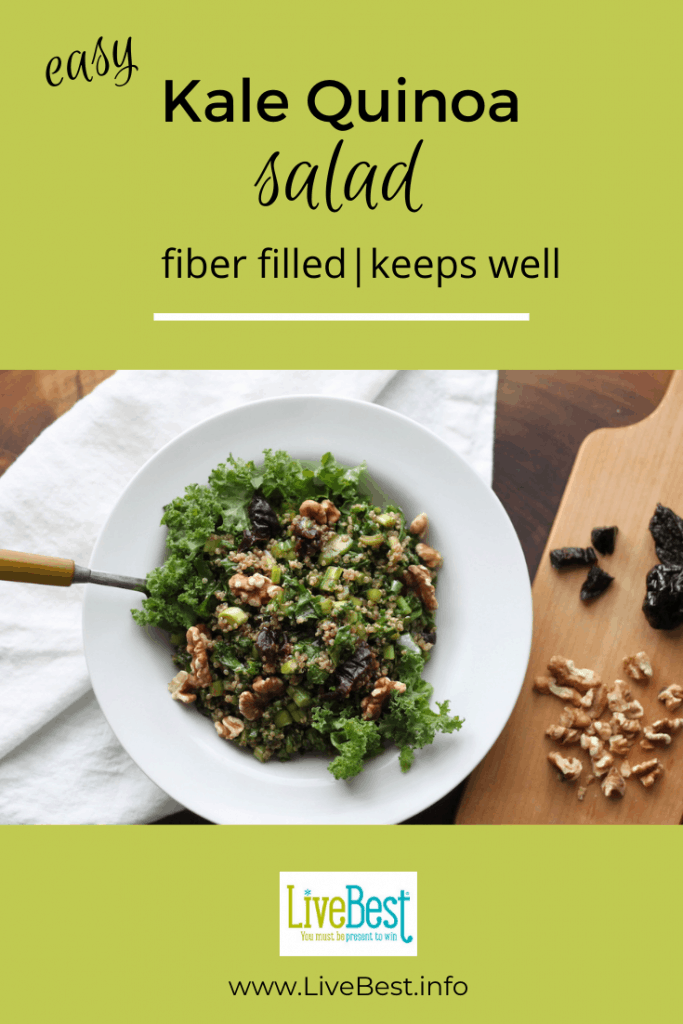 I created a free, 5-day challenge you can join by clicking this link. You'll get tips and tools, resources and recipes to create your own roadmap to meet your fiber goals toward high fiber meals. Don't ya? Won't ya? Seriously, it's only 5 days 😉 Find it right here.
How to cook quinoa
Quinoa is a quick cooking grain. Like 15 minutes quick. It's a good source of protein and fiber. And in this recipe the warm quinoa softens the kale. That's a mouthful of benefits!
Considered an ancient grain, the Incas called it "the mother grain." It cooks quickly, and the tiny seeds unfurl as they absorb liquid. When quinoa seeds uncurl and you see a little tail, it's finished cooking. Fluff the cooked quinoa with a fork to keep it from compacting.
Find quinoa near the rice at the grocery store (or buy through the link). It's technically a seed, which makes it gluten free. Bulgur or another cooked grain can be substituted in this recipe.
MORE lunch ideas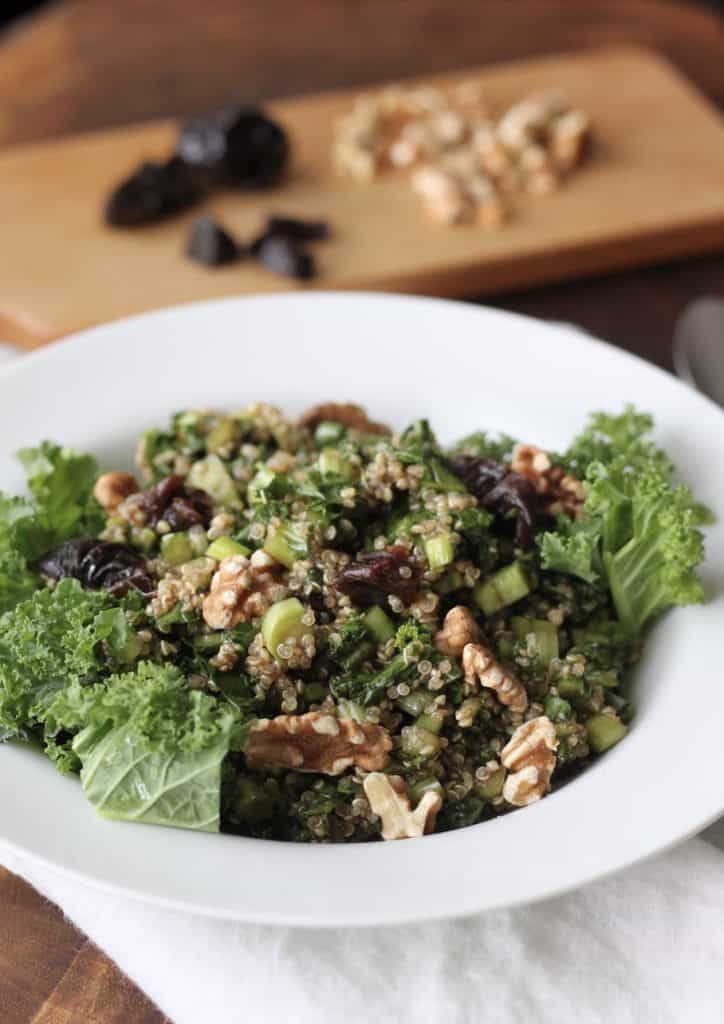 This post may contain affiliate links which means if you click through and make a purchase, the seller pays me a commission. It does not increase the price you pay. As an Amazon Associate, I earn from qualifying purchases.
Print
Kale Quinoa Salad
6 ingredients add up to an easy salad you'll want for breakfast, lunch and dinner.
Author:
Prep Time:

15 minutes

Cook Time:

15 minutes

Total Time:

30 minutes

Yield:

7 cups

Category:

Salad

Method:

stove

Cuisine:

Mediterranean
Instructions
Walnuts Heat oven to 350℉. Place walnuts in single layer on baking sheet. Bake 12-15 minutes until lightly browned. Remover and allow to cool.
Quinoa Add 1 cup water to small saucepan, stir in 1/2 cup quinoa. Bring to a boil, reduce heat to low. Cover and cook 15 minutes. Remove from heat, let sit for 5 minutes, stir lightly with a fork.
Kale Chop kale, include the stems.
Prunes chop each prune into 6-8 pieces.
Assemble combine quinoa, kale, prunes, walnuts. Drizzle vinegar and oil over and toss to combine.
Additions drained garbanzo or cannellini beans, goat cheese, cauliflower rice, roasted squash cubes
Notes
Bulgur can be substituted for the quinoa. So can wheat berries, farro, or spelt, but these are longer-cook grains
Keywords: lunch salad, dinner salad, grain based salad, salad that keeps well, brown bag salad