Start the day with an easy healthy breakfast recipe and the benefits of fish: omega 3 fats and protein in this heart and brain healthy Tuna Picatta Toast!
Like a fish takes to water, I'm taking to fish for breakfast. Yep, I said fish. I like that it's not sweet, the protein is lean, the fats are healthy, and there's deliciousness in every bite.
How to make Tuna Picatta Toast
Tuna Picatta Toast is one of my favorite breakfasts. Canned tuna make it easy and convenient and because an ounce of fish is 6 to 7 grams of protein, it helps me feel full longer. No need to limit it to mornings, Tuna Picatta is good for lunch and dinner, too.
The ingredients
1 5-ounce can tuna, drained
1 tablespoon capers, chopped
1 teaspoon lemon juice
1 teaspoon olive oil
1/2 teaspoon Dijon mustard
1/4 teaspoon lemon zest
1/4 teaspoon dried onion
Mix it all together and spread on your favorite toast
How much fish to eat
I'm not the only fish aficionado. Because of their healthier fats, nutrition recommendations suggest 8-to 12-ounces of fish a week for adults, including those who are pregnant and breastfeeding (1 to 2 servings of fish a week for children, starting at age 2).

Omega 3 benefits
That amount of fish provides an average 250 to 500 milligrams of omega-3 eicosapentaenoic acid (EPA) and docosahexaenoci acid (DHA) fatty acids per day. These fats are associated with improving heart and brain health. Seriously. Eating seafood twice a week reduces the risk of dying from heart disease by 36 percent. To be clear, I'm talking about eating. Much of the research on the positive health impact of fatty acids is based on eating fish, not taking supplements and pills.
ALA omega 3
Plant sources of omega 3's, alpha-linolenic acid (ALA) include walnuts, flaxseeds, chia seeds, canola oil and soybean oil. Though the type of omega 3's in plants is not as active as that found in fish so much of the oil's benefits are lost in conversion.
Seafood during pregnancy
Because of their healthier fats, 8 to 12 ounces of fish a week are recommended for women who are pregnant and breastfeeding. The Food and Drug Administration and Environmental Protection Agency advise pregnant and breast feeding woman avoid four types of fish that tend to have higher levels of mercury: tilefish, shark, swordfish, orange roughy, and king mackerel.
Omega 3 fish
From high to low, this chart from SeafoodNutrition.org breaks down the amount of fats various fish supply. As you see, there are lots of fish in the sea and they have many unique nutrition attributes. Smaller fish are good sources of omega 3s plus they reproduce faster so are more sustainable. Baked, grilled, steamed, poached, just about anything but fried, please.
Benefits of eating fish
No matter which fish you choose, you're brain and heart will be happy. To help you decide how to cook different fish, check out this cooking info sheet from SeafoodNutrition.org.
Seafood solution, a favorite find
I've heard from readers that they get confused when they try to buy fish. To make sure I have fish on hand, I've been ordering fish for home delivery via Vital Choice, an online retailer selling wild-caught, sustainably harvested Alaskan salmon and northwest Pacific seafood such as halibut, tuna, shrimp and lobster.
I love convenience, so knowing that I can get delicious, healthy, eco-friendly seafood delivered to my door makes life so much easier to have these things on-hand in my freezer. Vital Choice has a loyalty program where you get points for every dollar you spend, redeemable for discount coupons.
I met the owner at a nutrition conference where we were able to talk about his business. Before founding Vital Choice, Washington State native Randy Hartnell spent more than 20 years fishing Alaskan waters for salmon, herring, and other regional species. His goal is to bring those fish and their health benefits to a larger market, while fishing responsibly to preserve the sustainability of wild fish and seafood. All of the Vital Choice seafood is certified sustainable either by the Marine Stewardship Council (MSC), the State of Alaska's Responsible Fisheries Management (RFM) program, or Monterey Bay Aquarium's Seafood Watch program.
Disclaimer: This email includes affiliate links, and I could earn a commission if you purchase through these links. Please note that I've linked to these products purely because I personally use and recommend them and they are from companies I trust. There is no additional cost to you.
If you like toast, try smoked salmon sprinkled with Everything Seasoning or more than a dozen ways to deliciously top toast.
Pin it for later!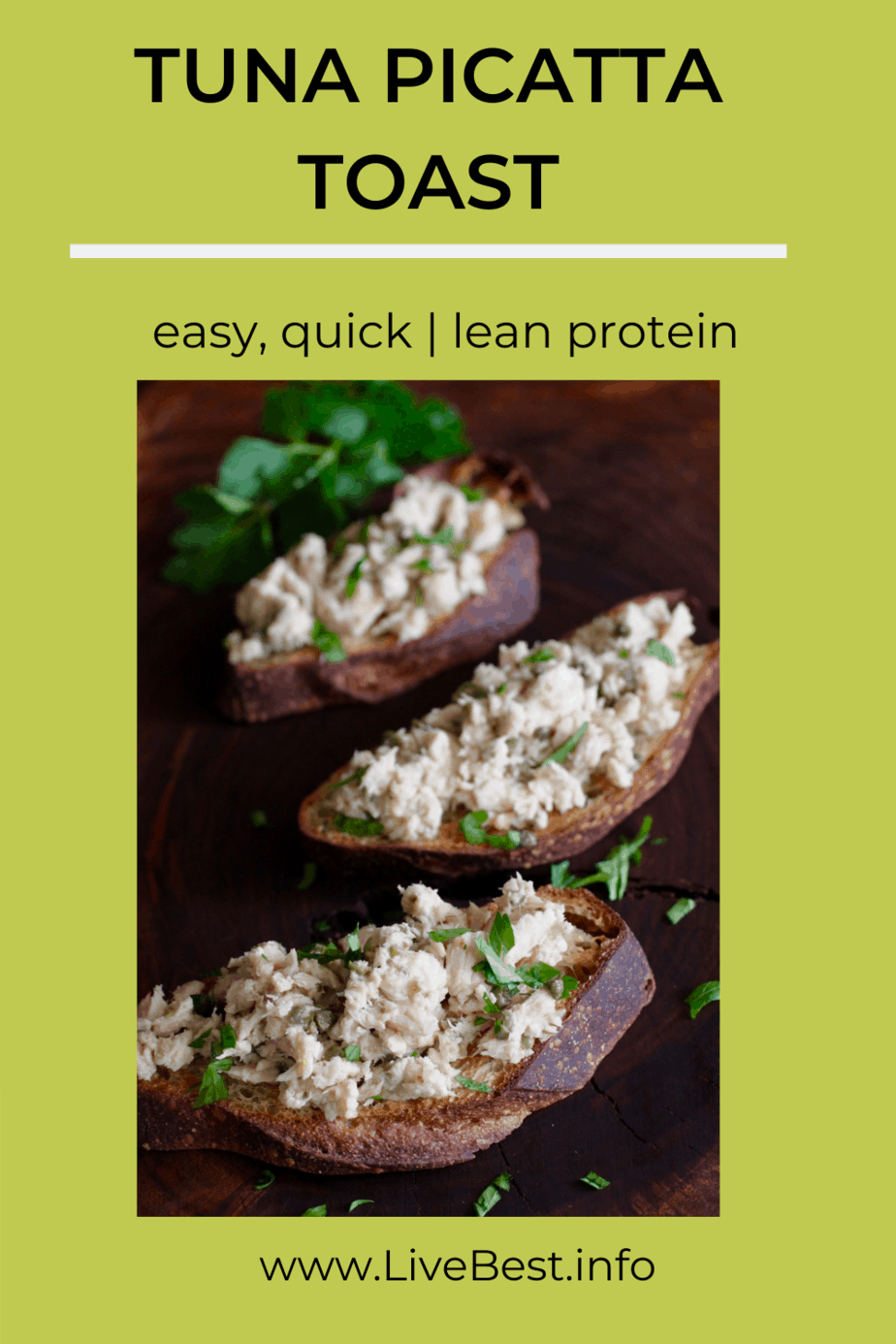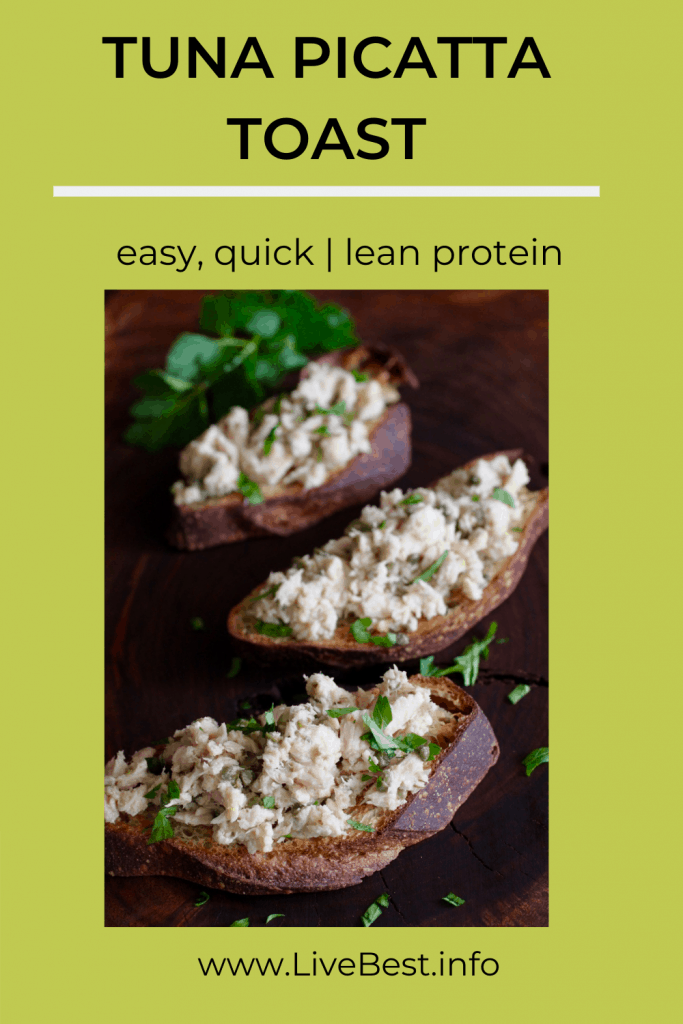 MORE Mediterranean diet recipes
P.S. Hungry for more healthy living tips and recipes? Sign up for my newsletter right here.
Print
Tuna Picatta Toast
Start the day with omega 3 fats and protein in this heart and brain healthy toast!
Author:
Prep Time:

10 minutes

Total Time:

10 minutes

Yield:

2

1

x
Category:

Sandwich

Method:

no cook

Cuisine:

American
Ingredients
4

slices thick-cut bread, toasted

1

5-ounce can tuna, drained

1 tablespoon

capers, chopped

1 teaspoon

lemon juice

1 teaspoon

olive oil

1/2 teaspoon

Dijon mustard

1/4 teaspoon

lemon zest

1/4 teaspoon

dried onion
Instructions
Mix tuna, capers, lemon juice, olive oil, mustard, lemon zest and onion lightly with a fork. Spread on bread. Eat it cold, room temp or warm in the oven.
Keywords: fish sandwich, high protein breakfast, toast ideas