COVID Recipes to Help with Recovery
$5.99
COVID robs many of taste and smell. I know. COVID found me and along with the muscle aches, fever and congestion, I lost my sense of taste and smell.
I used my skills as a cooking teacher, recipe developer, and registered dietitian and put them in this cookbook. Solutions that people with COVID (and their caregivers want).  Without the triggers of smell and taste, appetite often is diminished. If you don't feel hungry or aren't interested in eating, you may lose weight and muscle mass. But to recover, you need nourishment to gain strength and rebuild muscle.
Cookbook Features
This book is about delish and nutrish. Even though you may go through the motions of eating but there's just little pleasure in it. This book is dedicated to those of you recovering from COVID and trying to learn how to eat when food isn't enjoyable. 
Full color with ebook
12 nourishing, creative recipes
Focus on protein and fiber to help with recovery
Colorful photos of each recipe
Easy to follow instructions
Most recipes take from 5 minutes to 30 minutes, so these recipes are quick. Oh, wait, the baked chicken takes longer, but it's in the oven baking and this is a make once, eat 3 or 4 times kind of recipe.
Lots of flavor booster suggestions
COVID-related tips for health and wellness
Description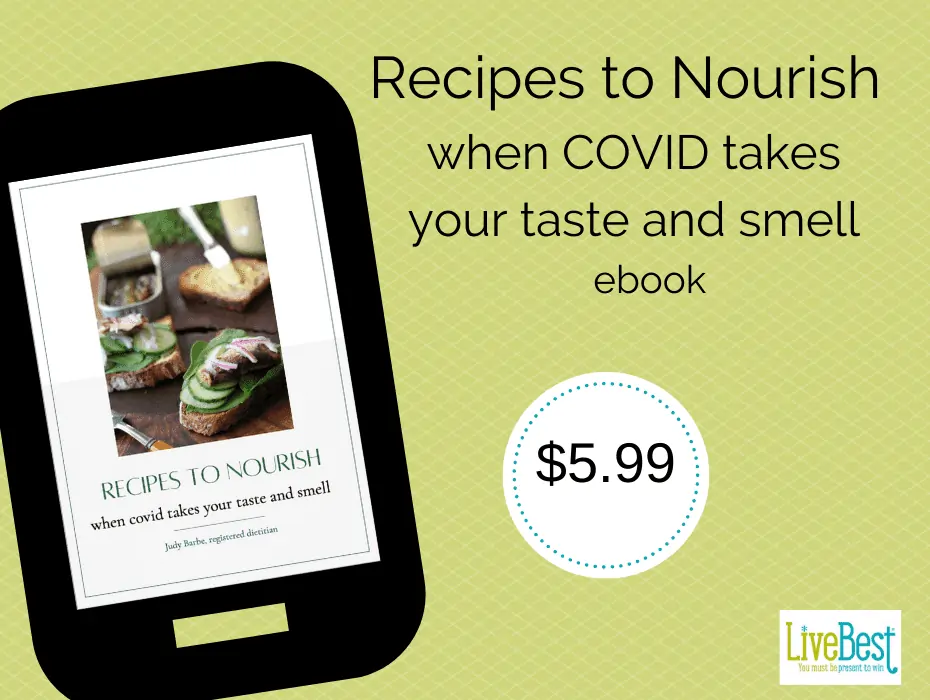 Recipes in the cookbook
For many COVID victims, the tastebuds still engage. That means that the receptors on our tongue may let us taste sweet, sour, salty, and bitter. I used strong flavors in several recipes to see if I can generate some flavor for you. Find food suggestions here to see if anything sounds good. It may not taste good, but fingers crossed that will come.
Quick and Easy Food Solutions (the exact things I ate when I was hit hard by COVID)

Chai Latte

Berry Banana Smoothie

Peanut Asian Rice Bowl

Greek Salad

Pumpkin Baked Oatmeal

Lemon Baked Chicken

Salmon with Caramelized Grapes

Pineapple Banana Salad

Egg and Cheese Sandwich

Sardine Sandwich

Apple Nachos

Chicken Vegetable Soup

Flavor Boosters
Along with the pain and uncertainty of the virus, many COVID patients struggle with constipation, weight loss, and reduced appetite, so I included tips to help.
Be sure to check out my other resources!