Rhubarb Compote is one of the first recipes I make in spring. This rhubarb, ginger, and orange recipe tops yogurt, oatmeal, cornbread, and ice cream!
One of the things I like best about rhubarb is that it's one of the first plants to wake up in spring.
I love to see the leaves peaking through snow.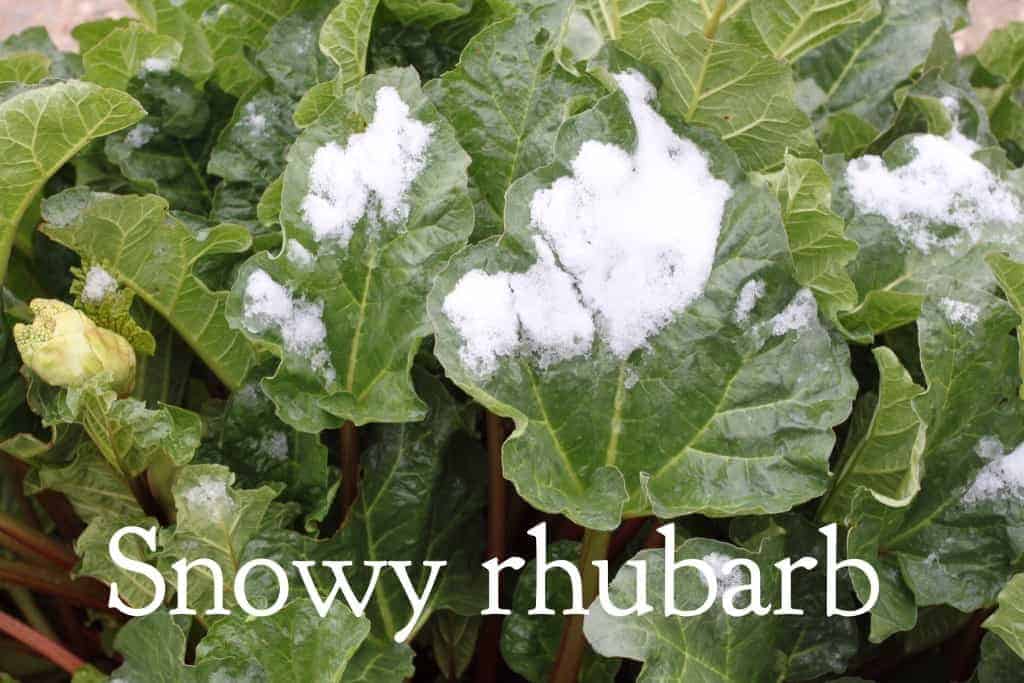 Once it starts growing, it really gets going. It seems each time I pass by more leaves have unfurled and stretched out. The thick celery-like stalks of this buckwheat family member can reach up to 2 feet long. The stalks are the edible portion of the plant. Not the leaves. They can be toxic.
But once it's ready, we cook it!
How to make rhubarb sauce
Rhubarb is versatile to cook with because it can be used in sweet as well as savory dishes. Strawberry and rhubarb are a classic combination but so is rhubarb and ginger. I often add chopped crystallized ginger or chopped fresh ginger into rhubarb recipes. Orange also complements rhubarb. Try some zest or juice as you stir things together.
In this sauce, or compote, I used all three: rhubarb, ginger, and orange.
Rhubarb sauce or compote tops yogurt, oatmeal, cornbread, and ice cream. If there is any left, it freezes well in an airtight container.
This recipe is a simple one-pot sauce. Just add all the ingredients to the pot and let it cook over medium heat for 15 minutes or until the fruit softens and thickens.
fresh chopped rhubarb, washed
water
juice of half an orange
brown sugar
crystallized ginger, chopped
grated orange peel
few grinds fresh black pepper
Cook's note: Rhubarb reacts with some metals (iron, copper and aluminum) so should be cooked in stainless steel or enameled cast iron.
How to pick rhubarb
When harvesting, don't cut the rhubarb stalks from the plant, but instead grab a stalk right down where it emerges from the ground, use a sort of rocking, twisting motion to pull it away from the plant. The stalks slip right out.
I take a knife with me and trim the leaves and ends while I'm still outside. Back in the house, I fill the sink with cool water and let the stalks float for several minutes to rinse away dirt.
How to tell if rhubarb is ripe
Rhubarb can be green to red so color isn't a good indicator of ripeness. Look for firm, rhubarb stalks with a bright, glossy appearance. Stems should have some pink or red color, although many good-quality stems will be predominately light green. Extremely thick stalks may be tough. Peeling the stalks is generally not necessary unless they're super tough.
How to freeze rhubarb
Rhubarb freezes well. Just rinse, trim into cubes and pack in airtight containers. But if you're like me and eager to get cooking with the first edible thing around, you'll wait until later to freeze some. Here are some ideas to get you going.
Rhubarb recipes
P.S. Hungry for more healthy diet tips and recipes? Sign up for my newsletter here.
This post contains affiliate links. That means if you click on a link and make a purchase, I may make a small commission. This does not affect the price you pay but helps fund the website.
Pin it for later!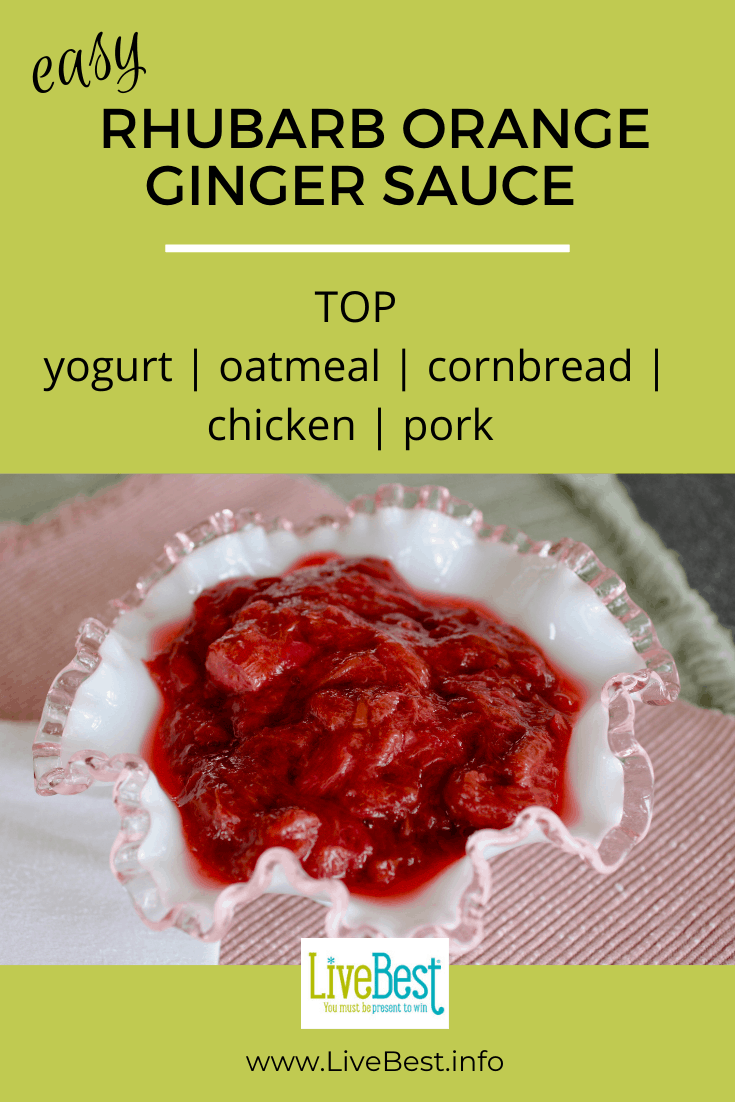 Print
Rhubarb Compote
Rhubarb Compote is one of the first recipes I make in spring. Rhubarb, ginger, and orange simmered together, I top yogurt, oatmeal, cornbread, and ice cream!
Author:
Prep Time:

10 minutes

Cook Time:

20 minutes

Total Time:

30 minutes

Yield:

5 cups

1

x
Category:

Sauce

Method:

stove

Cuisine:

American
Ingredients
6 cups

fresh chopped rhubarb, washed

¼ cup

water
juice of half an orange

1/3 cup

brown sugar

1 tablespoon

crystallized ginger, chopped

½ teaspoon

grated orange peel
few grinds fresh black pepper
Instructions
Combine all ingredients in a heavy-bottomed saucepan. I add the squeezed orange shell in the pot, too.
Bring to a boil over medium heat, stirring occasionally. Cover and simmer gently for about ten minutes. Rhubarb will begin to soften. Uncover and continue to cook another five minutes.
Remove from heat, cool. Remove orange shell. Store, covered, in the refrigerator for up to 2 weeks. May be frozen.
Nutrition
Serving Size:

1/4 cup

Calories:

20
Keywords: fruit sauce, how to pick rhubarb, can i freeze rhubarb, what can I make with rhubarb