Rhubarb Chutney is a blend of spices, fruit and vinegar. Serve this savory rhubarb recipe with grilled meat, fish and poultry or cheese.
When is Rhubarb season?
With spring in the Rocky Mountains, about the only thing consistent is that rhubarb is one of the first
plants harvested. The plant starts pushing through the ground and unfurling leaves regardless of snow, rain, or sun. Thank goodness we have something to eat in spring! Rhubarb season is spring and summer for gardeners. Hot-house rhubarb is January through April. So spring is when we're busy in the kitchen and every year I make this Rhubarb Chutney.
How to make Rhubarb Chutney
Chutney is an old recipe. It's a blend spices, fruit and vinegar and this is one of my very favorite rhubarb recipes.
It's so delicious spooned on chicken, turkey, pork and beef. And cheese. Added to a grilled cheese sandwich or spooned on a goat cheese log. Oh, my, this is good! Also good on a cheeseboard.
The rhubarb is cooked with sweet things like dried apricots and cranberries, cinnamon, and brown sugar. Then savory things like ginger, onion and garlic. Then some spicy things like vinegar, mustard seeds, and red chile flakes. I love the little crunchy bite of those mustard seeds. In fact, I keep them on hand just for this recipe. So I buy a small container because they do last a while.
How to choose rhubarb
The color of rhubarb stalks can vary from red to pink to light green. The color results from the presence of anthocyanins and varies according to both rhubarb variety and growing conditions. Hot-house rhubarb is usually pink, where field-grown is red.
The color is not related to its suitability for cooking, though the more red, the richer in health promoting compounds. If you aren't able to harvest your own, at the store look for stalks that are crisp and firm.
How to store rhubarb
Well-wrapped, rhubarb can be stored in the refrigerator for up to a week and it freezes beautifully. Wash and cut into the size you like to cook with. Store in an airtight container for months in the freezer.
Is rhubarb a fruit?
Uh, no.
Rhubarb is a vegetable that we treat like a fruit. When you cook it, stick to the stalks and leave the big broad leaves behind. The leaves are toxic due to oxaliac acid.
The other consistent thing about rhubarb is it's flavor. It is tart. Not too good on it's own, cooks use it to add tang to other foods. I love that it can be a sweet or savory ingredient.
Rhubarb can be diced and added to muffins and breads, cooked into a jam, braised with chicken or meat stews, simmered into syrups or made into a chutney. Rhubarb may react with aluminum, so cook it in a nonaluminum pan, such as stainless steel.
Cook's Note: I know few people who don't like strawberry rhubarb pie. I agree that it's a classic, but consider pairing rhubarb with cranberries, apples, blueberries, blackberries, or oranges for your next pie. To sweeten try honey, maple syrup, or brown sugar.
9 rhubarb recipes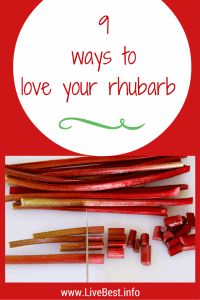 When I look at my rhubarb plant, I think of everything except a pie. Instead, I want to:
Cook with sugar, orange, and ginger to make a jam.
Serve stewed rhubarb over yogurt or ice cream.
Make a sorbet.
Blend cooked rhubarb into ice cream base.
Simmer sweetened fruit, then drain to create a syrup.
Toss raw, diced rhubarb in a green salad.
Cook it with oatmeal.
Stir it in barbecue sauce.
Or make a chutney. Serve with grilled meats or poultry, on a cheese sandwich or cheese tray.
P.S. If you want more get healthy tips and recipes? Sign up for my newsletter right here. 
Rhubarb Chutney, pin it for later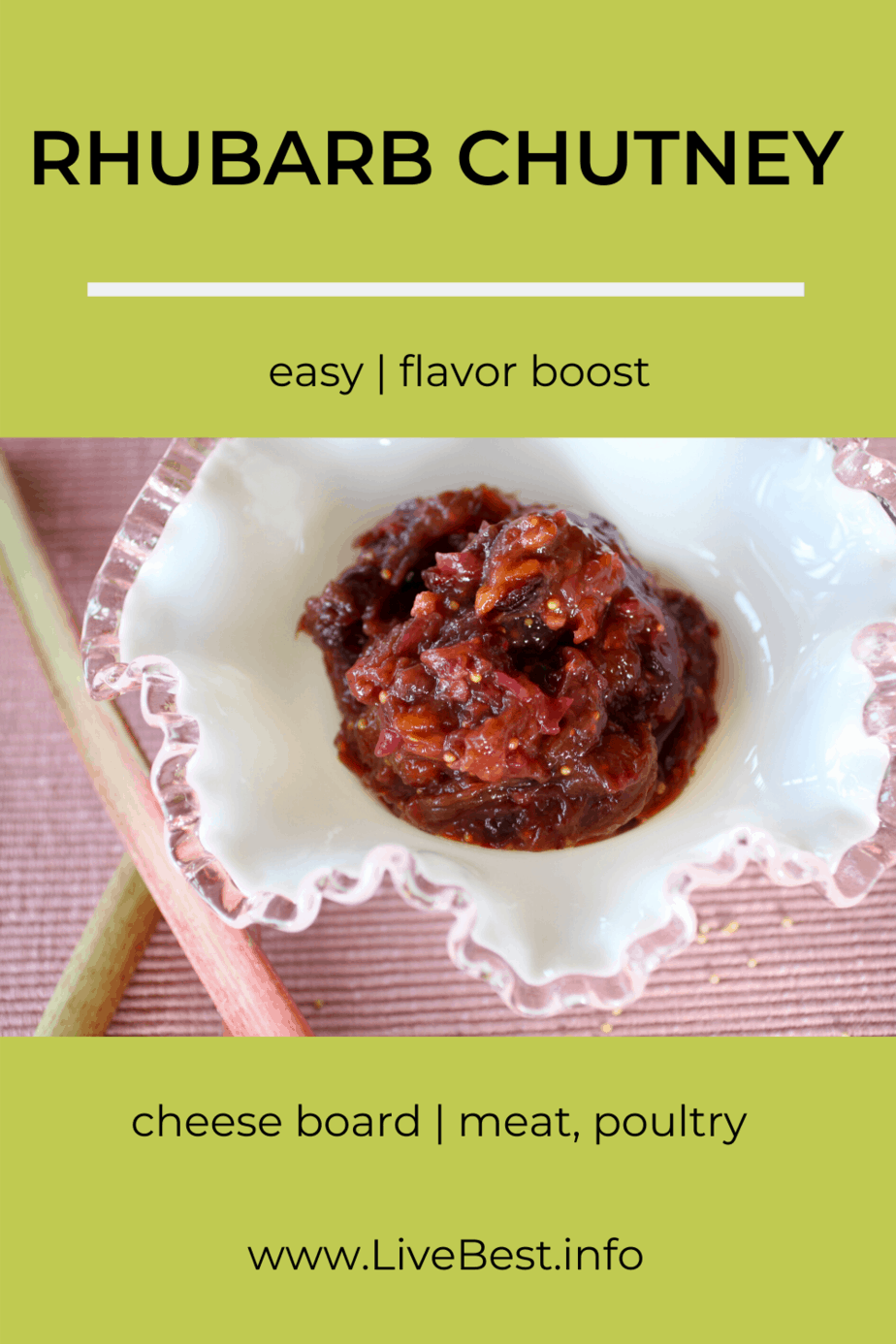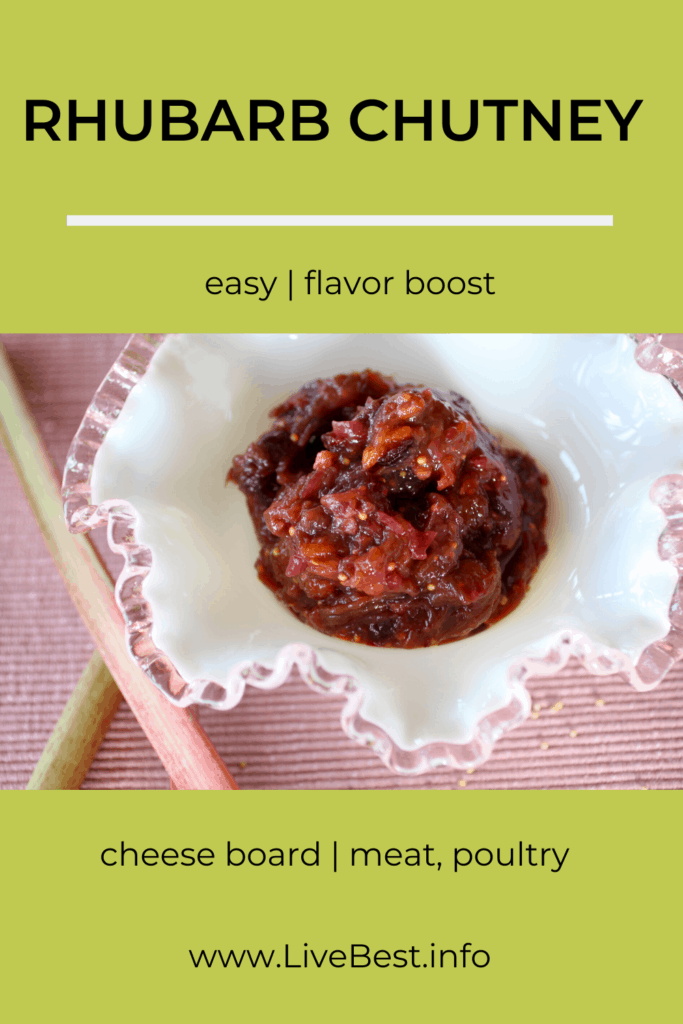 rhubarb chutney on grilled beef
Print
Rhubarb Chutney
Rhubarb Chutney is a blend spices, fruit and vinegar. Serve this tangy, spicy condiment with grilled meat, fish and poultry or with cheese.
Author:
Prep Time:

15 minutes

Cook Time:

20 minutes

Total Time:

35 minutes

Yield:

4 cups

1

x
Category:

Sauce

Method:

stove

Cuisine:

Indian, American
Ingredients
3 cups

rhubarb, ½-inch dice

1/3 cup

onion, chopped fine

2 tablespoons

fresh ginger, rough chop

2 tablespoons

vinegar, apple cider, rice, or red wine

1

clove garlic, chopped

1 teaspoon

yellow mustard seeds

¼ teaspoon

salt

¼ teaspoon

dried crushed red pepper

1 cup

brown sugar

¼ cup

dried cranberries

¼ cup

dried apricots, chopped
Instructions
Combine all ingredients in a heavy-bottom 4-quart saucepan. Over medium-high heat, bring ingredients to a boil. Reduce heat to a low, simmer until chutney thickens, about 20 minutes, stirring frequently. Cool. Remove cinnamon stick.
Notes
A chutney is best when the ingredients have texture, so don't chop the ingredients too small.
Nutrition
Serving Size:

3 tablespoons

Calories:

45
Keywords: rhubarb sauce, rhubarb recipes,