This homemade rhubarb sorbet is made without milk, cream, or eggs, so is good for allergies plus has fewer calories than ice cream.
Rhubarb recipes
Spring is all about rhubarb. That's when gardeners are pulling stalks to sell at farmer's markets or enjoy in their recipes.
Rhubarb is known for its tart flavor. Not too good on it's own, cooks use it to add tang to other foods. I love that it can be a sweet or savory ingredient.
Rhubarb can be diced and added to muffins and breads, cooked into a jam, braised with chicken or meat stews, simmered into compotes, syrups or made into a chutney. And now a refreshing sorbet. Yum!
Sorbet and ice cream are my favorite desserts, but there's one thing I never do to my scoop. I wonder if you do it.
How to make Rhubarb Sorbet
This is an easy sorbet recipe. Rhubarb and ginger are a classic combination, but if you don't like ginger, just omit it. I add orange for more flavor, but if you don't have an orange, that's OK. If you'd like, add a splash of wine, red or white, to the mixture as it cooks.
🍓Make a strawberry rhubarb sorbet. Replace part of the rhubarb in the recipe with an equal amount of sliced strawberries.
Cook fruit and sugar in a saucepan for about 15 minutes to soften fruit. Cool thoroughly in the refrigerator before making ice cream or sorbet. I usually store the mixture in the fridge overnight, though you can fill a large bowl with ice and water then place your pan in the bowl to cool things more quickly.
Puree the ingredients in the blender or food processor for a smooth texture.
The most important thing to do when making ice cream
The most important things to successful ice cream making is to have everything cold. The ice cream or sorbet base needs to be well chilled.
I also freeze my ice cream storage container so it's cold when I pour in my churned ice cream.  I use a rectangular Tupperware container that I pop in the freezer as I start to make the ice cream (or sorbet). When the mixture is finished churning, pack it in the freezer container, cover with a tight-fitting lid and get it in the freezer ASAP.
I use a fairly inexpensive ice cream maker that has a freezable insert. Mine is so old, that it's no longer made, but this Cuisinart is similar.
How to make smooth ice cream that's not icy
The faster ice cream freezes, the smaller the ice crystals. The size of the ice crystals depends on ingredients and preparation. That includes the amount of fat in the recipe, how the ice cream mix freezes, how quickly the finished ice cream freezes, and how it is stored.
If your ice cream lasts for a few weeks, you may notice a grainy texture that you feel on your tongue. This is typically due to the repeated thawing and freezing, whether from your freezer cycling on and off (that's the automatic defrost), removing ice cream from the freezer to serve it, or warming it in the microwave to scoop it more easily. As the temperature rises just a little bit, the small ice crystals melt. When they refreeze, make larger ice crystals which feels rough on your tongue.
Because the ingredient list doesn't contain fat, the mixture freezes hard. Just take it out about 10 minutes before serving to give it time to soften.
NEVER do this to ice cream
Never. ever. put ice cream in the microwave to soften.
Here's why. One of the best features of ice cream is the smooth, silky texture. That texture is the result of really small ice crystals. Large ice crystals give ice cream a coarse, icy texture.
You're feeling it now, aren't you? Remembering some not-so-perfect ice cream.
Cook's note: Rhubarb may react with aluminum, so cook it in a nonaluminum pan, such as stainless steel.
Where's bert?
Sorbet, sherbet (note, there is no 'bert' in sherbet), or sorbetto, the only difference is if you're ordering in French, English, or Italian. It's all the same – a frozen concoction that is generally made without milk, cream, or eggs, so has fewer calories than ice cream.
How to choose rhubarb
The color of rhubarb stalks can vary from red to pink to light green. The color results from the presence of anthocyanins and varies according to both rhubarb variety and growing conditions. Hot-house rhubarb is usually pink, where field-grown is red.
The color is not related to its suitability for cooking, though the more red, the richer in health promoting compounds. If you aren't able to harvest your own, at the store look for stalks that are crisp and firm.
How to store rhubarb
Well-wrapped, rhubarb can be stored in the refrigerator for up to a week and it freezes beautifully. Wash and cut into the size you like to cook with. Store in an airtight container for months in the freezer.
How to freeze rhubarb
The good news about rhubarb is that it freezes well. Rinse the stalks and trim the leaves and ends. Cut into similar sizes for uniform cooking. Pack clean rhubarb in freezer-safe containers or bags. If packing in bags, remove as much air as possible and freeze up to a year.
Pin it for later!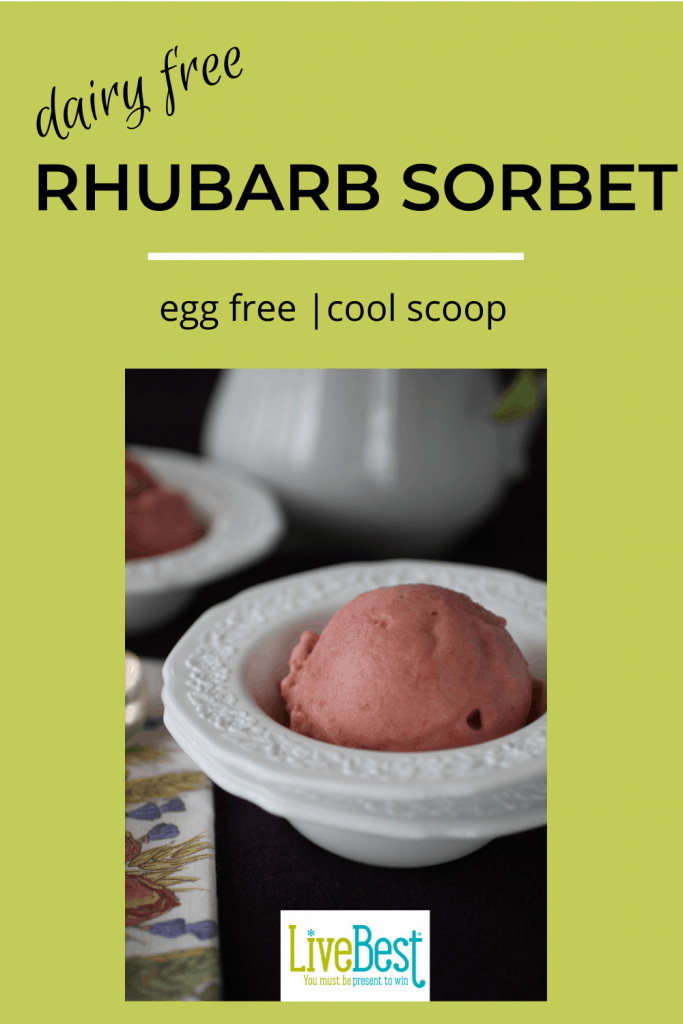 P.S. If you like this recipe, you may want more nutrish and delish ones to help you with a healthy diet. Sign up for my newsletter here.
This post contains affiliate links. That means if you click on a link and make a purchase, I may make a small commission. This does not affect the price you pay but helps fund the website.
Print
Rhubarb Sorbet
Fresh or frozen rhubarb can be used in this recipe. 
Author:
Prep Time:

3 hours

Cook Time:

30 minutes

Total Time:

3 hours 30 minutes

Yield:

8

1

x
Category:

Dessert

Method:

stove

Cuisine:

American
Ingredients
4 cups

rhubarb, cleaned (leaves removed), chopped into 1-inch pieces

1/3 cup

sugar

1/3 cup

brown sugar

1 1/2 cups

water

1 tablespoon

crystallized ginger
Juice of

one

orange

1 teaspoon

orange zest
Instructions
Combine all ingredients in heavy-bottomed, stainless steel sauce pan over medium heat. Stir to distribute sugar. Bring to a boil. Stirring occasionally, cook until rhubarb is tender, about 15 minutes.
Allow to cool. Refrigerate until mixture is thoroughly chilled. Puree in blender or food processor until smooth.
Pour mixture into the freezer can of an ice-cream freezer; freeze according to manufacturer's instructions. Spoon sorbet into a freezer-safe container; cover and freeze 1 hour or until firm. Remove sorbet from freezer 10 minutes before serving.
Notes
To make Strawberry Rhubarb sorbet, replace an equal amount of sliced strawberries for part of the rhubarb.
Because the ingredient list doesn't contain fat, the mixture freezes hard. Just take it out about 10 minutes before serving to give it time to soften.
Nutrition
Serving Size:

1/2 cup

Calories:

80
Keywords: how to prevent ice cream from being grainy, secrets to making ice cream, rhubarb recipes, healthy frozen desserts