Apple Nachos are love at first bite! A deconstructed caramel apple with no dipping required — it's just slice and drizzle. Fun recipe to share.
How to make Healthy Apple Nachos
Shop your kitchen for fresh or dried fruit, nuts, pretzels, toasted quinoa, granola, nut butter, tahini, yogurt, chocolate and/or caramel sauce to sprinkle and drizzle over thinly sliced apples.
Rinse apples, slice, sprinkle, dollop.
Apple nutrition
Apples are a prebiotic which means they help increase helpful gut bacteria. It's apple's fiber that the bacteria prefer and one apple has about 4 grams of fiber. Leave the peel on to get the most bang for your buck: more fiber + phytochemicals = more healthful benefits. But be sure to rinse apples with running water before cutting.
How to keep apples from browning
When air hits a freshly cut apple, the oxygen in the air activates an enzyme in the fruit, which causes the fruit to brown. Heat and acid inactivate the browning enzyme.
Heat halts the reaction, so no browning. Like it an apple pie.
Acid, such as ascorbic acid lowers, the pH of the enzyme. Ascorbic acid is also know as vitamin C.

Ascorbic acid is naturally found in lemons, so lemon juice prevents browning.
Fruit Fresh contains ascorbic acid. The vitamin C solution prevents browning.
A mild salt water solution of half a teaspoon kosher salt per cup of water also prevents browning. Saltiness impacts flavor, so not ideal here.
But these are fresh apple nachos, so if you can, slice them just before you want to serve them. Or buy bagged sliced apples to make it even more convenient. Or shop for Arctic apples, an apple grown to prevent browning.
Sharing fresh, sweet and salty crunchy nibbles, apple nachos were love at first bite. My family hovered as I made these. They couldn't wait to dig it. Reaching over each other to scoop our apples. We liked the fresh, crunchy apple with the sweet and salty toppings plus they were just fun to eat.

Apple Nachos are a deconstructed caramel apple. No dipping required — just slice, sprinkle with nuts, pretzels, pomegranate seeds, cacao nibs, coconut or dried cherries, crystallized ginger and a chocolate and caramel drizzle.
Pin it for later!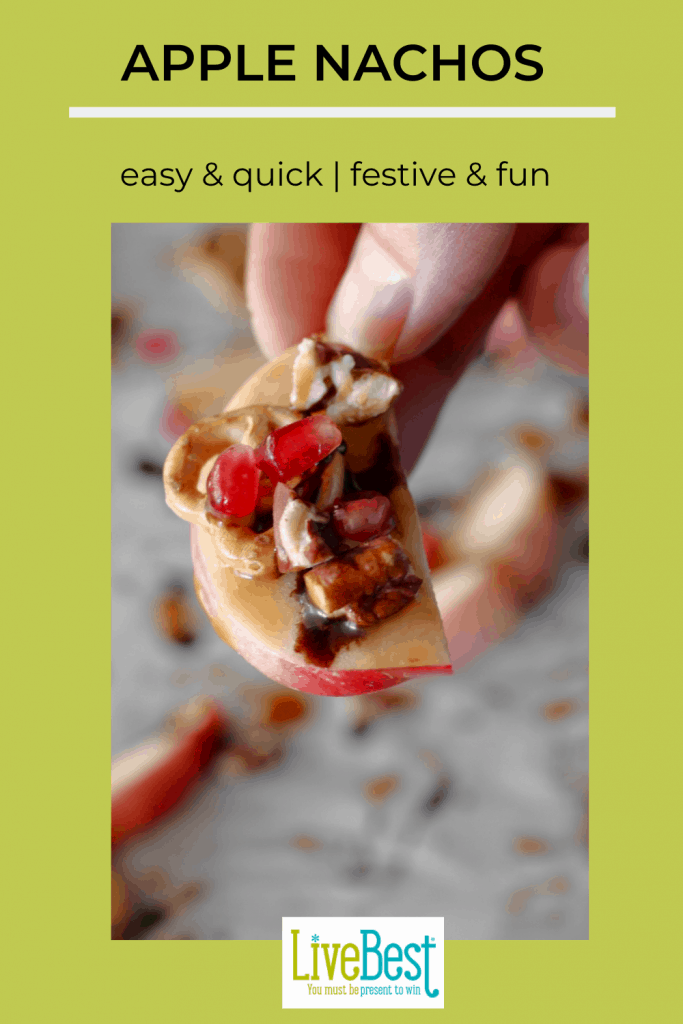 Other cozy foods to share eating and cooking
P.S. Hungry for more healthy diet tips and recipes? Sign up for my newsletter right here. 
Disclaimer: This email includes affiliate links, and I could earn a commission if you purchase through these links. Please note that I've linked to these products purely because I personally use and recommend them and they are from companies I trust. There is no additional cost to you.
Print
Apple Nachos
Apple Nachos are a deconstructed caramel apple. No dipping required — it's just slice and drizzle.
Author:
Prep Time:

10 minutes

Total Time:

10 minutes

Yield:

4

1

x
Category:

Snacks

Method:

no cook

Cuisine:

American
Ingredients
2

apples, cored, sliced

¼ cup

chopped toasted nuts, pistachios, pecans, peanuts, almonds, or toasted quinoa

¼ cup

pomegranate seeds, dried cherries or cranberries

1 tablespoon

crystallized ginger, chopped

2 tablespoons

pretzels, chopped

1 tablespoon

caramel sauce

1 tablespoon

chocolate syrup
Instructions
Wash and quarter the apples. Leave the peel. That's where most of the fiber and phytochemicals are. Remove the core. Slice apples into ¼-inch slices. Spread apples over platter. Scatter nuts, fruit, and pretzels over top. Drizzle with caramel and chocolate syrups.
Keywords: apple snack, easy apple recipe, apple recipe for a party, apples for dessert, apple nachos healthy